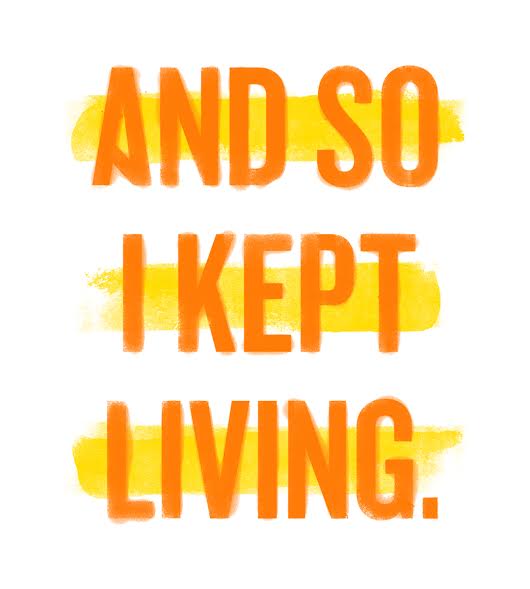 "U.S. Suicide Rate Surges to a 30-Year High"
This was a recent headline in The New York Times. According to the National Center for Health Statistics, the overall suicide rate in America rose by 24% between 1999 and 2014. In 2014, 42,773 Americans died by suicide. But this isn't just a problem in our country. More than 800,000 people die by suicide around the world every single year.
The numbers are hard to fathom, and they don't even begin to tell the stories. These are fathers, sons, sisters, brothers, mothers, cousins, classmates, and friends. And millions more are sent to mourning.
Every day, we're working to change the statistics. September 10 is World Suicide Prevention Day. Here at To Write Love on Her Arms, it's become the most important date on our calendar. Each year, our WSPD campaign is built around a statement. Two years ago, we went with "No one else can play your part." It was the most successful campaign in our history, a turning point for the organization. Last year's idea was "We'll See You Tomorrow‬." Once again, the response was incredible.
For me personally, 2016 has not been easy. You could call it heartache. You could call it depression. You could call it the hardest year of my life.
A few months ago, standing inside an airport bookstore on a layover in Charlotte, i stumbled upon a book called Reasons to Stay Alive, written by a man named Matt Haig. i had heard of the book, i loved the title, and i'm a sucker for an awesome book cover. In that book, i found a friend.
Reasons to Stay Alive is Matt's story of recovery from severe anxiety and depression. With complete honesty, he walks us through his journey: from nearly ending his life, to weeks and weeks of darkness, to finding healing down the road. Matt shares the worst of it. He writes about everything he feared and felt, and he shares the best as well. The book includes lists of things that helped him keep going and helped him get better. Upon reading the final sentence on the final page, i added a new title to my list of all-time favorite books. In a difficult season of walking through my own darkness, this beautiful book had been a guide, a deep source of encouragement, and a reminder that i was not alone.
Weeks later, when it came time to choose a statement for this year's World Suicide Prevention Day campaign, our team looked at dozens of phrases and ideas. We looked at words that have resonated in the form of blog posts and tweets and speeches. There were lots of good options, but none of them felt quite right.
i went back to my bookshelf and pulled out Reasons to Stay Alive, wondering if the answer might be hiding in its pages. i decided to read the book again, this time searching for a few words that we could amplify, words that might start conversations and spark hope. i didn't know exactly what i was looking for, but this seemed the place to find it.
Early in Reasons to Stay Alive, Matt shares the story of the day he nearly died. He paints the scene, the edge of a cliff just steps outside the door of a rented villa in Ibiza. Here it is in Matt's words:
"I stood there for a while. Summoning the courage to die, and then summoning the courage to live. To be. Not to be. Right there, death was so close. An ounce more terror, and the scales would have tipped. There may be a universe in which I took that step, but it isn't this one.
I had a mother and a father and a sister and a girlfriend. That was four people right there who loved me. I wished like mad, in that moment, that I had no one at all. Not a single soul. Love was trapping me here. And they didn't know what it was like, what my head was like. Maybe if they were in my head for 10 minutes they'd be like, 'Oh, okay, yes, actually. You should jump. There is no way you should feel this amount of pain. Run and jump and close your eyes and just do it. I mean, if you were on fire I could put a blanket around you, but the flames are invisible. There is nothing we can do. So jump. Or give me a gun and I'll shoot you. Euthanasia.' But that was not how it worked. If you are depressed, your pain is invisible.
Also, if I'm honest, I was scared. What if I didn't die? What if I was just paralyzed, and I was trapped, motionless, in that state, forever?
I think life always provides reasons to not die, if we listen hard enough.
Those reasons can stem from the past—the people who raised us, maybe, or friends or lovers—or from the future—the possibilities we would be switching off.
And so I kept living."
And so I kept living. 
There it was.
i ran it by our team, and then i wrote to Matt. i explained our annual campaign and asked if we could borrow his powerful words.
He wrote back that it would be an honor, and that he would be happy to help.
Last week, i asked him to tell me more about the words, about what they mean to him now, and what he hopes they might mean as we approach World Suicide Prevention Day. He offered this:
"I think the statement is just a declaration that life is not always going to be the same, that when we feel we are in the bad place we have to ride it out, because there will be many better times, many better versions of us, which we can reach simply by holding—no KNEW—everything would get worse. It didn't. Depression lies. And I found beauty in life after I thought it had been made extinct."
So here we are, a few weeks away from World Suicide Prevention Day. Our hope is that this statement speaks to you, that no matter what your day or week or life has been, you will choose to keep living. To use Matt's words, we hope that you will ride it out and hold on, and we'll add that you don't have to do those things alone. People need other people.
As Matt offered, "Depression lies." Suicide lies as well. Suicide is a moment that robs the chance for other moments—the story ends too soon. Suicide steals the chance of hope and help and change, the chance of healing and a future. Matt's life isn't perfect, but he's glad to be here now. Things look and feel different today, and he is glad he stayed. i still know my pain, but i stay with hope to be surprised.
At the heart of this campaign is an ask, that you will keep going. That you will stay and fight. And not just fight but rest, and let others fight as you recover. We should win and lose together, for that's the way it's meant to be. That's a life best lived.
Your story isn't over. The air in your lungs is there for a reason. Let's keep going. Let's keep living.
And so I kept living.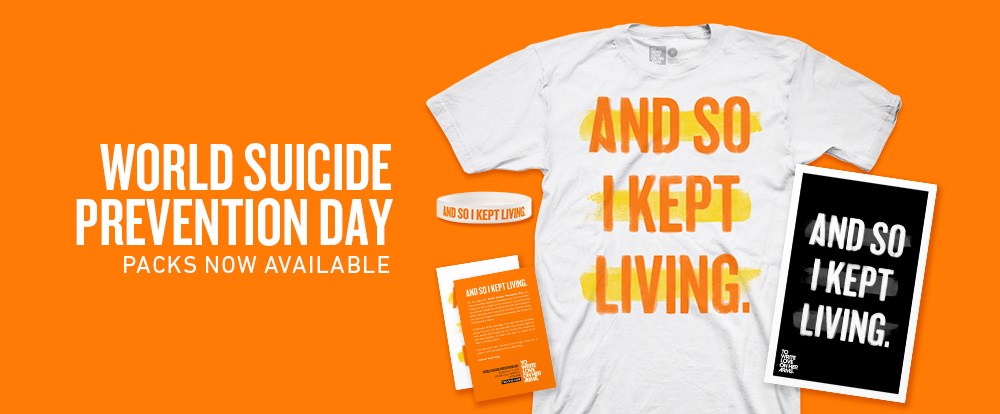 Here's how you can support the campaign:
Buy the World Suicide Prevention Day pack.
Each pack includes a shirt, a bracelet, 3 poster prints, a response card, and 15 info cards. These materials feature our "And so I kept living" design printed in orange, which is often associated with suicide prevention. All of these items are meant to equip you to talk about suicide prevention in your community. Use them as conversation starters, encouraging reminders, and informative tools to share with others. Finally, be sure to wear your shirt and bracelet on World Suicide Prevention Day (September 10)!
Shop Now
Fundraise for suicide prevention.
Help us challenge the stigma surrounding mental health by providing support and treatment for those affected by it. From now until the end of NSPW, every dollar raised through our Classy page will go directly to funding treatment and recovery.
Fundraise Here
Donate Here
Join the conversation on social media.
Share your "I Kept Living" response card (download below) with us by filling out the response card and posting it online. Join the conversation and post photos using #IKeptLiving & #WSPD16. Be sure to tag @TWLOHA on Twitter & Instagram. You can change your Facebook cover photo and Twitter header image to our campaign assets. There will be specific ways to participate during National Suicide Prevention Week (#NSPW16), and we will share those with you as it gets closer.
Response Card Download