What happens when trauma and stress pile up like dishes cluttering every inch of the sink and counter space? When it feels like there's nowhere left to move without making a mess and you've reached your capacity.
"Nothing else bad can happen."
I said it before a friend's older brother died.
I said it before my boyfriend's cousin passed away,
then again after,
and a few days later when my sister ended up in the hospital.
I believed I couldn't roll with any more punches.
Life has been vicious since I was a child. A child who watched my sister become terminally ill, who then grew up in a hospital and made friends with other sick kids who would soon die, who felt so unseen by my peers that the first boy who said he loved me could hurt me without a red flag, who lost a friend due to a hit-and-run accident at the age of 16, who could list a dozen more deaths that would sound meaningless to others but were debilitating to me.
Nothing else bad can happen. 
This can never be true. Bad things do not stop happening for some people. For others, trauma and loss occur rarely, and for some, they fall like raindrops, both sudden and heavy. 
Let's not kid ourselves, rain isn't typically followed by a rainbow of relief, and most death is not a silver-lining type of loss. Abuse and unforeseen trauma are not lessons to learn but adversities that demand us to find a way to live past them. They require time. Time to process. Time to rest, to lay in bed and stare at the ceiling or watch the show you've seen way too many times. Time to be, without judgment or fear. After a strong enough storm, there is water in the basement, something that demands our attention. You can choose to ignore it, but over time, the foundation of the house becomes more damaged.
While some people can carry on with their day-to-day roles in times of great stress, I am not a person who can do that. And it took me a long time to acknowledge that. Today, we are surrounded by media that portrays the idea that this new shampoo or digital planner will revolutionize our productivity and wellness. That eating clean and jogging in the morning will solve all of our problems.
Hustle culture tells us to keep going, that if we stop, we're lazy. It tells us that rest is for the weak. It tells us that if we take a break, we will fall behind and forfeit our chance at success. Our society obsesses over productivity as a way of quantifying a person's worth. I'm here to end that fallacy.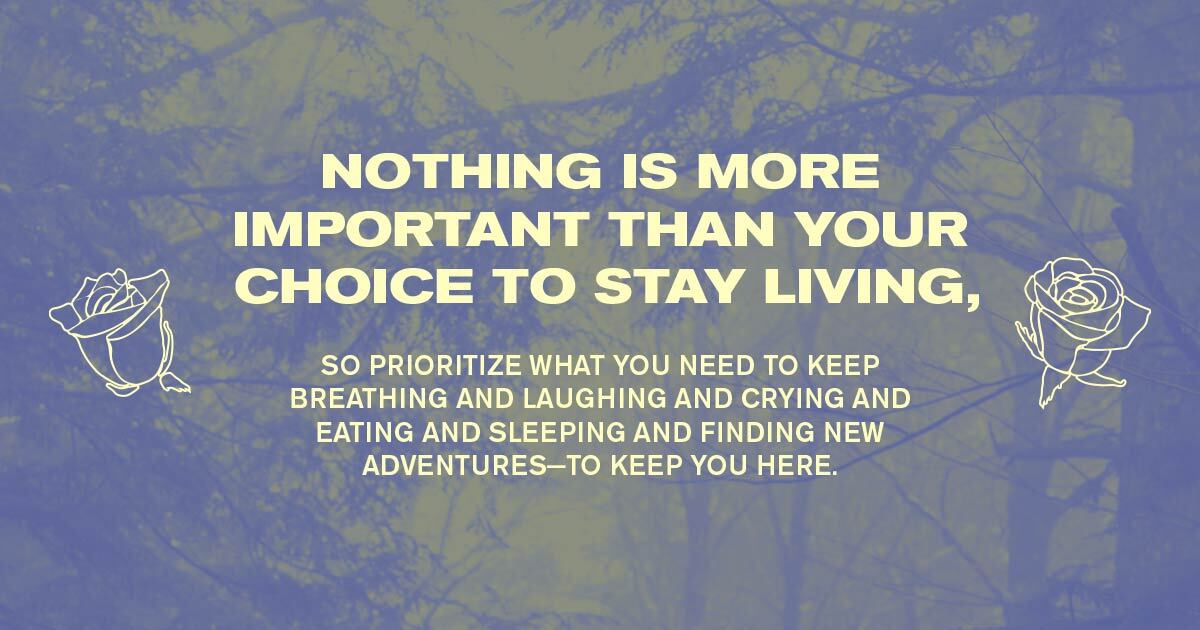 The breath in your lungs is more valuable than any grade or job position. 
Do you know what revolutionized me? Going to bed early. Learning to ask for content warnings from my professors. Finding an EMDR therapist who could help me work through my triggering memories. Creating my own blog to derive purpose from and share what I learned through my survival. Taking care of plants to remind myself that life is not a lost cause. Chasing my little brother around the house to hear his giggle. Learning to take breaks and ask for them when needed. Acknowledging that we aren't meant to continue on normally when nothing is the same.
I had to recognize that a failed assignment is worth processing the mortality of my sister. Missing class for a week is sometimes the determining factor between months of disassociation or a slightly lower grade. Taking a mental health day because of an increase in symptoms is equally as valid as staying home due to a cold.
Some people will be more understanding than others, and it's OK to stand up to the people who fail to understand what you need. Nobody will come asking if you need a break. Nobody will come to know something that you've never shared. It takes breaking the silence to express your needs, whether that's canceling dinner plans or emailing a teacher or a boss. A break should not end you. A few days off should not undermine what you've accomplished.
Nothing is more important than your choice to stay living so prioritize what you need to keep breathing and laughing and crying and eating and sleeping and finding new adventures—to keep you here.
It's OK to rest.
It's OK to say no.
It's OK to ask for help.
It's OK to pause to be someone else's help.
It's OK to say what you need.

---
If you're seeking professional help, we encourage you to use TWLOHA's FIND HELP Tool. If you reside outside of the US, please browse our growing International Resources database. You can also text TWLOHA to 741741 to be connected for free, 24/7 to a trained Crisis Text Line counselor. If it's encouragement or a listening ear that you need, email our team at [email protected].