Uncertainty. It's a word that's been used a significant amount this year. With the pandemic, the state of the world, and today's U.S. presidential election, there have been and still remain a lot of unknowns. Politics can be an uncomfortable or even off-limits subject for many people, many families, many friendships. But, at the base of politics, there are simply people. Humans who need and crave reassurance and stability, who wish to live without fear or worry that what they care about and who they love will be jeopardized.
While we can't predict or guarantee any outcomes, we need you to know something: Your well-being should never be up for debate.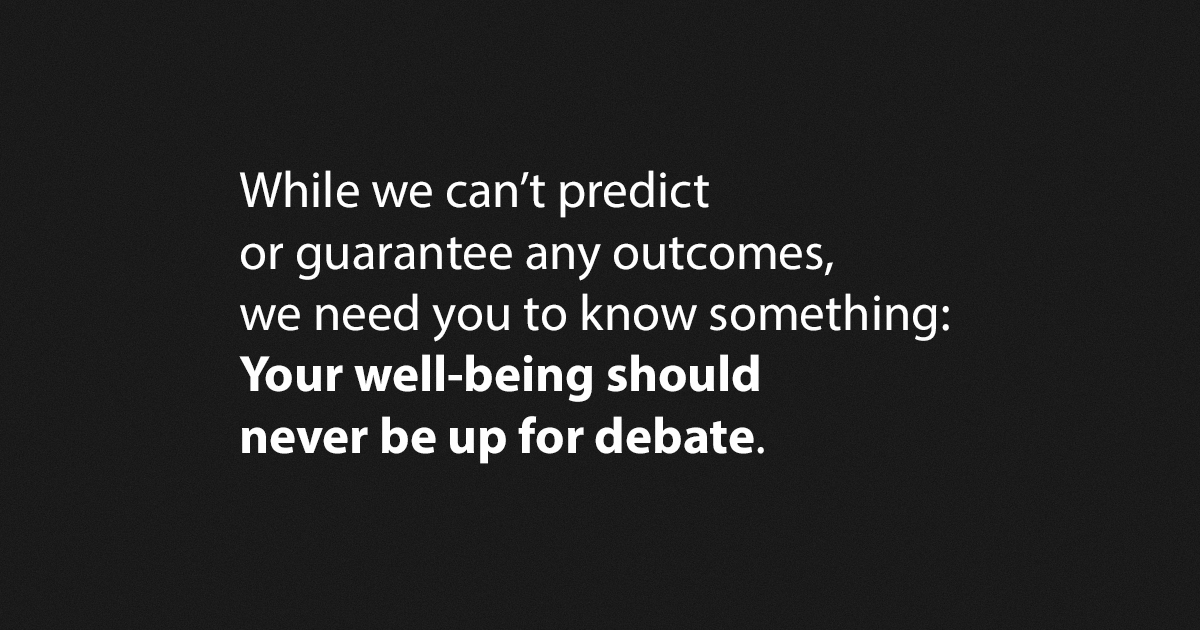 It's next to impossible to not feel anxious or even scared when it comes to seeing how the rest of 2020 will unfold. But within the waiting moments and the trying moments, there are opportunities for us to recognize what it is we can't control and what it is we can. Something you can control right now is showing up for yourself and setting loving boundaries that encourage healing. Here are some suggestions:
Drink water. Eat regularly. Take your medications (as directed).
Get some sleep—take a nap, go to bed early, or sleep in if you can or need to.
Move your body by going for a walk, doing yoga, or dancing to your favorite songs.
Designate a phone-free time or space each day.
Schedule a counseling session (use our FIND HELP Tool to find local counselors) or text with the Crisis Text Line Counselors (text TWLOHA to 741741) for free.
Pick a few times each day to check the news from trusted sources. Let the rest of the day be for other things.
Practice mindfulness through meditation, breathing exercises, and grounding techniques.
Ask for what you need and speak up about how you're feeling.
Show up for a friend who might also be feeling the weight of this season: give them a call, send a heartfelt, honest letter, or surprise them by baking their favorite dessert.
No matter how small these gestures might feel, they are an impactful choice we get to make in advocating and caring for ourselves and those we love. And that's where we find hope. That's where we find love and support when the world is overwhelmed by uncertainty.
Today, tomorrow, and into next year—no matter what transpires in the coming days or weeks—we ask you to remember: You are not alone in this. You matter to us and we will face what comes next together.