This piece talks about self-injury and suicide. Please use your discretion. 
A note from the author: This letter is not meant to discourage anyone from seeking help from a mental health professional. This was my experience with a single therapist. There are countless other therapists out there who can and want to provide real and meaningful help. And if this is something you have experienced from a clinician, know that your struggles are real and valid and that you can find someone who will truly listen to you. You deserve that.
I'll never forget when you said to me: "People commit suicide all the time, if you really wanted to, you would have already done it."
When I stepped into your office that day, alone instead of in group, I thought you understood that I was in the middle of an ongoing battle inside of my brain.
Half of me was screaming to kill myself:
You're not good enough. Everyone would be happier without you. Free yourself from this pain. It's not worth it. 
While the other half, a barely audible whisper, was telling me to stay, to fight:
You are enough. Your story needs to be told. Fight. Stay. 
When I stepped into your office that day, I thought you would remember that just a few weeks ago I was discharged from the hospital you worked for. You had read my file before admission to your program:
Bipolar 2 disorder. Self-inflicted injury. Depressed, severe. Patient was admitted on 3/12/2021. She states that she is suicidal. She plans to overdose and crash her car. Patient has visible self-harm. Therapist called and is adamant that she be admitted. Patient also has one recorded suicide attempt in 2019.
When I stepped into your office that day, I felt safe. I felt heard. I felt seen. You knew my history. You knew my battle with chronic suicidality. I knew you would take me seriously.
But when you said those words, I shattered into a million pieces. The already quiet voice telling me to stay went silent, while the voice wanting me to lose the fight cheered. The rest of the words that left your mouth following that went unheard.
I told you. You'll never be believed. No one will take you seriously until it's too late. He doesn't care. No one cares. Do it. Stop waiting. Do it and free yourself. 
It felt like a dare. A challenge. Prove that you're sick enough. Prove that you're not just making all of this up.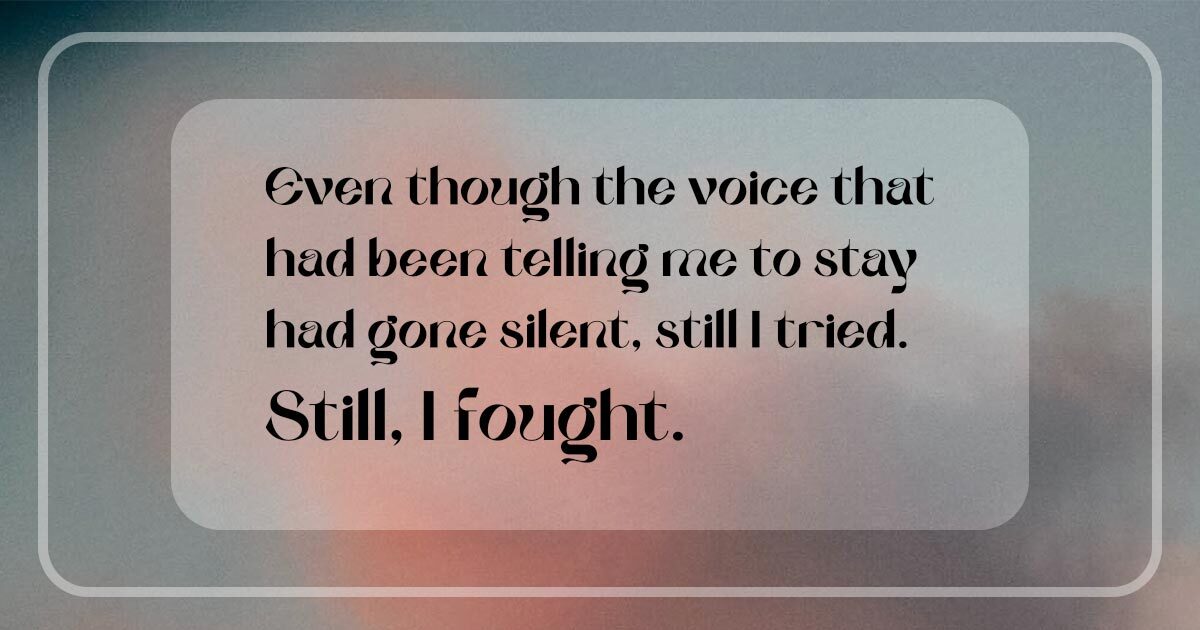 I want you to understand how much harder you made my battle. I want you to understand that your words still echo in my mind. Your words still add fuel to the already raging fire hellbent on destroying me. I can't convey the damage caused in the three seconds it took for those words to be said.
I could have lost the battle. You could have been on the receiving end of the news that a young woman lost her life to suicide. You would have had to witness an empty chair in your group room—knowing that every place I had been would never hold me again.
You're fortunate you didn't have to face any of those things. You're fortunate I had the support I needed, a therapist who listened to me and grasped the severity of my struggle when you didn't. You and I are both fortunate that the same therapist spent weeks undoing the backlash and helped keep me alive.
But I also want to thank you. 
Yes, you increased the difficulty of my fight, but your words caused me to rise to the challenge. To fight even harder than I already was. Even though the voice that had been telling me to stay had gone silent, still I tried. Still, I fought.
Thank you for proving that I can still do this.
Thank you for allowing me to recognize my own strength.
Thank you for causing the dwindling fight in me to flourish once more.
---
You're more than your pain, more than what happened. You are strong enough to heal from the heavy you carry. We encourage you to use TWLOHA's FIND HELP Tool to locate professional help and to read more stories like this one here. If you reside outside of the US, please browse our growing International Resources database. You can also text TWLOHA to 741741 to be connected for free, 24/7 to a trained Crisis Text Line counselor. If it's encouragement or a listening ear that you need, email our team at [email protected].