This piece is part of our Mental Health Month blog series, where we highlight and explore lesser-known mental health challenges. Here's Tori's experience with and perspective on alcoholism.
I don't remember my first drink. Not really. I was raised around alcohol and by alcoholics. Wine and such weren't hard to come by. I do remember drinking whenever I could—despite being underage. At my uncle's restaurant openings, holiday parties, especially when my dad asked his older sister not to give me booze, school bonfires I never felt cool enough to be at—sober or otherwise.
Ever since I was introduced to alcohol it became about getting more. Always more. Not long after my first drink came my first drunk. Then my first blackout, trip to the drunk tank, legal fine, etc. My sponsor says it best, 'it was incredibly difficult to tell if I was drinking like an alcoholic or if I was drinking like any other college student in the US.' Pre-gaming is a part of our culture, enough so that fun and alcohol had become synonymous.
I never learned to drink pretty though.
I woke up drenched in urine. Not knowing where I was. I'd pissed whatever bed I'd been placed in and quickly found out that I was in the local detox, casually referred to as the 'drunk tank.' I'd been picked up the night before for drunk and disorderly conduct. It was pre-Uber times, so they called me a cab back to my college dorm. I remember getting into the shower, terrified someone would see me, fully clothed, with a plastic TJ Maxx bag. I stripped and proceeded to throw my clothes out in the backyard dumpster. That was my second night at college and it would have made for a sufficient rock bottom, but I was nowhere near done drinking.
It took me seven more years of blackouts, not knowing where I was, fearing the unopened texts on my phone, losing friends and relationships, and deep shame before I got sober. I was familiar with Alcoholics Anonymous. My grandmother and my mother had both tried out the program for themselves. I was aware there were 12 steps (although I couldn't name them at the time), I was familiar with the serenity prayer, and I knew that I was desperate to be the only one in my alcoholic family who could drink non-alcoholically.
But there was a flaw in my plan because alcoholics and addicts are physically wired differently than those without a substance use disorder. Science has proven this. It's referred to as 'The Great Obsession.' Alcoholics are powerless over the first drink. I am powerless over the first drink. Once I have one, I will always have a second. No matter what.
My eventual rock bottom looked like me falling to my knees and begging any and every god to take me or the pain away. I didn't care which one. I'd been sexually assaulted earlier that evening and decided to drunkenly drive to my ex-partner's apartment, the one I'd moved out of weeks prior. The relationship had turned abusive and that evening was no different. After a physical fight, I crawled back into my Subaru and made my way home. That's when the praying started. It truly was a "You had to be there" moment, but that pain, that genuine plea for help, led me to my first meeting of Alcoholics Anonymous.
There, I learned all about my lack of terminal uniqueness. Turns out everything I'd been feeling my whole life: deep-seated resentment, debilitating fear, erratic rage, colossal shame, the feeling that I somehow deserved to feel pain and was simultaneously a waste of space—all commonalities amongst sober alcoholics.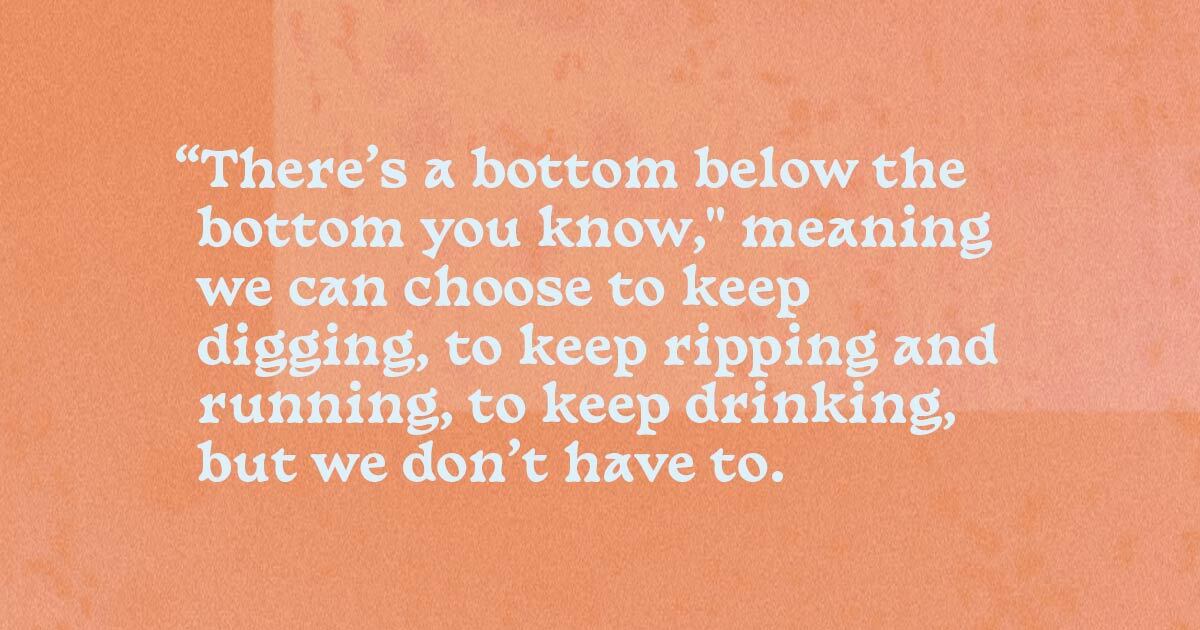 I was also quickly informed of how lucky I was to hit my rock bottom so young. We like to say, "There's a bottom below the bottom you know," meaning we can choose to keep digging, to keep ripping and running, to keep drinking, but we don't have to. A sufficient bottom does not need to include total calamity for it to be enough to make someone stop. My bottom hurt, a lot, as did most of my drinking escapades, but I still have what we call "not yets" waiting for me if I were to choose to start drinking again. Some of those not yets include the loss of financial security, a DUI, permanent legal ramifications, and the state of my liver.
A small part of me used to think to qualify to join Alcoholics Anonymous you needed to have a gruesome story. It just so happens that the only requirement for membership is a desire to stop drinking. It took me seven years to want to stop. Earlier on I wanted to stop losing friendships, I wanted to stop the negative physical impacts brought on by my drinking, I wanted to stop having such little respect for myself that I consistently put myself in physical danger, but it was never rooted deeply enough to actually want to stop drinking. Not until 2018, a little over two and a half years ago.
My last drink was also my last drunk. There are quite a few slogans within my 12-step program, all of which I hold near and dear to my heart, but my two favorites are: "This is not a self-improvement program, this is a self-acceptance program" and "Progress, not perfection." I've learned to grow up in sobriety, to mend my wounds, parent my inner child, and forgive others as well as myself. Alcoholics Anonymous has given me everything that alcohol promised: self-love, confidence, once-in-a-lifetime friendships, stability, and serenity.
I stay sober because I genuinely have no desire to drink today, but I remain a proud member of a 12-step recovery program because I know I have another drunk in me, but I'm not so certain I have another recovery in me. Since getting sober, life has by no means become a wish-granting factory, I've experienced some dream-come-true moments, as well as the fruition of most of my fears, but I've walked through each of them soberly and that fact remains front and center in my mind.
I'm an alcoholic and my name is Tori. 
---
You deserve love and a safe place to begin, continue, or restart your journey toward healing. We encourage you to use TWLOHA's FIND HELP Tool to locate professional help and to read more stories like this one here. If you reside outside of the US, please browse our growing International Resources database. You can also text TWLOHA to 741741 to be connected for free, 24/7 to a trained Crisis Text Line counselor. If it's encouragement or a listening ear that you need, email our team at [email protected].