I stand 1/880th of a mile tall.
All my growth and progress and doubts and questions occupy a frame that is microscopic compared to how I size up the world around me.
My parents and my siblings live 704,000 body lengths away from the place I call home.
It would take 28.5 million copies of me holding hands with fully outstretched arms to cover the amount of ground that I travel throughout each year, in the effort of connecting people to hope, help, and the idea of fresh starts.
These numbers are daunting in part because there is only 1 of me, making this standard of measurement wholesale unfair. After all, which versions of myself am I even hoping to multiply? The me that began the year hopeful? The me that is still wounded and confused? The me hung up on mistakes I chose to make or the me fighting through the adversity that seemingly picked me?
I think years work in the same way. We all find weeks or days or hours or seconds that we lean on more heavily than others. Fragments that find a way to define the whole. In one trip through the calendar, there are pieces that we chase to repeat and others that we work to forget.
I don't know what has happened in your life between the last ball drop and now. It very well may be that your resolutions have become delusions, chasing shadows of what you had initially hoped for. You likely did not opt for this heartache, or plan for the relapse, or prepare for the reality that you now face.
I understand how trite it can sound to say that you can still start over. If you pressed me, I don't know if that's what I would say in all honesty…
But perhaps it's not about starting over. Maybe it's about defining a new new. Picking a starting point more fitting than January 1st. Identifying a measurement that honors the journey thus far and the progress that can still be made.
This is not about mind games or the power of positive thinking—I've seen these new news unfold in real-time. Back in 2015, I met a young woman named Lena at a music festival in May. She was part of a crowd that had gathered at our booth as I told the story of how TWLOHA began. When I finished, I asked if anyone had any questions and Lena spoke up without lifting her head. She said, "I had 21 days, but I fucked up." I told her that today seemed like a good day to start again. She said, "No, you don't get it, I already fucked this day up." I told her that she had been standing at the booth now for 10 minutes, there's no reason to not start again right now. I told her that the booth would be open all day if she needed quiet or some company or if she had any other questions. She came back to the booth as one of my last interactions of the festival. I asked how her day was and she was surprised that I remembered her name. She said it was a good day for thinking, and that she was ready to make a good decision. She wanted to stop by our booth before heading to the bathroom to flush the rest of her pills. She said she was ready for more good choices.
A year later, I saw Lena again at the same booth at the same festival. She started by saying, "You probably won't remember, but I met you last year when I was having a rough day." With a smile, I replied that I absolutely remembered and asked her how she'd been. "Well, today makes 52 weeks clean."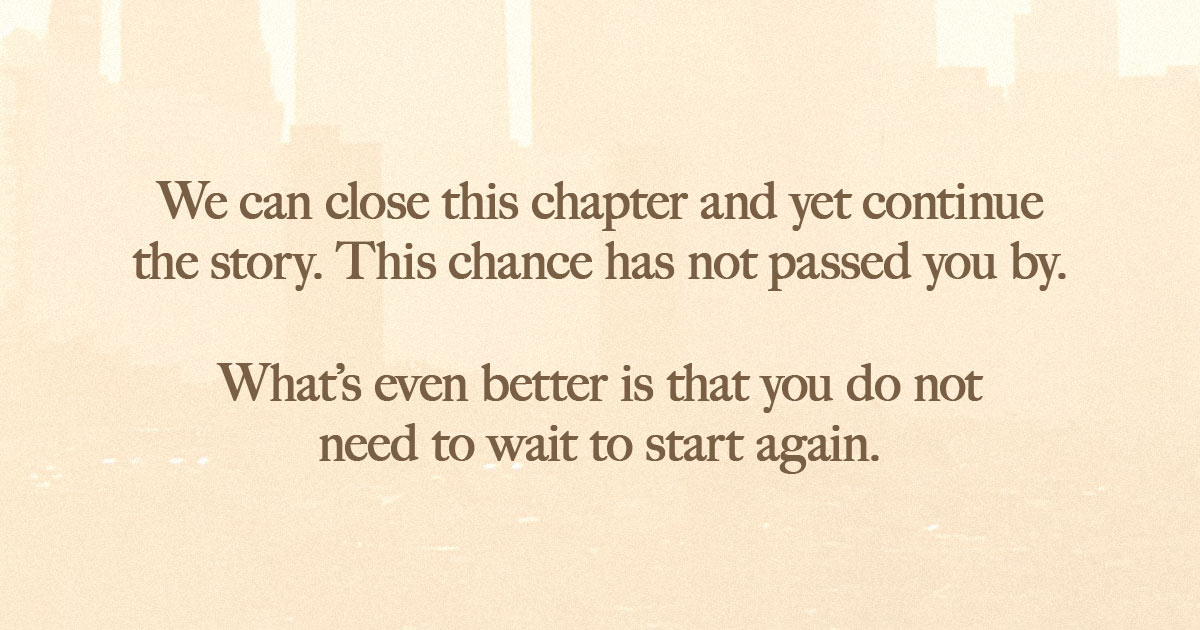 When I think of Lena, I think of parts of my own story and the stories of so many others who have so bravely let me observe pieces of their lives. When I think of all the miles and moments and faces, I can't help but believe that a journey of recovery—even in the face of relapse—is centered on the thought that what could have been may still yet be.
Be where your feet are. Measure toe-to-heel for as long as you need. There are miracles in those inches and any progress worth making will honor the details that are so often overlooked.
Your dreams for being better, for going further, for chasing down success were not wasted. You are not undone. You haven't fucked it up. I am measuring this based on what I know, that a world where you are existing, where you are trying, is a world made more beautiful in increments that only YOU possess.
Even your tears contain your DNA, making your heartache irreplaceable.
You can yet go where you want to go.
You can yet be loved as you had hoped.
You can yet change your pace from crawl to stride to sprint to rest.
A little while back, we welcomed you to a new start. We celebrated and anticipated 12:00 and now we are well after midnight. We had set intentions for this time to be different and maybe we find that we fell victim to a false start. If I am honest, there's no shortage of reasons for me to seek a restart as well. So let's do this together—for whatever reasons make sense, in whatever measurement makes sense. I won't compare your New Year to anyone or anything. We'll go at this differently but still together.
Every daybreak will bring its own beauty. No cloudscape will ever give us the same menagerie and no rainbow will ever land in the exact same space or have the same width or have the same arc. Things can be both changed and still changing.
The only way we will get through it is if WE get through it.
Know that you can lose yourself and still be in clear view of others.
Resolutions are typically personal and private things. We share what is easy, but we really don't expect a ton of accountability.
And if this year has already left you feeling doubtful, or bruised, or nursing a limp, then trust that we can fix it again. We can re-solve this. We can double-check the map, mark the potholes that tripped us up, and find a better way forward.
Even if this year began with stutter-steps, there is more than enough space to regain your rhythm.
This year is not over. We can close this chapter and yet continue the story. This chance has not passed you by. What's even better is that you do not need to wait to start again.
So once again…
3…
2..
1.
---
You deserve love and a safe place to begin, continue, or restart your journey toward healing. We encourage you to use TWLOHA's FIND HELP Tool to locate professional help and to read more stories like this one here. If you reside outside of the US, please browse our growing International Resources database. You can also text TWLOHA to 741741 to be connected for free, 24/7 to a trained Crisis Text Line counselor. If it's encouragement or a listening ear that you need, email our team at [email protected].