I used to be ashamed and scared all the time. I felt alone, misunderstood, and helpless. I never knew what was wrong with me until one fateful night 17 years ago.
My panic attacks began at the age of five. I can vividly recall waking up and suddenly finding it hard to breathe, screaming for my mother, fearfully thinking that something terrible was about to happen. I grew up in the '80s when anxiety was in the infancy stages of being studied. When my mother took me to a doctor, he sent me home with a brown paper bag to breathe into.
For much of my middle school and adolescent years, I silently hid my bouts with anxiety. I couldn't pinpoint why certain situations made my hands sweat and my stomach churn.
It wasn't until my junior year of college when my parents divorced that my anxiety became crippling. For weeks, I didn't leave my apartment and stayed in watching movies and ordering takeout. My parents were too distracted to notice, which only left me feeling more helpless and alone. To be honest—I thought I was going insane.
Then, one night around 3 am, while I was reeling from insomnia, an infomercial for a program on anxiety came on the television. I was glued to the set, listening to different people of all ages talk about their experiences with anxiety and depression. For the first time in 21 years, I felt seen, I felt less alone. I could put a label on what was happening. Throughout the program, they talked about the benefits of therapy, eating healthy, exercising, and finding a support system—but most importantly, they spoke about living full and happy lives.
I stood up from my bed, ordered the program, and got to work. I began listening to the CDs and reading the workbooks. I started venturing out from my apartment little by little and enjoying the fresh air. I spent countless hours in the library reading anything I could find on anxiety, desperate to know everything about something that had been plaguing me my whole life. Soon, I reached out to my aunt and asked for help. She set me up with a therapist and my journey toward healing truly began.
Now, 17 years later I have a completely different outlook on the thing I used to believe was a curse. After years of cognitive-behavioral therapy and talk therapy, I've learned skills and techniques to manage my anxiety. In therapy, I faced pain and traumas from when I was younger. I discovered that keeping my anxiety a secret only made it worse and fed into my shame. I found that acceptance and honesty about who I was would eventually set me free.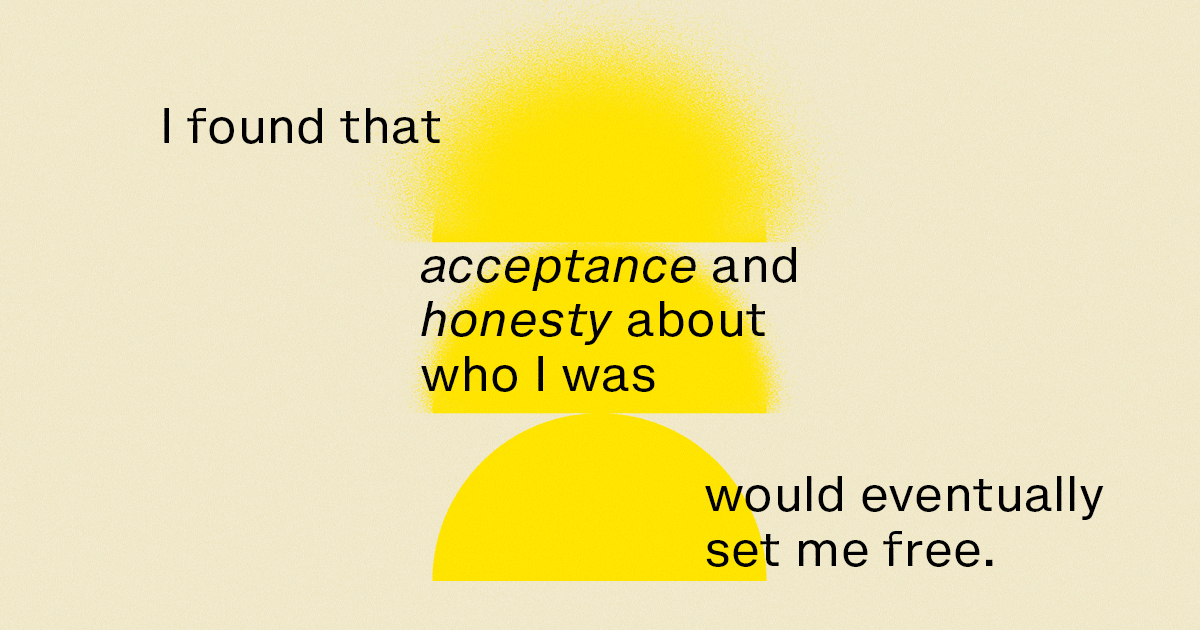 Over time I realized that one of the biggest keys to happiness is perspective. I began looking at all the benefits anxiety had brought into my life. I stopped fighting the anxiety and hoping it would go away, and started embracing it. I realized the same anxiety that for so long kept me fearful and ashamed was the same anxiety that made me ambitious, determined, resilient, passionate, empathetic, and funny.
It's hard to get to a place where you have even an ounce of gratitude or understanding for your anxiety or depression. Trust me, it has taken years and I still struggle sometimes. But I have one life to live and I embrace that journey by having the grace to take it one day at a time. We're not in control of the future, so why not sit back and allow whatever is coming your way to come—the good, the bad, and the anxious.
---
The author is a creator and host of the Fed Up podcast. Here's what she had to say about the project: "Join our Fed Up movement by following us @feduppodcast on Instagram and tuning in to listen on Itunes or Spotify! This podcast's intent is for people to stop judging themselves and embrace their mental health. We believe that by speaking about life and the world around us with transparency, honesty, and humor, people feel less alone and more understood." 
---
You are not your thoughts. Anxiety is not who you are—you deserve to know peace. We encourage you to use TWLOHA's FIND HELP Tool to locate professional help and to read more stories like this one here. If you reside outside of the US, please browse our growing International Resources database. You can also text TWLOHA to 741741 to be connected for free, 24/7 to a trained Crisis Text Line counselor. If it's encouragement or a listening ear that you need, email our team at [email protected].