If you struggle with depression, you know what I'm talking about when I say that sometimes I am TIRED.
Not just tired like "I need some sleep." Tired like, soul-tired. Spirit-tired. Hope-drained-tired. Tired-of-trying-so-hard-tired.
Do you know what I mean?
TBH,
I get soul-tired from time to time, but never like I used to.
I'd consider myself healed from depression. Anxiety? Not quite there yet. But I know for sure that there was a distinct BEFORE and AFTER with my depression.
I just wanna share something with you from over here in my "after," in case you're still in your "before."
For me, suicide made so much sense in my "before." I was chronically, deeply depressed from age 12 to 21. That's a long time. And I was TIRED. And really, the only thing that comforted me was this sense of relief I got from imagining what it would be like to just, not exist.
To me, in my mind, the soul-tiredness I had was going to be my forever. I just didn't see a way that I could heal. And OMG. I was trying so hard. I thought I had tried everything. And after all that fighting, I was too soul-tired to even bother continuing to try. Do you know what I mean?
If you can relate, I feel you. It's so hard.
So this thing happened.
One day, in the middle of my daily suicidal thoughts, this one small thought crossed my mind:
"What if,
I can heal from depression. And this is not my forever?
What if,
I could actually get better?"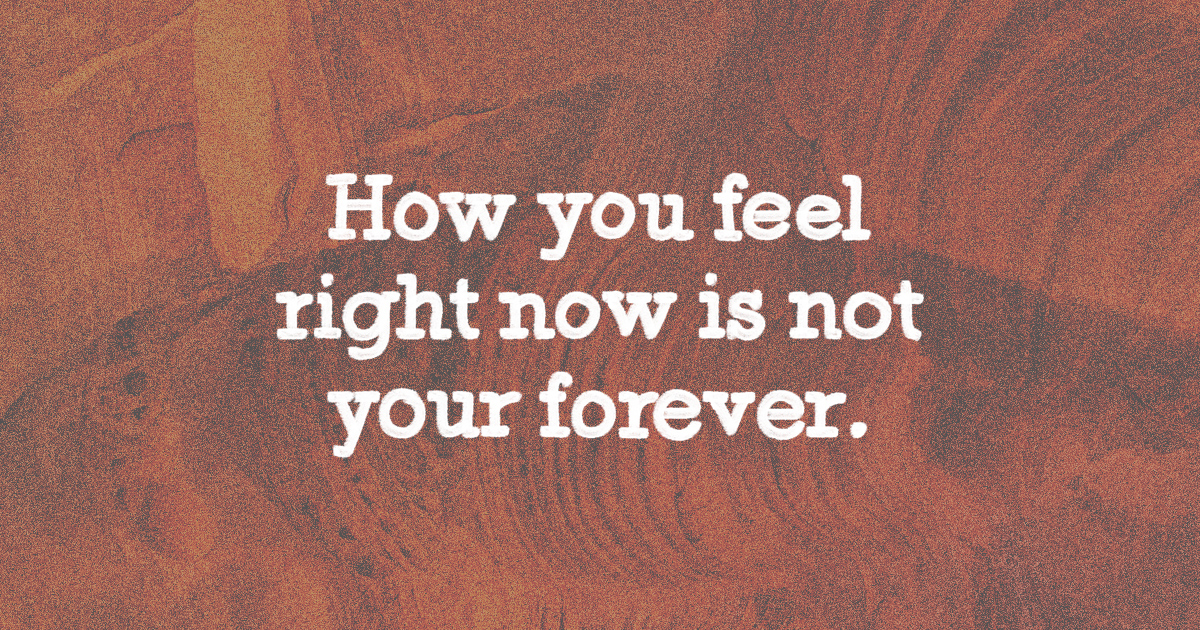 To me, at the time, this idea was totally revolutionary, because the power suicide had over me was rooted in the belief that my story was over.
I decided to listen to that thought.
Believing that one thought saved my life.
I decided to believe that it was possible to get better. It wasn't some fairytale. It could actually happen for me. And little by little, the grip that the idea of suicide had on me loosened.
Here in the "After…"
I'm so glad I stuck around to see that the darkest part of my story wasn't the way the story ended. I'm NOT perfect, I still get soul-tired every once in a while, but I'm actually, genuninely, overall, definitely feel a zillion times BETTER. And I'm happy.
I'm glad I'm alive. And for a long time, I never thought that could happen.
So I'm here to tell you that if you are depressed, how you feel right now is NOT your forever.
Life gets better. Situations get better. Your brain gets better. And you can get better.
To top it all off…
I never give advice because I remember how annoying it was to get unsolicited advice when I was at the darkest part of my battle.
And I don't know what will work for you.
But I do know that I thought I had tried everything. And just choosing one more time to believe that I could get better? That was the thing that set me on the path of healing.
You can get better. It's actually, for real, possible. And it's totally worth the fight. I promise.
Keep fighting, warrior. You're closer to winning than you think.
EMM is a singer, producer, musician, and prolific songwriter. You can listen to her music on Spotify, Apple Music, and more, and connect with her on social media at @emminreallife.