May 1st marked the start of Mental Health Month in the US. This month is a chance for us to continue combating the stigma that keeps far too many silent. This month is a chance to tell and highlight stories of lesser-known challenges. This month is a chance to declare a few statements we believe to be Black and White.
These statements, to us, are not up for debate when it comes to you and your mental well-being. These statements are truths that we believe apply to you despite what society or your mental illness might try to convince you of. And if you find yourself unable to hold these beliefs on your own, know that we are and will always carry them on your behalf.
Stop apologizing for existing.
We often say the words, "We're glad you're here"—and it's something we truly do mean. We're glad you—and everything you entail—have crossed our path. Your love and joy. Your peaks and valleys. Your hard moments and really great days. Everything that you embody, internally and externally, is welcome here. Even the stuff that doesn't fit neatly into categories or pushes the boundaries of what has been deemed "good" or "bad"; "acceptable" or "unsatisfactory."
Sometimes we're made to feel or even told that we're too much or too little depending on the day, depending on what we're feeling and facing. Too fat, thin, queer, loud, honest, quiet, weird, unstable, depressed. Never quite right. Never quite up to par. We feel pressed to meet expectations that supposedly dictate if we're desirable, current, and welcome. And if we don't meet those marks, we fear people will believe that we are poor employees, parents, friends, or just humans. If we don't meet those marks, we should apologize.
But your existence, as it was, as it is, and yet as it can be, is not something you need to apologize for. Your existence is complex. It warrants grace and growth and patience. You do not need to apologize for being here. For changing. For feeling. For sharing or asking for support. For struggling. For being you.
None of these things require forgiveness, so stop apologizing for existing.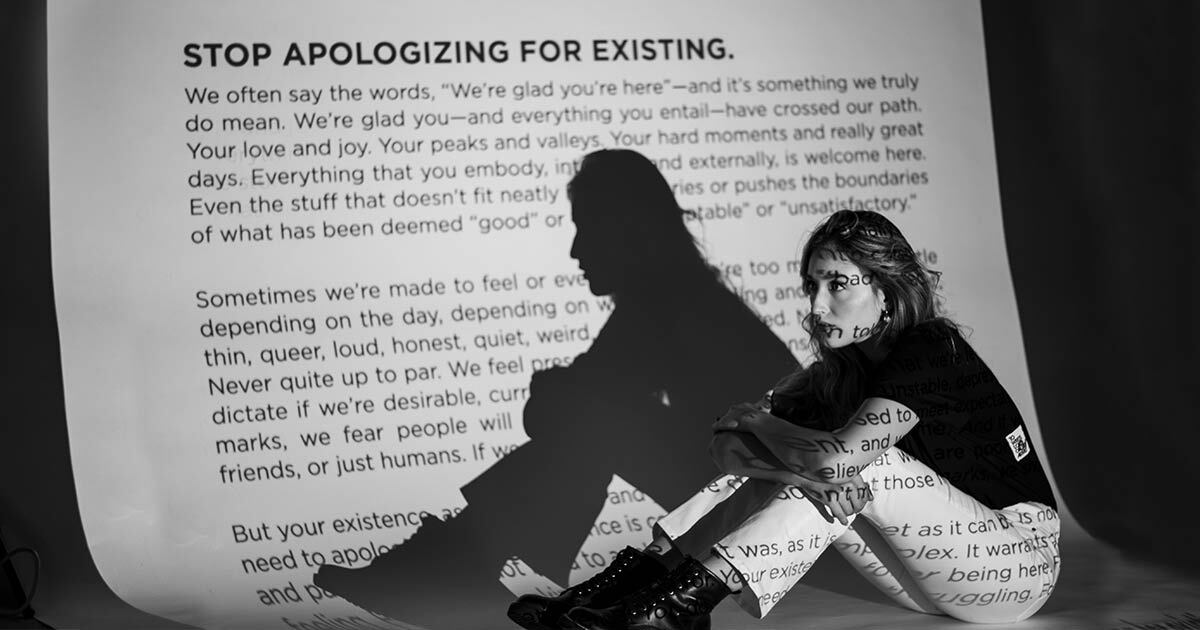 I am not broken. Who I am is whole. 
The fact that you go to counseling or want to go back to counseling does not mean you are needy.
The fact that you are feeling depressed, anxious, or suicidal does not mean you are hopeless.
The fact that you take medication does not mean you are broken.
The fact that you are continuing to grow doesn't mean that you are not complete.
The fact that you are still learning and changing doesn't mean you have more to do or be.
The fact that you are in the process of healing doesn't mean that you are not whole.
The act of being reconstructed, glued back together, doesn't make you any less you. You are a mosaic, composed of diversely reflective bits of experience and empathy, of context and community.
We don't need to convince you that this life can hurt, and at some points, you may feel broken, but the adjective is not the noun. There is an identity at the heart of any moment. A focal point. A piece that finds purpose in the mix of so many others. We've been at this long enough to see time and again that our pieces can still fit perfectly together with other people's. You may feel broken, but maybe you are hurting and healing. You may feel incomplete, but perhaps you are searching and expanding. You may feel far from finished, distracted by milestones that seem irregular at best, but you maintain your wholeness just as the sun sets and the moon rises. Just as the tide ebbs and flows, you remain whole throughout.
Nothing can take away how far you've come.
Distance and time. They so often go hand-in-hand. Where are you coming from? Where are you going? How long have you been here? How long did it take? Your ETA is principally determined by where you start and where you hope to wind up. Any traveler will remind you of nuance, of tail speed, detours, and sudden traffic jams. The only guarantee is that the you that arrives will be different from the you that started the journey. Even if you have to make a U-turn, reroute, or return to Point A and travel the most familiar route imaginable for the hundredth time—you trek forward with more experience, more memory, and less tread on your shoes than the time before. And the most important thing about experience is that nothing can take it away.
Nothing can undo what you've learned about the world or discovered about yourself. You can tend to your skinned knees, sore muscles, and tired heart with a bit more ease, a bit more faith. Potholes and pitfalls of relapse and backslides can never undo the you that you are. A you that we believe in. A you we proudly cheer on and celebrate every step (and misstep) of the way. A you that has come so far. Nothing can take away how far you've come. 
Each day is new—and yet an accumulation of experiences, an ongoing, real-time story where moments happen, challenges arise, and you are ever-growing. And the journey, it continues—but only with you present. You are a story still going. A story we are grateful to bear witness to.
With Hope,
TWLOHA
---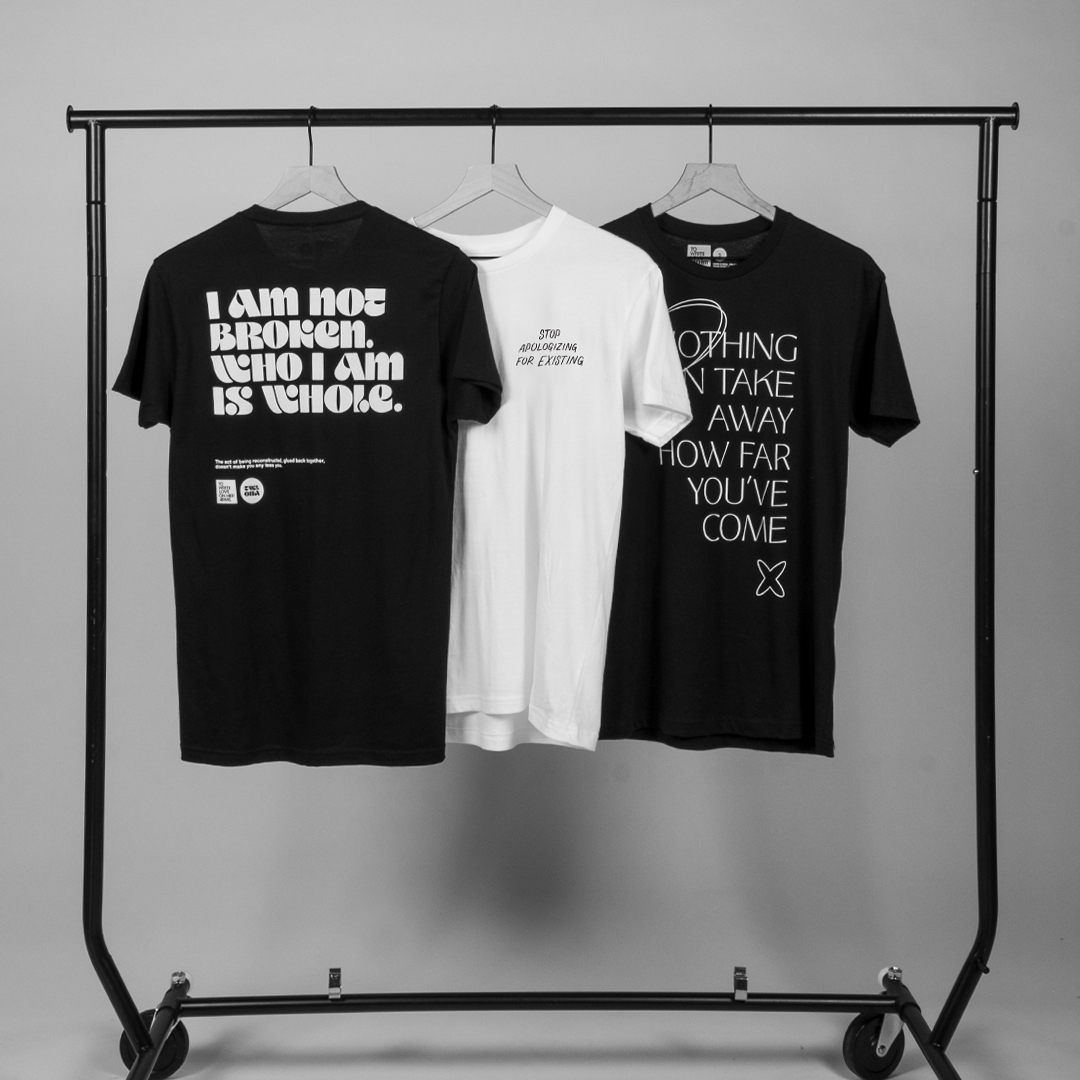 Shop our Black and White collection here.
If you or someone you know is in need of support, we encourage you to reach out for the help you deserve. For those living in the US, we invite you to use TWLOHA's FIND HELP Tool to locate local, affordable resources simply by entering your zip code and the level of care you're seeking. For international resources, visit our FIND HELP page for a growing collection of options listed by country. You can also download our new daily-use self-care app, The Hopeful, for free here.
And as the month of May continues, be on the lookout for new content like blogs, podcast episodes, and live conversations releasing across our pages on Instagram, Twitter, Facebook, and TikTok!