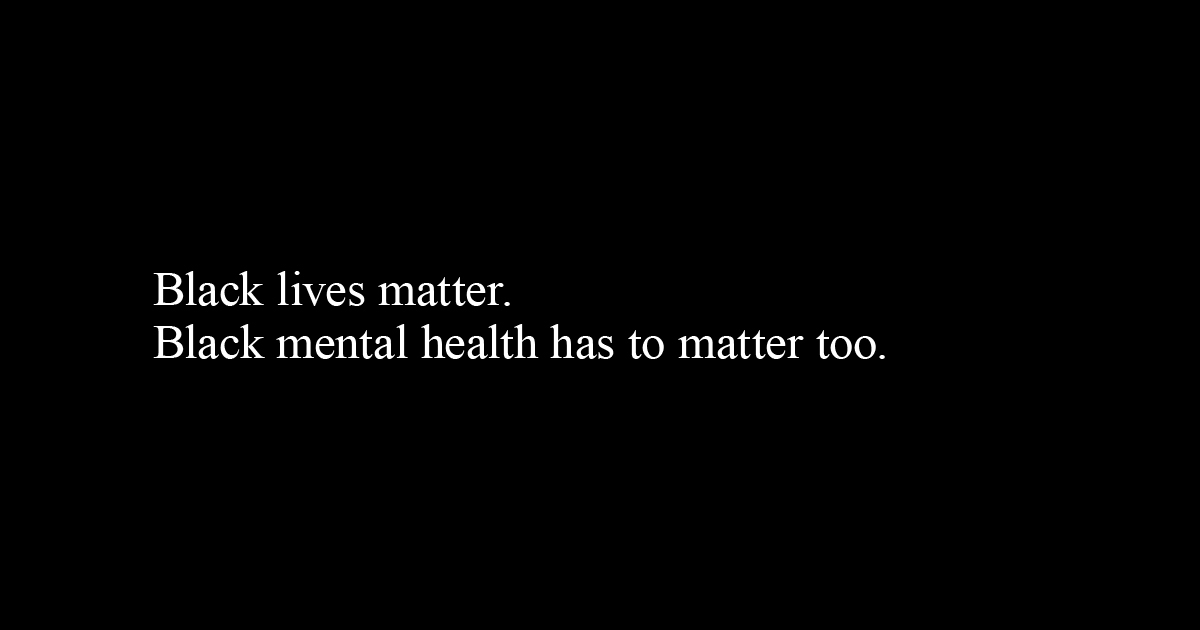 Black lives matter. And that means Black mental health has to matter too. We have learned from the Black Emotional And Mental Health Collective that "Black people are 7 times more likely to live in areas with limited access to mental health care. There is a shortage of black mental health providers, and only a third of Black people who need mental health services receive treatment."
We've talked about the mental health effects of systemic racism and discrimination. We have to keep talking about it. Today we're sharing mental health resources created by and for Black people.
We know this list represents some but not all of the resources available. If you have one you'd like to recommend, we'd love to know about it. Please email information and links to us at [email protected].
---
Black Mental Health Resources
TWLOHA's Treatment & Recovery Scholarships

These funds represent a collective belief that all people should have access to professional mental health care. This application is open to anyone regardless of race or ethnicity, but if you are a person of color facing financial barriers we encourage you to apply here. We can also help you connect with a therapist in your community.
Black Therapists + Resources
Therapy For Black Girls
Therapy for Black Girls is an online space dedicated to encouraging the mental wellness of Black women and girls. They also offer a referral tool to find a therapist in your local community.
Inclusive Therapists
Inclusive Therapists offers a safer, simpler way to find a culturally responsive, social justice-oriented therapist. We center the needs of marginalized populations, including Black, Indigenous, and People of Color, the LGBTQ+ community, neurodivergent folx, and people with disabilities.
Black Emotional and Mental Health (BEAM) Virtual Therapist Network
BEAM is now offering an online directory of licensed Black therapists who are certified to provide telemental health services.
Therapy for Black Men
Therapy For Black Men is a directory to help men of color in their search for a therapist. Using the directory, men can search by therapist location and specialization. Searching by location, the results will include the therapists near you and will display their credentials, location, and the issues they treat.
Black Female Therapists
Black Female Therapists (BFT) is a lifestyle and empowerment platform for women of color. This platform was created to promote, inspire, and elevate other black female therapists and create a safe space for black mental health. Not only is it a place to connect but also a safe place for black women to discuss their mental health and wellness journey and learn new strategies to live a better life.
Association of Black Psychologists
This listing comprises Psychologists who are members of The Association of Black Psychologists who own and operate their own private practice business or are employed as therapists, and have elected to participate in this directory.
Open Path Psychotherapy Collective
Open Path Psychotherapy Collective is a non-profit nationwide network of mental health professionals dedicated to providing in-office mental health care—at a steeply reduced rate—to individuals, couples, children, and families in need. When using the Find a Therapist tool, you can find Black therapists by updating the Ethnic Speciality filter. Open Path therapists provide affordable, in-office and online psychotherapy sessions between $30 and $60.
Ayana Therapy
The Ayana Therapy app strives to address the strong lack of engagement between minorities and the mental health care industry which arises as a result of cost, stigma, and lack of cultural competency. We help match users with licensed professionals that share their unique traits, values, and sensibilities.
Black Therapists Rock
Black Therapists Rock's mission is to increase awareness of social and psychological issues impacting vulnerable communities and reduce stigma related to mental health. They offer a directory to find Black therapists and mental health providers.
The National Queer and Trans Therapists of Color
The National Queer and Trans Therapists of Color Network (NQTTCN) is a healing justice organization that actively works to transform mental health for queer and trans people of color in North America. They also offer a directory that helps queer and trans people of color locate queer and trans people of color mental health practitioners as well as offering a scholarship fund.
LGBTQ Psychotherapists of Color – San Francisco, CA
QTOC is a San Francisco/Bay Area grassroots, volunteer-led group providing support, networking, leadership development, and community building opportunities for LGBTQs of Color in Psychology, Social Work, and Counseling. They also provide a therapist directory for in-person and virtual counseling.
Psychology Today
If you need help finding an African American therapist, Psychology Today offers a search tool matched on zip code or city.
Black Mental Health Organizations
Sista Afya Community Mental Wellness – Chicago, IL
Sista Afya Community Mental Wellness has a mission to sustain the mental wellness of Black women through building community, sharing information, and connecting Black women to quality mental wellness services.
Healhaus – Brooklyn, NY
Wellness center in Brooklyn NY offering classes, mindfulness exercises, and online classes, workshops, and private sessions.
Ethel's Club
Digital membership club focused empowering people of color in wellness, culture, and creativity.
The Boris Lawrence Henson Foundation
The vision is to eradicate the stigma around mental health issues in the African American community. Through their partnerships, the foundation will ensure cultural competency in caring for African Americans who struggle with mental illness by providing scholarships to African-American students who seek a career in the mental health field; offer mental health services and programs to young people in urban schools; and combat recidivism within the prison system.
Sad Girls Club
An online platform and in real life community created to bring girls together who are battling mental illnesses. There are three goals that stand at the forefront of their work—Remove the negative stigma integrated in mental health conversations. Provide mental health services to girls who do not have access to therapy and treatment. Create in real-life safe spaces that build a community for young women to know—they are not alone.
Thank You For Breathing
Bridging the gap between personal + community responsibility: comment section to IRL. The Breathing Space is now home to an audience made up of individuals, like-minded and un-like minded, invested in each other's lived experiences, partaking in candid discourse; safely, openly, and freely.
Loveland Foundation
Loveland Therapy Fund provides financial assistance to Black women and girls seeking therapy.
Melanin & Mental Health
Melanin & Mental Health was born out of a desire to connect individuals with culturally competent clinicians committed to serving the mental health needs of Black & Latinx/Hispanic communities. They are committed to promoting the growth and healing of our communities through our website, online directory, and monthly events.
If you're interested in personal stories regarding Black mental health, read "An Open Letter to Black Women About Mental Health"
Disclaimer: Although TWLOHA believes in the power of professional help, you are responsible for selecting the provider or treatment. TWLOHA cannot accept responsibility for any of the services provided by these or any other providers.