This piece discusses the topic of self-harm. Please use your discretion.
"It's 3:24 a.m. and all of a sudden I feel the emotional pain I've internalized this week start to boil to the surface. My skin tingles. Usually, this pain escapes through my tears or my words, but tonight, I have none. It needs an exit, and my hands want so badly to carve it one. But I will not…I will not…"
What you just read is a journal entry from the night I stopped self-harming. That was two months ago, and sometimes I still struggle. The harming ceased, but the thoughts, the urges, didn't. The thing about self-harm is that it's essentially an addiction. I'll be the first to admit that at one point in time, I was addicted to the pencil sharpener I kept in my phone case. I don't remember when or exactly why I put it there, but in times of darkness, it was an eerie comfort—a way out that I knew would relieve my emotional pain—if only for a moment. It's as if my brain associated that temporary relief with the act of injuring. I relied on it like an asthmatic relies on their inhaler, except my way wasn't ever going to save my life.
But I didn't see it that way at the time. Substituting my emotional pain for physical pain felt like the only option. They don't make band-aids for the brain, and I didn't really mind buying long-sleeve shirts. I didn't mind the sting of the shower on my skin, I didn't mind the scars. What I did mind was the vicious cycle I was stuck in. When I started to actually see what I'd been doing to myself, I felt so worthless, adding to the emotional turmoil I had come to believe could only be relieved by continuing to hurt.
Self-harm is often rooted in shame and secrecy. I hated myself for what I was doing, but I felt I couldn't tell anyone. The same may be true for you. But what's also true is that you are not the only person to feel this way, and you are not the only person who does these things. Although I can't tell you how to stop it, I can tell you that it's possible, and worth it, and all the cliché things used to describe recovery. That's the thing, the truth can often be cliché, but that doesn't make it any less true. You can fight it and win.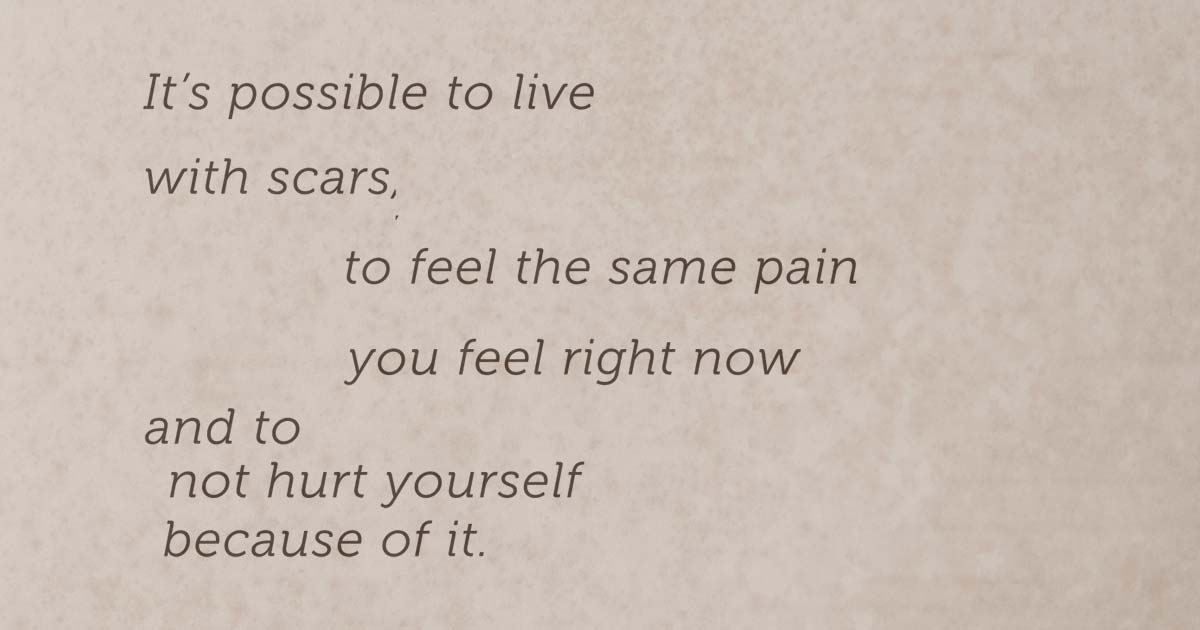 Don't count the days, trust me on that one. Don't suppress the urges but instead offer them a different outlet. Running or hiding from the way you feel leaves no chance to resolve it. It's a tiresome life to always be living in fear of what you feel. Self-harm was my way of hiding. I never made a conscious decision to stop, I just made a conscious decision to tell someone, to throw out the blade in my phone case, to go for runs, to eat, to shower, to write. Little choices that saved my life.
And maybe for my own self-reassurance, I want to tell you that these bad moments don't equate to a bad life. There will be days where laughing and breathing become a lot easier. Someone will need to hear your story of overcoming. I know you're tired and your feet may be weary from trudging through this chapter, looking for a light that never seems to grow closer or brighter no matter how far you walk. But that light is still there. I wish to tell you what that light tastes like, but I can't just yet for I am still moving away from my addiction with every breath I breathe in favor of life. I want to tell you there's not much further to go, but I am uncertain. I can, however, tell you it's possible to live with scars, to feel the same pain you feel right now and to not hurt yourself because of it, to want to stop. I can offer you my hand, for we are traveling similar roads and I am headed towards the light. Care to walk with me?