"Happy 'Coming Out of the Woods' Day."
The text popped up on my screen and I smiled to myself as I read it. This friend of mine never forgets this day on the calendar—November 18. The day my life fell apart but also the day that made me into the fighter I am.
It's a day I choose to celebrate instead of shoving it to the back. It wasn't always this way but I've learned to appreciate the hard parts of my story over time.
The mental crash happened over six years ago. November 18, 2014.
That was the day my life tore into two. I'll never forget it—never be able to shake the feeling that spread across my body that day as I fell into a deep and severe depression.
I reached the "rock bottom" people talk about, and it left me in a state where I couldn't sleep, couldn't process thoughts, couldn't work, and couldn't perform. I suddenly understood why some people just can't get up in the morning, how their brain is so tired, and how not another message to "get stronger" or "improve their life" is going to make any difference. All I wanted during that dark time was for someone to hold me and tell me, "It's okay if you can't fight your way out of these woods. I'll stay with you in the dark until you're ready to move." 
After going to the hospital for the depression, I ended up getting referred to an inpatient program where I would get my life back on the rails. I would participate in therapy. I would meet with the counselors. I would dedicate myself to healing and group talk and health.
I remember sitting in the waiting room, beside all these other people who were also busy signing papers, and wondering how I even ended up here. I felt like I was outside of my own body, watching everything happen from a corner in the room. The shame was heavy on me, and I kept trying to figure my way out of it. If I had been sitting next to myself in that waiting room, I would have said that moment was a failure.
Knowing what I know now, and how hard I fought to come out of that depression, I would have told that girl in the waiting room a different story. I would have sat really close to her and said, "This is a bump in the road. And you can't swerve away from it. And you can't dodge it. So we are going to move through it. There's no other way—we must move through it. But one day, one day soon, we are going to celebrate how you came out of the woods and it will be so very good."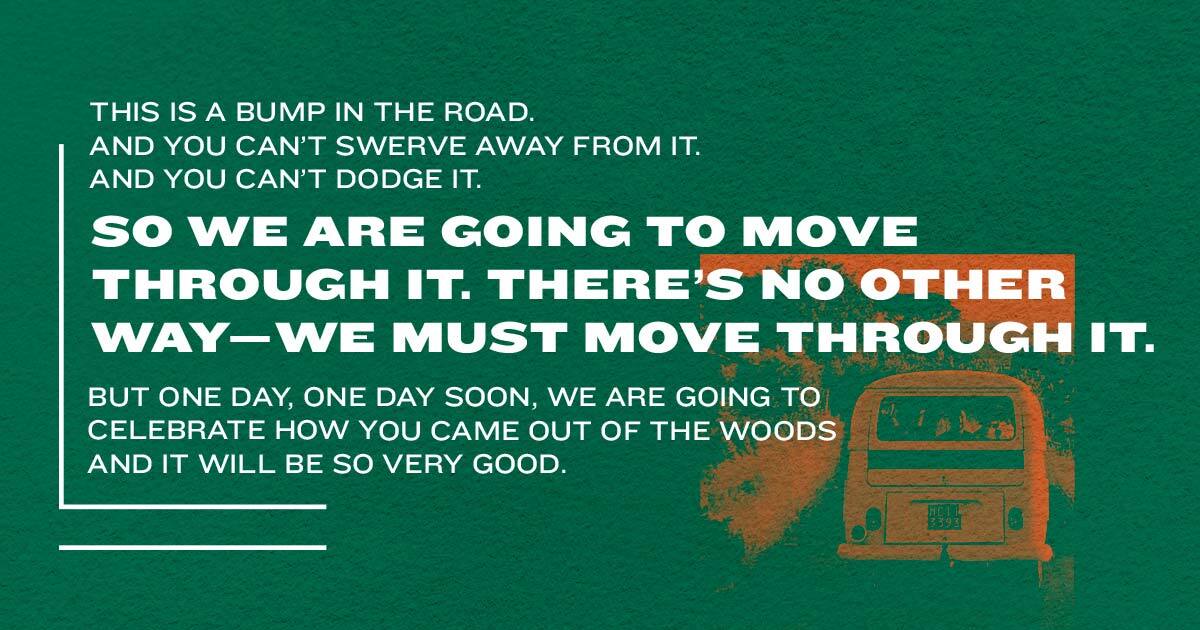 The next four months were the hardest fight of my life. There were stops and stalls and all sorts of false starts. Some days were easier. Other days were hard and heavy. But each day I woke up became a new victory, one step closer to being out of the woods. Until one day I was standing on the other side of the depression building a life that felt more beautiful than I could have ever hoped for.
As the one-year anniversary of my depression started drawing closer, I didn't know how to feel. A part of me was afraid it would happen all over again. A huge part of me didn't want to even think about the details of that day. But I ultimately decided as the day inched its way to the front of the calendar that I was going to claim back the date. I was going to celebrate instead of fear what was to come.
So on November 18, and every November 18 that has followed, I celebrate the anniversary. I claim it as the day depression didn't win. I mark the day on my calendar as one of hope. One of victory. As a reminder that "Yes, there is darkness in my story but now I have eyes that see in the dark… now I know how to show up for others and help them move through the woods."
I use the day to share my story because my story might just be the hope someone else needs to show up and move through their own battle.
Maybe life feels like a wrecking ball right now for you. Maybe you're in the deep, deep woods or you've fought your way through depression but you never thought to look back and marvel at just how far you've come. Maybe you need to stop and celebrate where you are—the steps you've trekked and the victories you've experienced.
If you've never thought to celebrate the ways you've clawed your way through the dark, celebrate with me today. You've done incredibly hard things and it matters. It all matters.
Wherever you are, Happy "Coming Out of the Woods" Day. Here's to the darkness never winning. And here's to all the beautiful things up ahead, in your story and in mine.
---
Hannah Brencher is the author of Fighting Forward, a blogger, TED speaker and entrepreneur. She founded The World Needs More Love Letters, a global community dedicated to sending letter bundles to those who need encouragement. Named as one of the White House's "Women Working to Do Good" and a spokesperson for the United States Postal Service, Hannah has been featured in the Wall Street Journal, Oprah, Glamour, USATODAY.com, the Chicago Tribune and more. Find Hannah at hannahbrencher.com and follow her on Instagram and Facebook.
---
Depression has a way of making us feel incredibly isolated. We're here to remind you of the truth that you are not alone. We encourage you to use TWLOHA's FIND HELP Tool to locate professional help and to read more stories like this one here. If you reside outside of the US, please browse our growing International Resources database. You can also text TWLOHA to 741741 to be connected for free, 24/7 to a trained Crisis Text Line counselor. If it's encouragement or a listening ear that you need, email our team at [email protected].