It is about 10 pm on a Monday evening. I am laying in bed with my dog reading article after article about the recent deaths by suicide amongst college athletes. Sadness has found its way into my bones, creating chills, stomach clenches, tears, and numbness. It hits me to my core because I see myself in each of these people. Although I may not know them personally, it is as if I understand a part of them beneath the surface.
I think back to my senior year of high school. All I wanted in life was to be a college athlete. I worked as hard as humanly possible to follow my dreams because it felt as though it was the one thing I was good at. When I went on to play water polo in college, I remember slowly falling apart. I swam and played for St. Francis College, a division I program in Brooklyn, NY. I was playing with and against some of the best water polo players across the country, how could I be sad? I worked multiple jobs, practiced three times a day, and studied biology. From an outside perspective, one would wonder how an 18-year-old could juggle all of that. Here's the thing; I wasn't. I was utterly and completely burnt out. I was battling anxiety and depression daily. And instead of talking about it, I felt I had to keep it together. I had to represent my school with pride, I had to be someone those around me could look up to.
And then something changed. It was October of 2018, and I had somehow managed to fall below rock bottom. I remember the inability to sleep because of intrusive thoughts. I remember walking to practice feeling so disconnected from my body that I could hardly speak. I remember the forced smiles in the halls and the tears behind closed doors. Not a day went by where I didn't have intense and terrifying suicidal thoughts. I had everything in life "going" for me, exactly how I had planned it out.
But the truth is, no matter how many things you accomplish, depression doesn't just go away. The burnout doesn't disappear.
My dad and brother drove from Chicago to New York in a hurry when they discovered just how bad it was. I returned home and wound up in inpatient treatment for attempted suicide. I could have easily not survived, but I did and there is a reason for that… I desired to change and to make a change.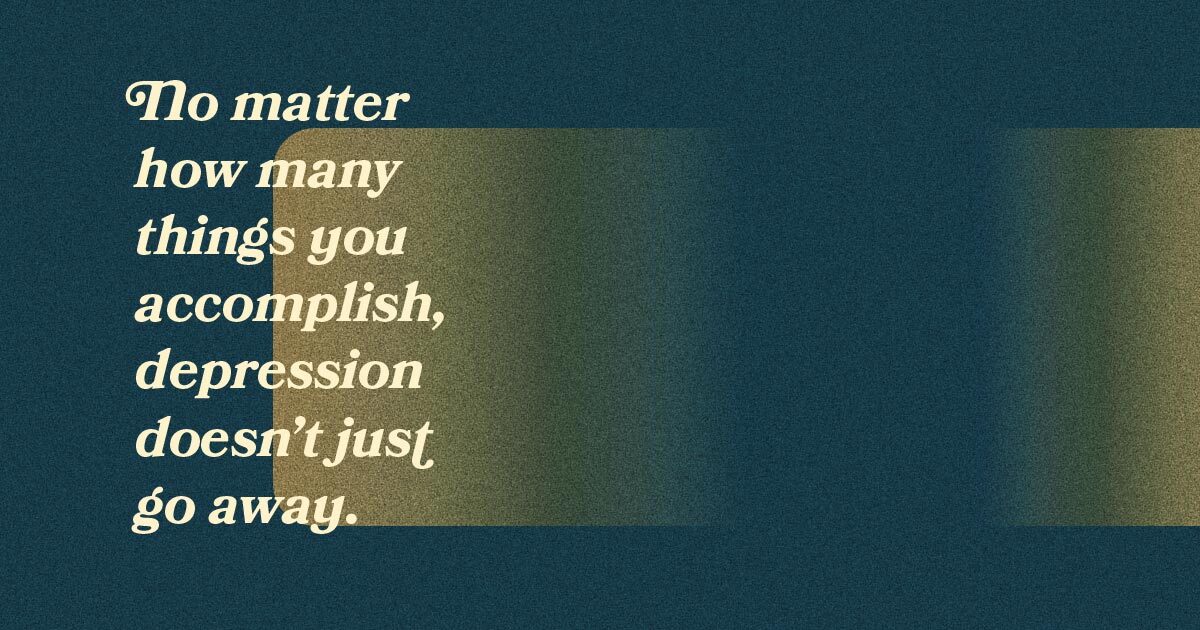 I lay in bed at night and read these articles knowing the darkness each of these athletes might have been feeling in their final moments. I wish there was a way I could take it all away. The reality is, I can't. I can't sit here and tell you that it goes away. What I can do is listen. I can spread awareness. I can share my story. I can normalize talking about mental health struggles in athletics.
I am so much more than an athlete. First and foremost, I am human. I look back and I can see so clearly that I lost sight of my identity outside of being a college athlete—and I know that I am not the only one. We work so hard to reach our dreams and lose ourselves in our sports, claiming it as our entire being. We push aside talking about things like depression, anxiety, and suicide. I wish I could go back and ask my teammates about their lives, about how they were doing mentally. We are more than just athletes. There is so much depth to a person than just the sport they play.
To those gone and the many not named, I wish I could hold your hand and let you know how much you matter. But because I can't, I will honor each of you and I will fight for change. May your stories and your lives forever shine a light.
To the athletes still here and still struggling, I understand. You are not alone.
Boris Posavec (my dear friend)
Sarah Schulze
Brittany Stevens
Sean P. Bonner, Jr.
James Peek
John Chambers
Katie Meyer
Morgan Rodgers
Bryce Gowdy
Zoe Rogers
Tyler Hilinski
Augustus "Gus" Lee
Robert Martin
Sean Locke
Austin Weirich
Madison Holleran
Evan Hansen
And many, many more.
---
Whatever you are facing, there is always hope. And we will hold on to hope until you're able to grasp it yourself. If you're thinking about suicide, we encourage you to use TWLOHA's FIND HELP Tool to locate professional help and to read more stories like this one here. If you reside outside of the US, please browse our growing International Resources database. You can also text TWLOHA to 741741 to be connected for free, 24/7 to a trained Crisis Text Line counselor.