June is here—Happy Pride Month! This is a time to celebrate the queer community while continuing to work toward progress. We know this month looks different for everyone and may not always feel "happy," especially when it comes to the realities faced by the LGBTQIA+ community. But we know that none of that is due to the absence of joy. In fact, we see your joy, your light, and your love shining so bright despite everything trying to push against it. The queer experience is expansive and multi-faceted and we want to give attention to each part. On the joyful days, the hard days, the confusing days, and the scary days, we stand alongside you. We are determined to make sure that it is clear: you're not going anywhere.
Who you are deserves to be known, loved, and celebrated. As long as the TWLOHA community exists, there will always remain a place where you can be reminded of that truth. Here, you don't need to be afraid to be yourself. While we desperately wish for that to follow you into all areas of your existence, we know that unacceptance is prevalent and can create fear that is difficult (and even dangerous) to ignore. Hear us when we say that your love is beautiful and your existence is wonderful. Whether you are surrounded by friends and family who know the fullness of your identity, or you're reading these words as the only person who knows the depth of who you are, this community will always belong to you.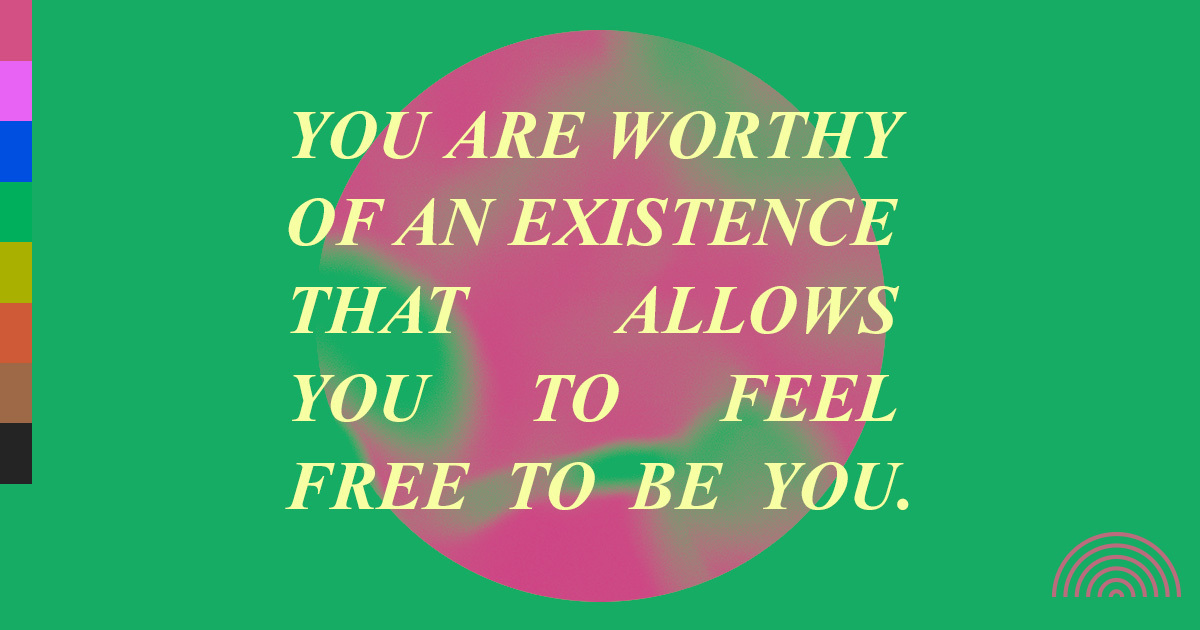 Pride began in 1970 to commemorate the 1-year anniversary of the Stonewall Uprising, led by queer and trans people of color. Because of their fight, for 53 years the LGBTQIA+ community has shown up and made themselves, their joy, their anger, and their existence, known. Pride began as a protest and that protest is still going on today. Love and joy and identity are not things to legislate away. Pride keeps people alive, and this month is more than just a celebration, it's joyful resistance.
We accept all of you. We fight for your right to be, question, and explore who you are without judgment or fear. Your identity belongs to you alone. No matter what this journey looks like for you now, has looked like in the past, or will look like in the future, it is valid. You are worthy of an existence that allows you to feel free to be you.
---
You are welcome here. All of you. Remember that—always. We encourage you to use TWLOHA's FIND HELP Tool to locate professional help and to read more stories like this one here. If you reside outside of the US, please browse our growing International Resources database. You can also text TWLOHA to 741741 to be connected for free, 24/7 to a trained Crisis Text Line counselor. If it's encouragement or a listening ear that you need, email our team at [email protected].