I don't know how to not be someone who usually feels at least a little bit sad.
Sometimes happiness is easy. But most of the time, there's a tinge of blue around the edges, if not a blanket of it. It can make me ask the question: Is this really how I'm feeling or is it a state of being I should muster my way past? It's nothing that has been diagnosed but it is there as a continual companion, nonetheless. A little bit of sadness, or a lot; a little bit of anxiety, which I call worry and stress; a lot of feeling as though being somewhat blue is just the way of things.
Once, when I was seated in front of a counselor, I was asked to pick a number between 1 and 10 to describe how sad I was feeling right then and there. "6.5," I said. The counselor seemed silently alarmed. And in reality, I felt closer to an 8, but I hadn't wanted to seem too extreme. At the next session, when I was back to my more normally-controlled, emotionally-contained self, the counselor voiced her concern.
During previous visits, I had sat in front of her fairly serenely, until the day when a couple of events had caused the sadness to rain down hard; a burst of blue that obscured everything. I knew it was just a day in which my feelings were exacerbated by tough circumstances. Even so, at the edge of my mind was the conviction that feelings of loss, uncertainty, melancholy, and even some hopelessness were, in fact, the true state of things.
My counselor worked to remind me that this wasn't true. I'd grown suspicious of happiness, suspicious that it could pop like a soap bubble at any moment. Through the combined efforts of counselors, friends, and certain songs, books, and films, I am reminded that it's okay to relax into the times of sweet joy, embracing them rather than keeping a portion of myself on alert.
Sadness feels familiar, so I trust it to be there, whereas happiness seems fleeting. But is that mentality really fair? To myself or anyone else? I can defend that mindset by calling it self-preservation, yet if my own concern keeps me from truly experiencing the joys of life, no matter how lasting, then I'm self-harming in a habitual way.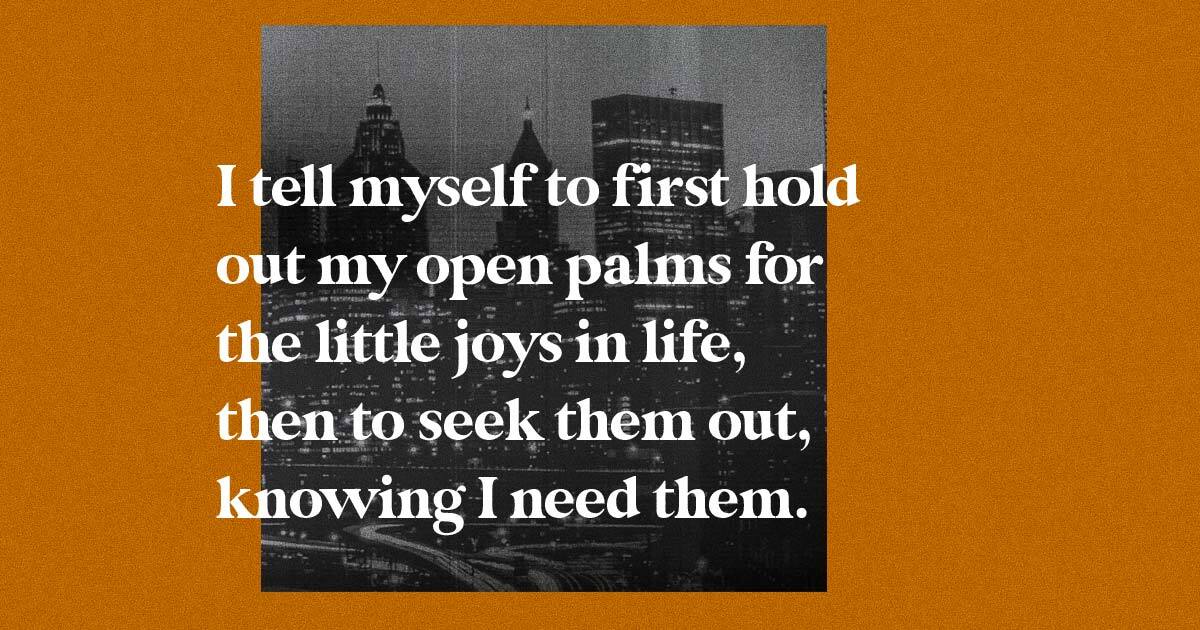 So, I tell myself to first hold out my open palms for the little joys in life, then to seek them out, knowing I need them. Then, to open my heart without suspicion to the grander times of happiness, like new love or old love or opportunity, gifts, recognition, accomplishment, and acceptance. To beauty and wonder and untethered laughter, soaking them up so that when the blue descends, I have a stockpiled assortment of joys to tap into, a healing balm. I can remember that I and life are not always blue. I can know that sadness, while real, is no more tangible than happiness. When able, I can be happy, for a sad person.
---
Depression has a way of making us feel incredibly isolated. We're here to remind you of the truth that you are not alone. We encourage you to use TWLOHA's FIND HELP Tool to locate professional help and to read more stories like this one here. If you reside outside of the US, please browse our growing International Resources database. You can also text TWLOHA to 741741 to be connected for free, 24/7 to a trained Crisis Text Line counselor. If it's encouragement or a listening ear that you need, email our team at [email protected].