For as long as I can remember, I have struggled with thoughts and feelings so dark and deep they've threatened to swallow me whole. They sit in my stomach like a stone you'd dropped into the bottom of a well. This lump seizes every part of my body—crawling, clawing, and ripping through my insides. On the bad days, the weight becomes so heavy I find myself struggling to breathe, being pulled down and drowning in my own body. On the really bad days, I want to pull apart my skin, shoving my hands inside myself, desperately trying to pull it out. But the thing about the bad days is: I'm really good at hiding them.
When I tell people that I suffer from depression, the response usually looks like this: a head tilt followed by, "Really? I would have never guessed." Part of me feels as though I should be proud to receive that response. Like I have accomplished some fantastic feat by hiding the parts of myself that ultimately make me, me. But then there's the other part—the part that feels, angry, ashamed, and scared.
I'm not disillusioned. I understand why people respond that way. I don't look like the "typical" depressed person. I have a full-time job, I regularly communicate with family and friends, I attend social gatherings, I have multiple responsibilities, and I'm a high-achieving and highly productive person. But, I also get overwhelmed easily, have intrusive thoughts, hold so much tension in my body that my hands constantly shake, overthink things to the point of inducing panic attacks, struggle to get out of bed, disassociate, and fight feelings of hopelessness, emptiness, and existential dread daily.
At the end of most days, I am completely exhausted from the smallest tasks, like responding to an email, texting a friend about their day, or performing basic self-care like showering and eating. Nevertheless, I get all my work done. In fact, I excel at meeting deadlines and standards, and I maintain a healthy lifestyle—by eating well, exercising regularly, and engaging in several hobbies. The disconnect between these two parts of myself, is what I think is at the root of reactions like, "Really? I would have never guessed."
Depression is often seen as "all or nothing." If you have depression, you're supposed to spend hours, days, even weeks in bed and be unable to hold down a job, maintain relationships, or perform basic functions. And if you can do those things, then the question of: "Well, what are you depressed about?" follows. Because how can someone who just ran a marathon, had a kid, graduated college, got a promotion, or makes tons of money—or whatever it is that normal, non-depressed people do—be depressed?
But the thing about depression is that it doesn't care if you're good at your job, if you make lots of money, or any of that. Depression doesn't discriminate and it isn't always visible. And because it's not, people are shocked to learn that someone like me—someone as active, as social, as "happy" as me—could be depressed.
That shock is dangerously misinformed. When people respond with surprise when I tell them I have depression, not only do I regret talking about my mental health, but I also feel invalidated. Like my struggles are not hard enough, serious enough, visible enough to justify having depression. When I get that response, I feel ashamed, ashamed that I'm not able to "get over it" or "look on the bright side" or "think positively."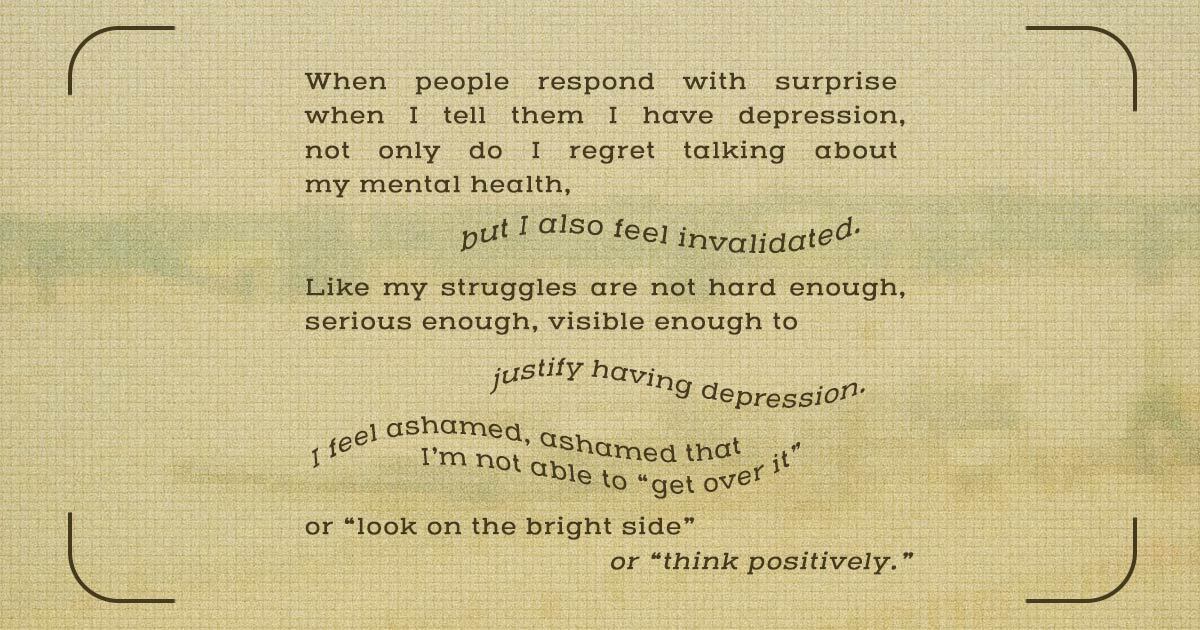 The worst part is that I already feel those things all the time. Depression is feeling like you are worthless, like the universe would be better if you never existed at all. So much of my life is dedicated to challenging those thoughts, to refusing to feed the lump in my stomach that growls and bites at my insides, to fighting to stay alive. When I open up and talk about my struggles and get a "Really? I would have never guessed" in response, I feel misunderstood, sad, and annoyed, but mostly I feel unsupported.
I have spent so much time struggling in silence, fighting in the dark, grasping for something or someone to hold on to only to get fistfuls of air. Instead of shock, just once I wish the reaction would be genuine support and concern. Just once I wish I wouldn't have to carry the weight all by myself. Just once when I reach out my hand, I wish someone would hold it in return.
---
Depression has a way of making us feel incredibly isolated. We're here to remind you of the truth that you are not alone. We encourage you to use TWLOHA's FIND HELP Tool to locate professional help and to read more stories like this one here. If you reside outside of the US, please browse our growing International Resources database. You can also text TWLOHA to 741741 to be connected for free, 24/7 to a trained Crisis Text Line counselor. If it's encouragement or a listening ear that you need, email our team at info@twloha.com.