If You Needed Something Today
I have secrets: I missed becoming valedictorian by .2 and I never took the SAT. I overslept and missed my scheduled ACT. I dropped out of community college after my grandfather died in January of 2009 after a quick and losing battle with congestive heart failure.
It destroyed me and I spent the next nine months doing every single thing you shouldn't do at 20—when everyone is in their second year of college and planning a future. I wore pajamas all day and burned CDs. I ate a lot of microwave dinners and went on a lot of dates with the wrong guys. I didn't think there was a future for me, so I gave up.
To appease my worried mother, I created a bullshit resume using my retail experience to emphasize my "teamwork" and "people skills," but I'd find a reason to not take whatever job I interviewed for, or I'd get fired after three months. I hid the extreme back and knee pain the way I always did: with sarcasm and laziness.
Instead of admitting I was in pain I let people in my life think I was a lazy fuck-up, when in reality I was just trying to keep my head above water. I didn't think anyone would believe me if I told them how bad I felt, because on the outside I looked healthy.
But we do not have to struggle in silence. We do not have to mask our pain with shields of sarcasm or plastered on fake smiles. My pain is real. Your pain is real.
As author John Green wrote, "That's the thing about pain. It demands to be felt."
So feel it. Let it wash over you. But don't let it stay. Don't let it be all that you are. And know that you're not alone. These words on this page, well, they're for you.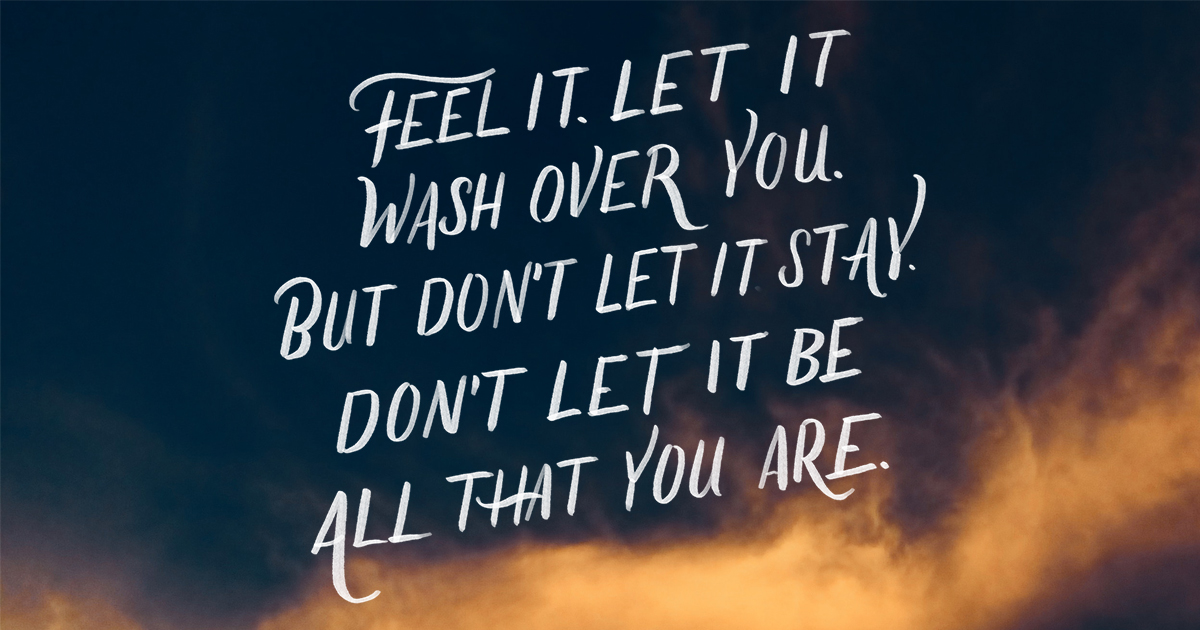 They're for the high school student who's considering a GED in their senior year because they've always felt like school wasn't their thing.
They're for the young waitress working double shifts instead of pursuing the dreams she put on hold because she had a family at an early age.
They're for the cashier with back pain that can't afford to take time off to see a doctor; the same cashier that always has a smile on their face, and for the one who can't fake a smile today.
They're for the reformed bullies who got out of high school and realized the entire world wasn't going to worship them outside those walls. For those who gracefully accepted that reality check; for the ones who didn't, and the ones who can't let go of the past.
They're for the pretty young girl who watches YouTube and compares herself to the carefully curated lifestyles she covets; for that same pretty young girl who doesn't yet know that she's enough.
They're for those with chronic illnesses who don't think they're sick enough for their pain to matter because they look healthy on the outside.
For the girls with 10 Twitter followers and private Instagram accounts.
These words are for those who cry alone in their bedrooms and don't have any social media posts to show for it.
They're for any person who considers taking their own life on a regular basis because they don't want to live with the pain anymore.
They're for anyone who feels lonely, but finds it hard to make friends.
They're for anyone searching for a diagnosis for the struggle they can no longer hide.
These words are for anyone who finally had the strength to get out of bed today.
And for the person struggling with anorexia who is brave enough to taste the brownies they baked for their friends—and the person that isn't ready yet, but wants to be one day.
These words are for the asexual, lesbian, gay, transgender, queer, and binary folks who didn't like what they saw in the mirror this morning. And for those who finally do.
If you've ever made a mistake and hated yourself for weeks or months after, these words are for you.
If you're struggling with a disability but don't have a wheelchair or a handicapped parking permit to show for it; if you're depressed and didn't see a reason to wake up this morning; if you needed something no one has given you today, let this be it.
If you can find yourself in even a sliver of these words. They are for you.
You can read more of Molly's words here.