Sometimes I scavenge the internet with searches like "bipolar" or "bipolar depressive episode." I am not sure what exactly I am looking for, because I have searched this topic millions of times. I know the warning signs, treatment plans, hotline numbers, tips & tricks, yet I still find myself longing for more information. While searching in hopes of finding something new and to feel less alone, I always come across one word that sparks a fire in my heart: incurable.
They always say "bipolar is not curable, but treatable." I sit with those words racing through my head pretty often. They throw in terms like "long-term illness" or "symptoms can be managed," but I always wonder what they really mean. What does life look like long-term living with bipolar disorder? How treatable are the symptoms and will life ever get easier?
I have been living with several severe mental illnesses for over a decade. I have ridden the roller coaster of countless treatment plans, always longing for "the cure." The list of resources I have exhausted on the quest to find stability is long: medications, several therapists, group therapy, outpatient programs, and so on. A year ago I sat quietly in a new doctor's office and when she spoke the words "bipolar disorder," my soul felt calm. Something about a different diagnosis always sparks some hope inside me, because it means there are new treatment options.
I have been thankful for this past year and that diagnosis. It has lead to me being properly medicated, which has done wonders, and as I have gotten healthier and things have started to shift in my brain. I have been able to maintain my stability for longer periods than ever before. I am more rational and healthy when it comes to my thoughts and self-talk. I have grown in relationships and communicating.
But, I am still not cured. The sadness still returns. The manic episodes still occur.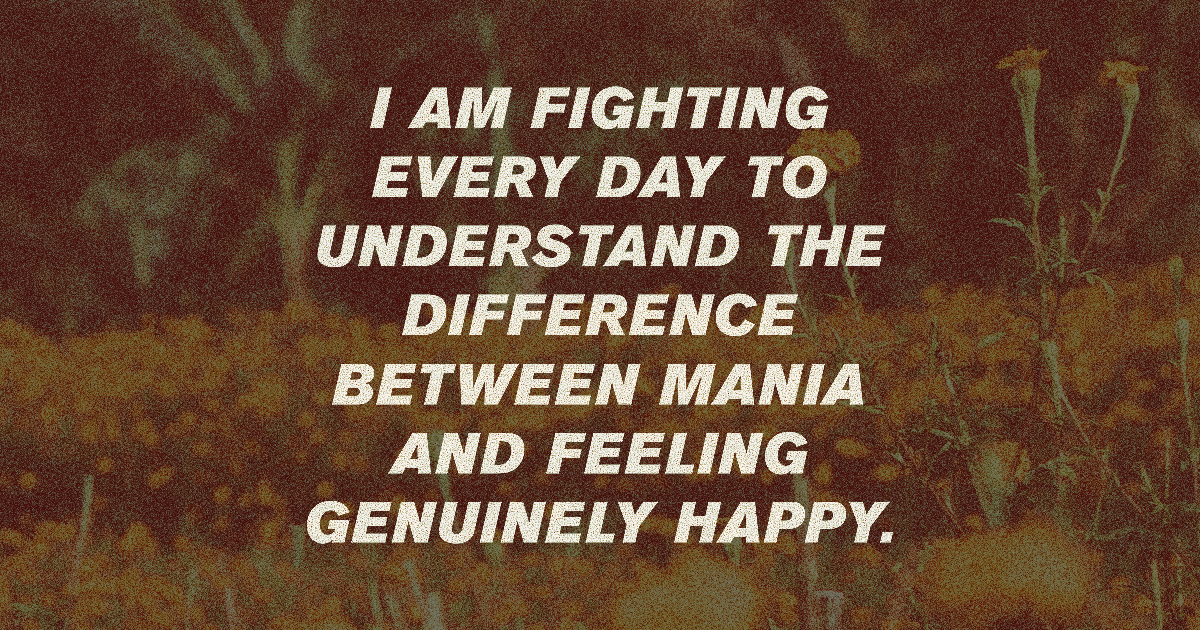 Up until last year, I never questioned the moments that I felt on top of the world. It simply felt like life was rewarding me for the months that I was trapped in darkness by allowing me to feel (even briefly) unstoppable. Although those moments were fleeting, and in most cases led me back into the depths of depression, I longed for them. But now, I crave the middle ground. I think most people with bipolar disorder do, too. We hope for calm, for security, for safety. I am learning every day what it looks like to allow joy to exist in healthy and realistic ways. I am fighting every day to understand the difference between mania and feeling genuinely happy.
This is a battle I will fight into the future and I am learning to trust myself again. I am learning to trust in the process of treatment and realize that not every bad night will become a month-long depressive episode. I'm learning to trust that when my heart feels so deeply joyful, it does not mean darkness is going to follow.
Life would be easier if there was a cure. If there was an end date on this disorder, a guarantee that medication would always work or that a certain amount of time in therapy would heal me. There is no cure, however. But there is treatment. Treatment that helps me manage symptoms the best that I can and allows me to take pride in how hard I'm fighting for that middle ground every day.