Live immediately.
YOLO.
Turn lemons into lemonade.
Be fearless in the pursuit of what sets your soul on fire.
Be here now.
Memento mori.
There are countless ways to say it, but I urge us all to truly act on it.
The world is incredibly unfair. Try as we might, the scales may never be fully balanced, nor the end results of our efforts fully realized. Many questions will be pondered for years to come only to remain unanswered. Some days, the futility and apparent meaninglessness of it all cuts deep. Some days, the disconnection renders me hollow, and I wonder if I could just float away, taking nothing and missing no one. And yet, here I am. Here WE are, pushing forward and reminding ourselves that it is not futile—it can't be. Perhaps our grand purpose, if such a thing even exists, is simply to do the work in front of us while knowing not the outcome.
Too often, I find myself looking at someone in the market and thinking 'Wow, I love her outfit!' and then I do nothing about it. Why is that? Why wouldn't I just live out loud and tell this stranger that I love her hair, or say 'hello' to the security guard at the Wawa, or be extra kind to the barista? Joy and connection are the fertilizers that nourish the soil from which we grow. They are what make us human.
The past year taught us many, many lessons, one of which is that we need each other more than we know.
And we need the joy that comes from the small, present moments more than we need the fleeting happiness born from the execution of plans for which we've long awaited. Joy is my lifeblood. And as for the humans around me? They save my life every day.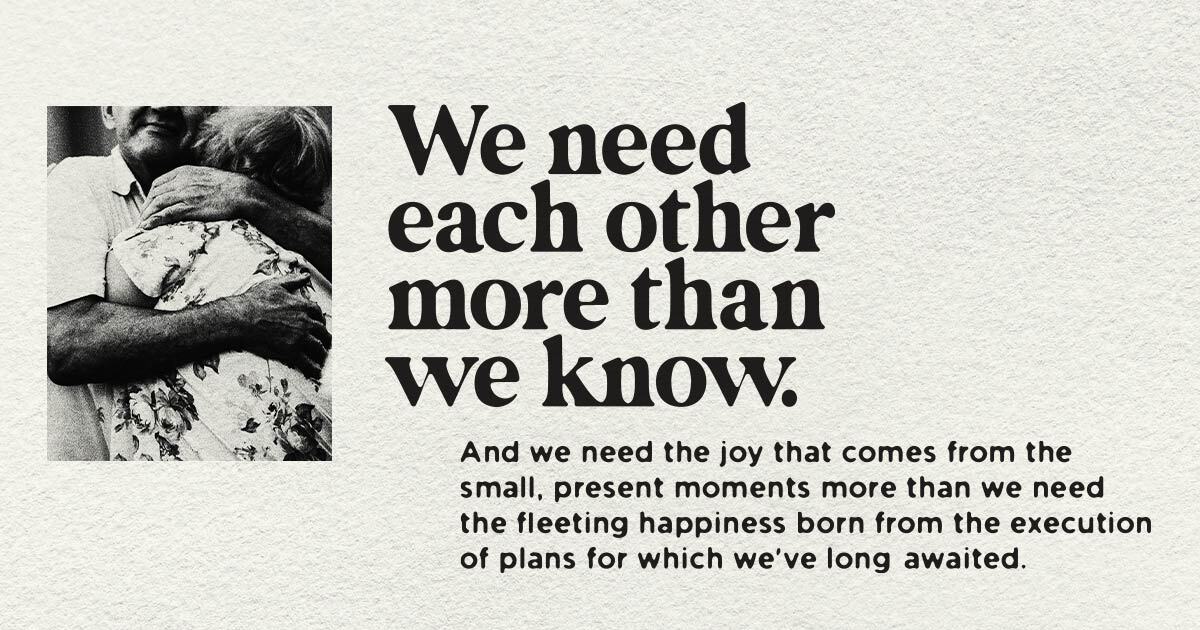 Taking time to laugh and experience joy can seem selfish when the world is, both literally and figuratively, on fire. For some of us, embracing joy while violence lives in our own backyards brings guilt and shame, sending us even further into the pit. However, I choose to believe that we are all better advocates, better friends, sisters, partners, allies, and better humans, when we try our best to embrace joy, even despite the darkness. Nihilism and anger are excellent defenses against the difficulties we face. So, too, is joy. Joy is resistance. It fosters unity and humanity.
Your body and soul beg of you to nourish them with immeasurable joy. I advise you, with the utmost urgency, to do the things that make you smile, or giggle, or feel connected to a person—or to a tree for all I care! Wake up early to watch the sunrise. Tell your friends and family you love them. Give more hugs and kisses (if mutually desired). Compliment a stranger's shoes. Dance on the sidewalk. Just do the damn thing. Seek out joy wherever you can and put it out into the world wherever you can.
Happiness does not have to come from those big, romanticized events. It can come from little things, too, if you give them the acknowledgment they deserve.
While the doctor may prescribe sizable amounts of Zoloft and Wellbutrin and Prozac and Lexapro, for which I'm immensely grateful, let us not forget that joy, laughter, and connection are also incredibly transformative medicines.
I am grateful for legs that can climb mountains and lungs that can soak up the humid air and for the humans in my life who listen on the other end of the phone, remind me to eat veggies and take meds, and dance around the living room with me at 2 am. All of these moments fill me to the brim and add meaning to my existence. Most importantly, when the question arises: What's the point of it all in the first place? These seemingly mundane moments remind me of the answer.
---
You are not weak for wanting or needing support. If you're seeking professional help, we encourage you to use TWLOHA's FIND HELP Tool. If you reside outside of the US, please browse our growing International Resources database. You can also text TWLOHA to 741741 to be connected for free, 24/7 to a trained Crisis Text Line counselor. If it's encouragement or a listening ear that you need, email our team at [email protected].