Kat:
How to even begin? I was pregnant, and now I'm not. We were planning and prepping for the next few months and now everything is back to a blank slate. Every day I woke up so excited to check my pregnancy app and see what stage the twins were at and how big their hands and feet were. I was excitedly awaiting my baby bump and looking forward to being able to feel them kick. I was excited for them to join our lives and watch Aaron be a dad.
The twins made me a mother. They made us parents.
In a matter of 24 hours they were just gone, when the night before we were making jokes with friends about their future and sharing in the excitement with family over their arrival.
When we first found out we were pregnant and the initial surprise and excitement wore off, I could feel the anxiety creep in. I had heard of so many stories of people who had experienced a miscarriage. The stats are frightening: 10-20% of or 1 in 4 pregnancies end in a miscarriage. It was a real possibility that I had never considered before. But I wanted to experience joy and celebration throughout the journey even in the midst of that possibility. So I reached out to friends and shared the weight of my worry and hoped that by processing through the anxieties and emotions that it could prepare me for that potential outcome, as well as give me the space to enjoy my pregnancy without living in constant fear.
Aaron and I also decided to tell a small group of folks that live life with us every day so they could also be a part of the journey. And I'm so glad we did, because when it came time to share that we lost the twins—every single one of those people showed up for us.
This journey of receiving these twins into our lives has been an extremely intentional one for me. I've wanted to deliberately cherish every moment and not become numb to the experience. So when we heard the news that we lost them, this intentionality became even more important. I experienced loss several times early in my life, and I know exactly how to stuff my emotions way down and pretend everything is okay. I've been equipped to be "stronger" than the pain and ignore its existence. And because of those experiences, I know exactly how much that numbing doesn't work or help. It prolongs the inevitable—and that pain will surface eventually one way or another.
I knew the only way to heal was to move through the grief fully. To experience its weight in its entirety and accept and welcome help and love from others. I've never felt so close or bonded before in our marriage and going through the miscarriage together has significantly changed our relationship. That night was brutal, but we've found hope on the other side. In the twins' absence, there has been so much immense love that we have received. So many of our friends walked every step of this journey with us. Their presence and willingness to be there for us in the hardest parts of this experience has made something so scary and isolating feel endurable. I am so heartbroken about losing the twins. Our little space-coast babies aren't here with us and there's so much pain in that fact. We wanted twins more than anything and knowing that the chance of us having twins again is slim really hurts. I know that there will be more healing and more hope that will come in the days and months that follow but in these first couple of days, being held by family and friends and knowing that they will continue to be here for us is the hope that is carrying me. Their mere presence has helped us to not feel alone in our pain.
I wanted to share our story. My story. Because the miscarriage narrative has a stigma that surrounds it. There's a shame even before the loss happens. There's a pressure to wait to share the news of new life until you're confident they will come to full-term. There's a pressure to wait to share the loss until you have news to share that's worth celebrating. We bucked the system because we believe in the value of being honest in the midst of our pain and the healing that can come from speaking our truth.
If you've never experienced a miscarriage, my word to you is simple: just be there for your friends and family that have. No one ever knows what to say in moments of heartache, and there's never a perfect template to follow. But you can make the difference just by showing up. Your presence is all that is needed to provide hope.
If you have experienced a miscarriage—I am so sorry. There's nothing like carrying a baby but never having the opportunity to actually hold them in your arms and getting the chance to usher them into this world. The loss you've experienced is immense. Mourning the loss, honoring their existence, and letting people in are three things that have given me peace. There can be a lot of shame that surrounds this experience for a woman and I found that by letting people in, it didn't give space for shame to claim me. Don't do this alone. Find your trusted crew and let them do this with you.
There is hope to be found in this darkness, and I am with you, friend.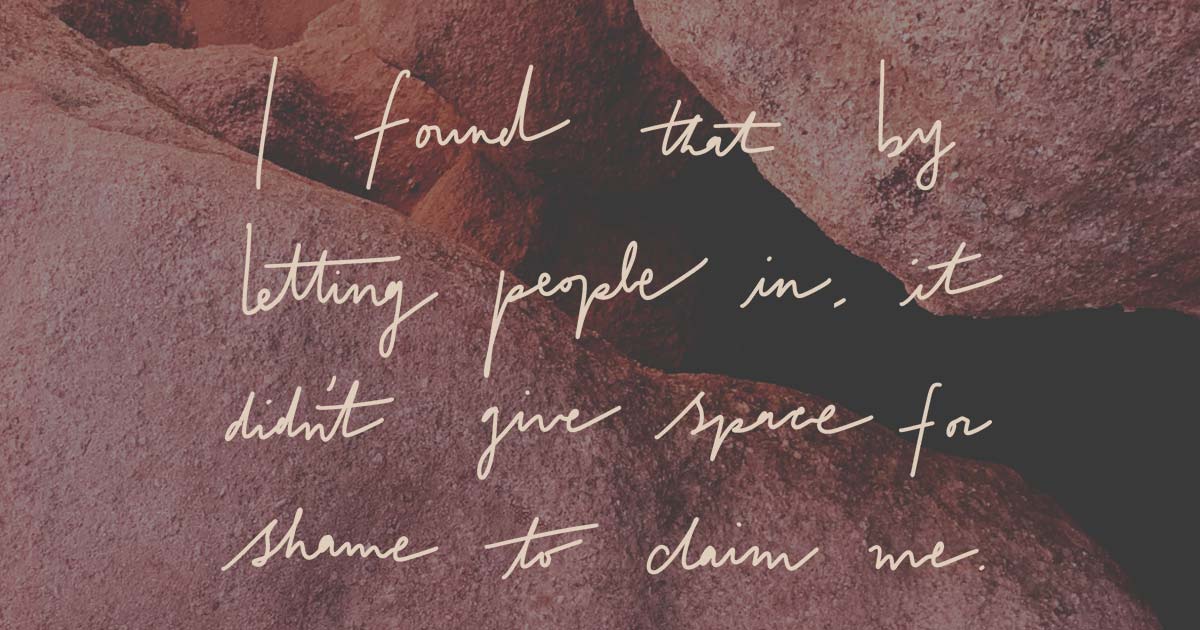 Aaron:
I have always been a helper. My mom often shares a story about me nudging her arm up during a church service to fully experience worship when I was three or four. In elementary school, I was asked to be a "Peer Mediator." I was sworn in at the local courthouse, given a yellow vest, and had special permission to skip a class in the afternoon to help students work through crises during recess. In high school, I found myself speaking at youth conferences spurring on kids my age. During my time in college, I was personally asked to be an RA. After my time in school, I worked in crisis intervention at a therapeutic day school for students with autism and other behavioral disorders, and taught at a school that only admitted students below the poverty line.
From a very young age, I felt an inclination towards peacekeeping. I had a preternatural understanding of the emotions and struggles of others. When other kids were dreaming of being pro athletes and movie stars, I wanted to be a counselor. Through many years of practice and exposure, I find peace and purpose in moments of crisis. I feel it is a gifting, and it is when my true-self comes alive. Oddly, I have never been the direct recipient of loss, crisis, or mourning. There have been touches and impressions of them in my life, but till very recently I have not experienced a true loss.
Just after the new year, my wife and I received the news that we were expecting. It was exciting, a bit scary, and totally earth-shattering. It took a couple of weeks for me to process and internalize the news, but with each day my personal joy grew. I held it at a little bit of a distance—knowing that many folks have complications or potentially lose a child early in the pregnancy process.
A few weeks in, my wife and I went to our first ultrasound. We sat in the waiting room with palpable nerves and excitement. As we watched the screen to meet our baby for the first time, the doctor hovered across the screen and said, "There's the first heartbeat… and here's the second one."
A full 30 seconds passed before I asked "… um… does that mean we're having twins?"
"Yup."
My wife and I had both secretly been pulling for twins. Does that sound outrageous to you? Because it did to literally every person we told. Two of Kathryn's closest friends growing up were identical twins. Cousins that feel like siblings are fraternal twins in my family. We were given a minute to ourselves and both of us had tears of pure joy and shock. This was an odd dream come true. None of the nurses or doctors we talked to could fathom our excitement. Especially MINE. Apparently, men get angry, scared, confused, or numb when hearing the news. When my uncle was told he was going to have twins he fainted in the doctor's office.  All of the reservation I felt was gone. I was all in. We began dreaming, scheming, naming, preparing, and bonding.
Fast forward to the second ultrasound when we learned that we had lost both babies. There's no adequate way to describe the pure heartbreak we both felt. A birth still happens during a miscarriage, but instead of joy, it is only sorrow and despair. It's not easy to articulate that evening, but it was visceral and the most helpless and in pain I have ever felt.
Helping others is second nature to me, but allowing others to help me is a process and continued area of growth. It has been so difficult to bring the bad news to the select few we invited into the process early on. I decided the moment we heard about our loss, that I was going to allow others in and let myself be vulnerable and open to help.
The way folks have shown up is unreal, and though it doesn't take away the pain, it does bring gratitude and togetherness in a way that is beyond anything I've felt before.
Among allowing other the space to help me, I have also continued to keep silence, solitude, and contemplative practices in my daily routine. What is typically a safe place for me to sprawl out with my emotions and shut out the noise of the world has quickly become a difficult wrestling match. To willingly enter the darkness and fully feel the weight of these moments is not easy, but it is necessary and worth it, and beautiful in its own right.
The road ahead won't be easy.  I don't know how a man grapples with loss, I don't know the right way forward, I'm not sure if this will ever go away.  At our memorial service for the twins just before saying our final goodbyes I said to them, "no space will fill the emptiness in my heart from your absence, but there will also be no wall, obstacle, or barrier to stop us from carrying your legacy forward."
If you have experienced a similar loss or are currently hurting, my hope is that you know you are not alone and that you find the space you need to mourn well. Find the contrast between the darkness you feel and the light others have to offer. Share even when it is hard, and seek silence even when all you want is noise to drown out the pain. No one can truly comprehend the isolation and pain felt in these moments. But it is equally true that others are ready and willing to challenge that isolation and share in your pain. Give yourself that gift. Let others be the help.