"Music is a safe place and Pedro is her favorite."
Those words show up early in the original TWLOHA story, which was written nearly 10 years ago. "Pedro" was the band Pedro the Lion. "Her" was my friend Renee Yohe. The context was a few of us in the car with Renee, as she made her way to a treatment center in Orlando. Pedro the Lion was loud in the speakers to help bring comfort to a difficult moment. The original TWLOHA shirts were printed a few weeks later, created and sold with the goal of paying for Renee's treatment.
"Music is a safe place" came to mind last Friday night as i learned of the attacks in Paris, specifically the Eagles of Death Metal concert at La Bataclan, where 89 people were killed and hundreds more were injured. In a matter of minutes, thousands were sent into mourning and thousands more were made afraid.
It is a tragedy anytime an innocent life is taken, every person in every place, and yet i kept thinking about that Paris club. Because i've been to hundreds of shows over the years, on behalf of TWLOHA and simply as a fan. i started thinking about the reasons people pay money and wait in line to watch and feel what happens when a room is filled with favorite songs.
We go to smile. We go to cry. We go to be reminded we're alive. We go because the songs feel true, and that helps us feel less alone. We go to physically stand with others, a picture of the fact we're not alone. We go to hear the stories between songs, when our heroes reveal themselves as human. They have friends and questions and struggles just like you and me.
We go to concerts because music feels like home. And we hope that every home is something safe, something comfortable and free. And yet, Friday night it wasn't. Music wasn't safe. Paris, one of the most beautiful places in the world, a city known for love and lights, suddenly wasn't safe.
And it wasn't just Paris. It was Beirut and Baghdad. It was true for millions more in Syria, on the run from evil, chasing safety, desperate for a place to call home.
With all this awful news, it's easy to feel overwhelmed. It's easy to feel like the problems are so complex that we can't know where to start. And so it's easy to do nothing.
Well, we don't want to do nothing. We want to do something. We can't save the lives that have been lost. We can't solve the refugee crisis. We don't know how to stop ISIS. But we can do something, with our voices and our dollars, small alone but stronger when they are united. We're going back to our beginning, to that simple idea that "Music is a safe place." Because for those of us who struggle, music is important. It has been a safe place for us and we hope that can continue. We dream of a world where people are safe at concerts. And we dream of a world where every person has a home.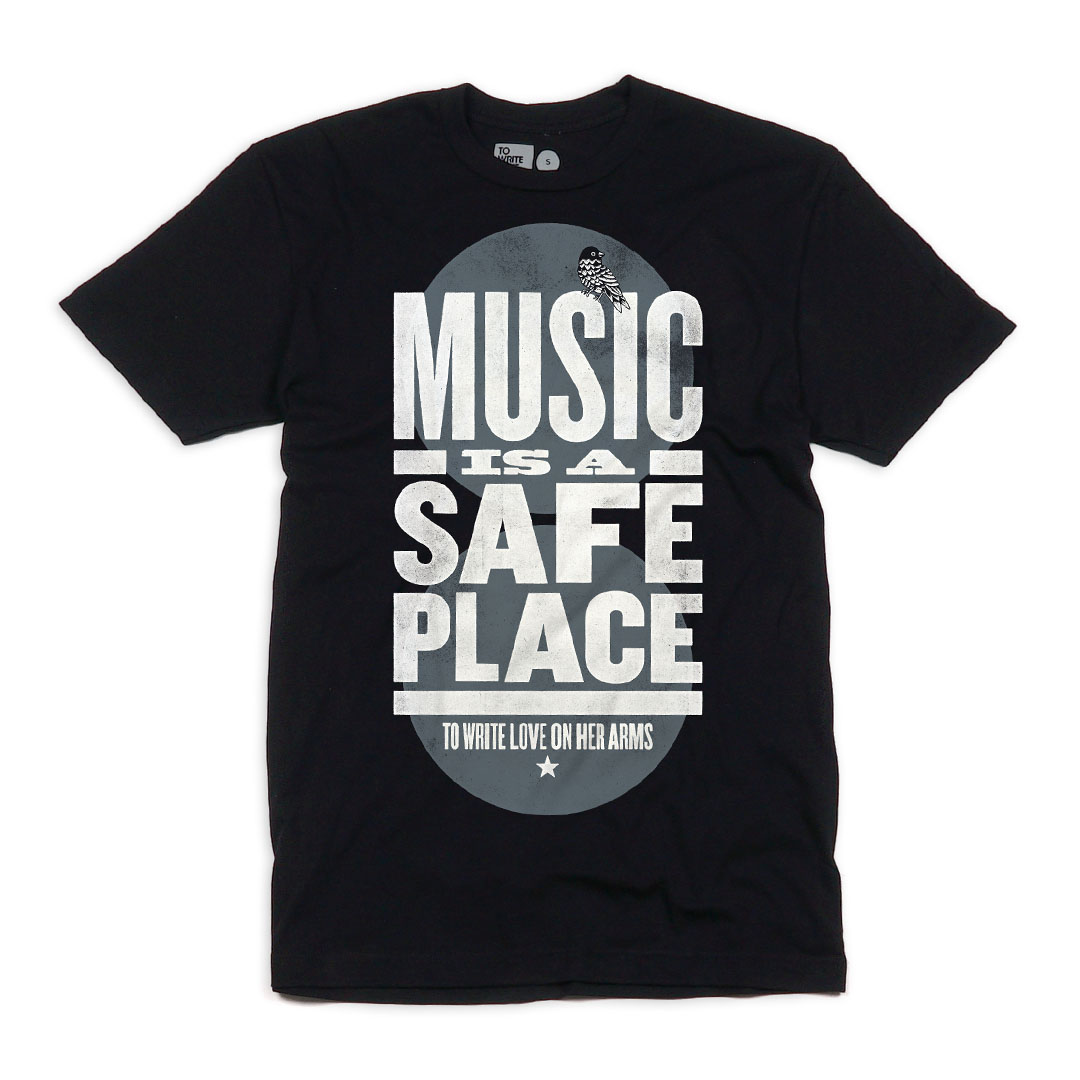 For every "Music is a safe place" shirt sold, we will be donating $7 to our friends at Preemptive Love Coalition. They are doing life-saving work in Iraq and this money will specifically go to providing mental health services for Iraqis, many of whom live in fear because of ISIS.
Jeremy Courtney is the Founder & Executive Director at Preemptive Love Coalition. i know him personally and i believe in the great work his organization is doing. In Jeremy's own words: "Mental health care is a seriously under-explored and under-capitalized component of stemming the outflow of refugees from this Syria/Iraq conflict. If we want to help refugees, we have to invest in mental health care."
If you want to learn more about PLC, we encourage you to do so.
If you want to learn more about the refugee crisis and the terror caused by ISIS, we encourage you to do so.
If you want to give to another organization meeting needs in the Middle East and Europe, we encourage you to do so.
We're living in a new world. There are real threats, real things to be afraid of. And with that, there are people in need and there are opportunities to love. It will require learning and giving. It will require taking risks and trusting people. We can make decisions based on love or fear, based on doubt or hope. The word "refugee" is not a synonym for "terrorist." A refugee is a person searching for a home. And while that's not the usual subject matter for this website, when it comes to mental health, when it comes to depression and addiction, perhaps you can relate to feeling alone. Perhaps you can relate to searching for a home. Perhaps you can relate to the idea that people need other people.
May we be the generation that chooses love not only when it is convenient, not simply based on color or border or flag. May we be the generation that believes every life matters. Every single person. Every single place.
Maybe music is a place to start.