Hey, friend.
I'm here to remind you of what resilience is, on the off-chance someone you know—a friend, a family member, a therapist, a doctor—is incorrectly setting the bar too high.
Resilience is starting or restarting the day each time you leave the bed, the recliner, the couch, the bean bag chair. It doesn't matter if it took one alarm, two alarms, or seven alarms. It doesn't matter if the seventh alarm was a cacophony of ducks quacking at max volume. It doesn't matter if this is the first or ninth time you've left a resting space during a single day. You began… or you began again… and that's resilience. 
Resilience is taking the shower or microwaving the hot pocket or showing up at the event or washing the dishes.
It doesn't matter if you sat on the floor or in the tub while the shower head cascaded over you. It doesn't matter if the hot pocket was all you could bring yourself to eat in a day. It doesn't matter if you sat silently in the back row or just washed a single plate. You did something—anything—and that's resilience.
Resilience is downloading the self-care app, sitting on the psychiatrist's couch, drinking coffee with a friend, petting your cat, or enlisting your family member to sit next to you while you lay in bed and cry. Friend, I don't care if it is a digital bird that chirps at you to drink more water. I don't care if you need a prescription for antidepressants or if you just need to reload your Starbucks card for a treat. I don't care if your cat is the only one who can help or if crying is the best you can do. You reaching for a resource is resilience at play.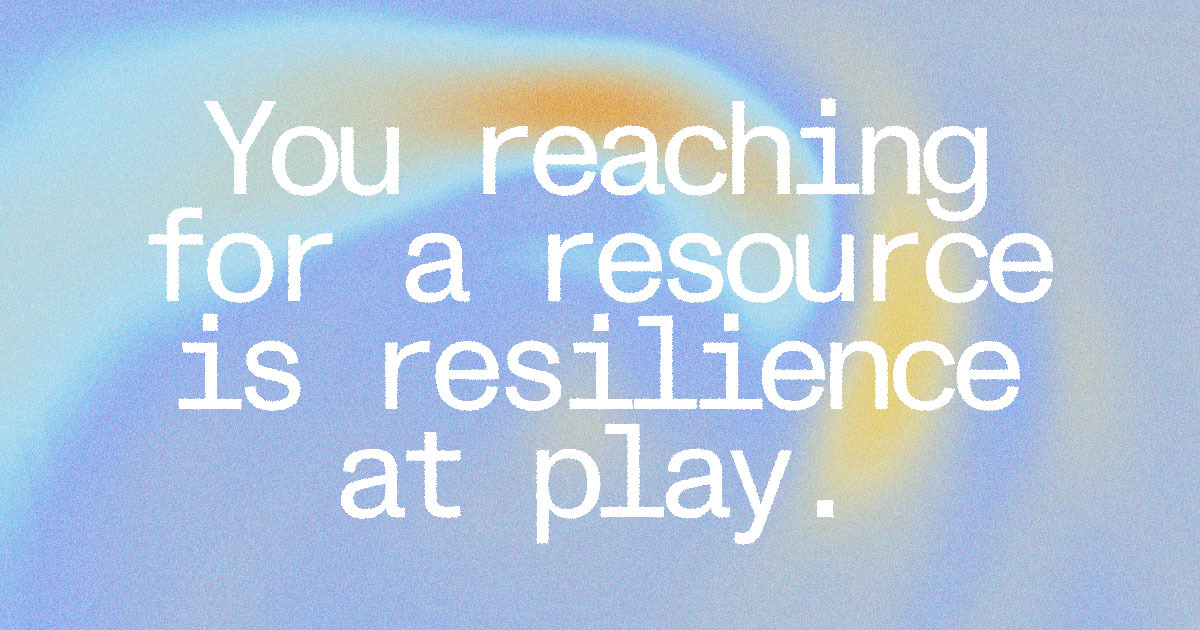 I am proud of you, friend.
And people may not always say that to you when they should. That's part of why I'm saying it now.
Others are sometimes going to tell you what they think resilience is, and they are going to let you know if they believe you haven't reached the imaginary line that means you're being "resilient enough."
But here's the thing: you're already resilient. 
I see the resilience in your heart. I see the resilience in each action you manage to take. I see you survive and often even thrive despite all you are facing—mental, physical, spiritual, financial, and emotional challenges—and more.
Your existence is the definition of resilience. 
And I'll say it again: I'm proud of you.
---
People need other people. You are not weak for wanting or needing support. If you're seeking professional help, we encourage you to use TWLOHA's FIND HELP Tool. If you reside outside of the US, please browse our growing International Resources database. You can also text TWLOHA to 741741 to be connected for free, 24/7 to a trained Crisis Text Line counselor. If it's encouragement or a listening ear that you need, email our team at [email protected].