I often try to control my emotions. Anxiety trained me to do so at a very young age. I calculate where my mood should fall based on the circumstances I see around me:
I am a newlywed, madly in love with the man of my dreams.
I have a great, stable job that keeps me on my toes.
I have good friends who know me and love me well.
I have a fantastic, nutty, brilliant family who sticks by my side through the tough stuff.
All signs point to joy. All calculations add up to delight.
So why the hell do I feel so afraid and sad? I have no right to claim those emotions. There is no reason for this darkness. 
This, my husband calls, is my anxiety rabbit hole. On top of the anxious feelings, I add the guilt trip of a lifetime about how it is not acceptable that I feel this way and why can't I just stop?
This anxiety-and-expectation cocktail is one I sip from daily, and it is one that gets me into trouble when I least expect it.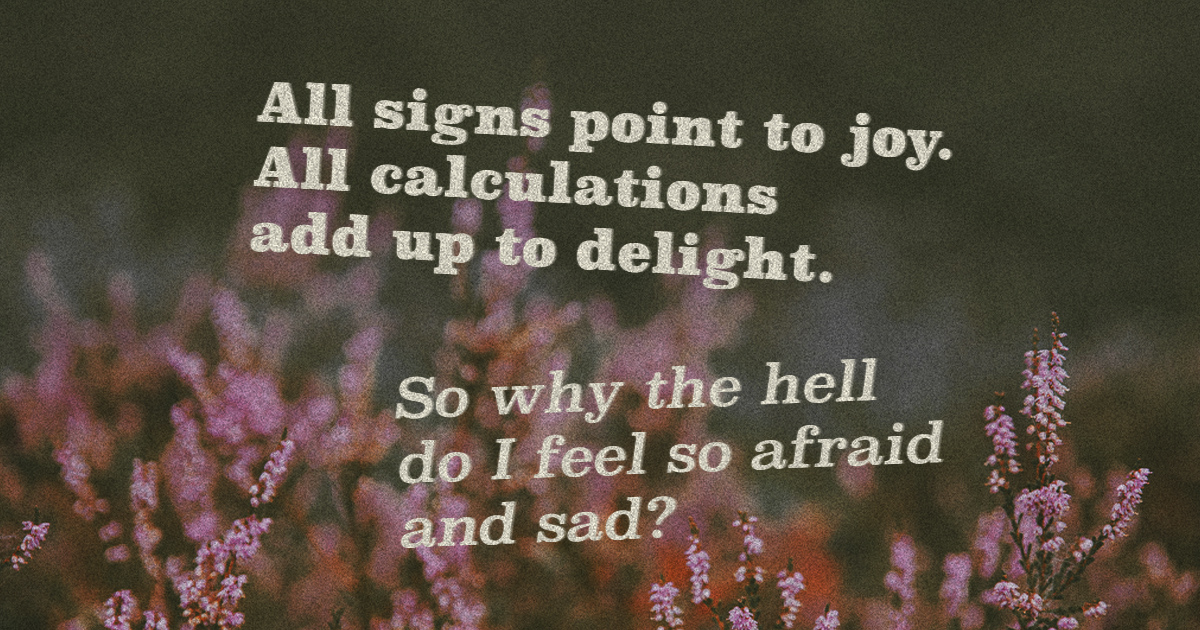 In college, my need to reign in the fog of fear that stormed around my every move led to a crippling bout with anorexia. Then, in graduate school, I was assaulted. This not only spurred on my anxiety and anorexia but encouraged the storm with PTSD. That tsunami of imbalanced chemicals and untamed emotions certainly posed a challenge for my desire to control my emotions. So, I harnessed "control" through self-harm and a more rigid relationship with anorexia than ever before.
During that time in my life, my illnesses were not just the problem I suffered, they were the life vest I clung to. It's taken years of counseling to sort through what I'm fighting and fixing and controlling, and what I'm nourishing and listening to and loving. Often times, it feels as if the two halves of my brain are wholly at war with one another on how to take care of myself. But lately, I've clung to the idea that my emotions are waves. They come and they go, whether I give them permission to or not. Some are big. Some are small. Some are mundane. Some are terrifying. Some are delightful. Some are unpleasant. Some are freeing.
In this moment, I stand confident that while I am a person who lives in the crest of these waves—I feel them all deeply, no matter the circumstance. I am strong enough to ride each wave until its end. Today, my scars serve as a reminder that there is no wave that I cannot handle. Heck, most of the waves I can ride with glee.
Because it is hard to stay grounded in the midst of these waves, a friend recommended I create a mantra to meditate on every morning and in moments of need. Most days, it has helped.
Today I will remember that I am a badass that can kick any day's ass.
There is nothing to fear. 
Today I will fight for joy by taking moments to pause and breathe
and take in the good around me. 
Today I will look for the gifts and privileges this day brings me.
Today I will nourish and comfort the anxious parts of myself.
Today I will nourish and take care of my body and my five senses
because I am worthy of care. 
Today I will do my best to love well (more than harm).
Today I will hold my (and others') imperfections and failures with grace
and understanding.
I am human and 
I am flawed. 
I am still worthy of care and love,
rest and pampering,
grace and goodness.