Sad songs don't make me sad. Most times they offer me a feeling of connection. A sense that I've been heard. Related to. The soundtrack to being less alone in my human ache. A chance to feel what I'm feeling.
And when we're not experiencing at least a small portion of the world's sadness, it can be a real red flag that something is amiss. Narcissism, depression, and overwhelm (among other things) attack our sense of compassion and empathy. They numb the spectrum of human emotions and, consequently, the very elements that allow our hearts to really open. When those walls go up, the isolation can set in pretty quickly. I've seen this firsthand.
Enter music.
I know musical tastes are different for everyone, how could everybody like the same thing after all? I also know that what I'm about to say may perhaps be a controversial sacrilege to some, but I'm going to say it anyway: Happy music ends up making me feel like there is a party that I'm not up for going to. Those songs aren't my jam. There, I said it! No "LMFAO" and "Hey Ya!" for me. Give me the heavy, emotional stuff. The deep waters.
For a long time, I could not understand why I felt this way. I was even embarrassed by my own need for such a melancholy aural backdrop. But somewhere in my journey, I learned that music, and other forms of artistic expression, are often enough the only thing that moves me through what I will lovingly refer to as my blues.
Within art, there is a safe space where it is OK not to be OK. There is catharsis. And as a parent, despite all perceptions that we are supposed to know what we're doing, I've tried to shoot straight with my four kids, that my life, their life, and everyone else's life, is a work in progress. One that is worth never, ever giving up on.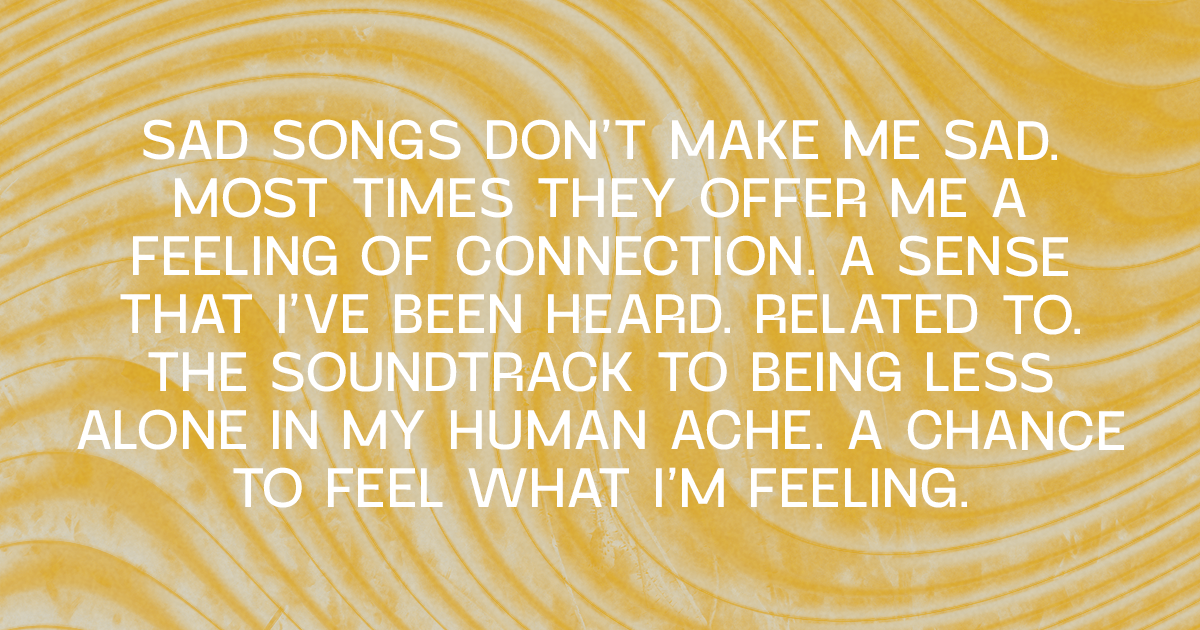 I wrote the song "How To Say Goodbye" with my friends Sam and Jimmy, but also with my daughter Sophia. We wanted to talk about what it would be like to stand outside your own life and see it from a birds-eye view.
Would you finally be able to appreciate the little miracles? 
Would you be able to see the love, given and received?
Like George Bailey in the movie, "It's A Wonderful Life," I think that sometimes we lose our perspective. And with this in mind, I asked one of my other daughters, Adeline, if she would consider choreographing a dance for our "How To Say Goodbye" lyric video. I wanted something that would convey the shadowy experience of seeing your life from the outside. I'm so grateful to her for putting into a physical expression that which had only existed in music. Watching her perform the dance for the first time, I felt some of the fear inside of me loosen. I could see in her choreography the same push and pull that I have known for as long as I can remember, and I knew I wasn't alone.
The act of saying goodbye always has been, and always will be, one of the hardest parts of life. My hope is that the song and video help others with their own goodbyes. Even more than that, I hope it brings some peace to all who, like me, find that sad songs make them less sad.
---
---
Driving Music for When You're Sad – A Playlist by Stephen Kellogg:
---
We're here to remind you of the truth that you are not alone. We encourage you to use TWLOHA's FIND HELP Tool to locate professional help and to read more stories like this one here. If you reside outside of the US, please browse our growing International Resources database. You can also text TWLOHA to 741741 to be connected for free, 24/7 to a trained Crisis Text Line counselor. If it's encouragement or a listening ear that you need, email our team at [email protected].