This piece is part of our Mental Health Month blog series, where we highlight and explore lesser-known mental health challenges. Here's Harlee's experience with and perspective on schizophrenia. 
I remember the first day I heard my name and schizophrenia used in the same sentence. My world stopped turning that day. It felt like I had left my body and was watching as an outsider. "This can't be happening to me," I thought. I mean, just turn on the news and you'll find people with schizophrenia depicted as unhinged humans who kill, harm, and wreak havoc. That was most certainly not me. But you see, I was buying into a lie. The lie society tells us through Halloween costumes and TV shows and movies where people diagnosed with schizophrenia are portrayed as monsters.
After being diagnosed, incessant worry and fear of the future followed. Would I graduate college? Would I be a good mom? Would I ever get married? Would I end up in a psych facility forever? The list went on and on. Why? Because schizophrenia was a "dirty word" and one I never wanted to associate with myself.
It took time in the form of years, lots of therapy, and support from friends and family for me to come to terms with this illness. Before, I couldn't even say the word out loud. Accepting the illness was just as difficult as recovering from and managing it. And can I let you in on a little secret? I still struggle sometimes. Overcoming your mental illness isn't a place you ever fully arrive at. It's a journey, day by day, month by month, year by year. And there are a lot of things you'll need throughout that journey: people to come alongside you on the days you're so worn down you don't even want to open your eyes; tons and tons of grace for yourself; music, coffee, and lots of chocolate.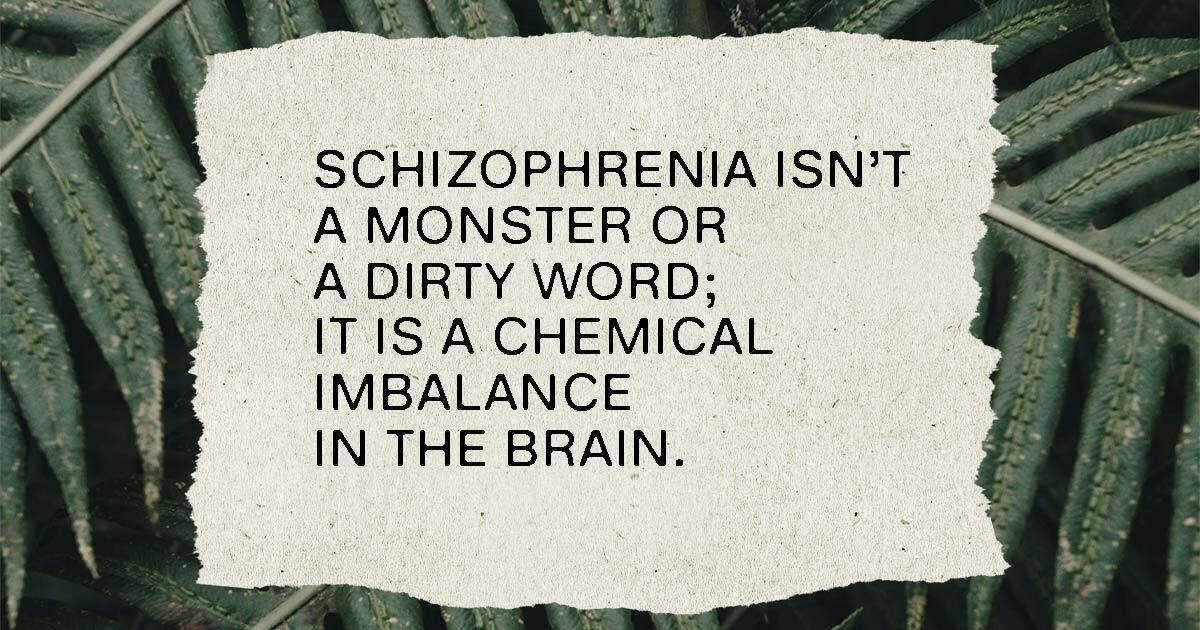 But most importantly, you'll need to keep showing up. And you are worth showing up for. You are worthy of love from others and love from yourself. Schizophrenia (or any other mental illness) doesn't define you or disqualify you from life. Schizophrenia isn't a monster or a dirty word; it is a chemical imbalance in the brain. One that is no fault of our own, nor is it something we choose or control.
The National Institute of Mental Health describes it as, "a serious mental illness that affects how a person thinks, feels, and behaves. People with schizophrenia may seem like they have lost touch with reality, which causes significant distress for the individual, their family members, and friends. If left untreated, the symptoms of schizophrenia can be persistent and disabling. However, effective treatments are available. When delivered in a timely, coordinated, and sustained manner, treatment can help affected individuals to engage in school or work, achieve independence, and enjoy personal relationships." 
Words like "however" and "effective treatment" are the keywords in that definition. So, with that being said, take your meds, go to your appointments, call that friend, and show up for your life. It is and can still be beautiful.
---
Your diagnosis is not the end of your story. Healing is still possible. Treatment exists. We encourage you to use TWLOHA's FIND HELP Tool to locate professional help and to read more stories like this one here. If you reside outside of the US, please browse our growing International Resources database. You can also text TWLOHA to 741741 to be connected for free, 24/7 to a trained Crisis Text Line counselor. If it's encouragement or a listening ear that you need, email our team at [email protected].