"A lot of people have it worse. You're not the only one who is struggling. You obviously don't want to get better. You must want to stay this way."
All said with a condescending and sarcastic tone. For someone struggling with depression, these remarks cut deep. I have been in the midst of this struggle for much of my life. The hardest part is that I don't have "a reason" for these feelings. I don't have a story of tragedy or hardship or abuse. What I do have is a loving and caring family, and although we didn't have an immense amount of money growing up, we had plenty to get by.
As a child, I couldn't explain these feelings or make sense of the thoughts in my head. I couldn't put words to them and I didn't understand them. I never felt like I was enough. I tried so hard in everything I did to excel, to find something that would make me feel worthy, but nothing I ever accomplished was enough. I oscillated between feelings of overwhelming sadness and pure emptiness. I struggled with self-doubt and anxiety, and I isolated myself from everyone. After all, why would anyone want to be around this broken girl?
Depression is a horrible disease, especially when you can't find a basis for it. It's not something you can see, and so to many people, it comes off as senseless, as though you should just be able to overcome it simply with some will power. But depression is relentless. It's a darkness that invades every part of your being. These feelings are illogical and irrational, and yes, I know many people are facing much greater hardships in life, but what people often don't seem to realize is that everything that happens in someone's life is relative to them. What one person may see as a mound they can easily step over is actually another person's mountain.
Despite its seemingly unyielding hold, there are moments when I am temporarily able to break free from depression. The heaviness that settles in my heart feels a little lighter, my breath comes out without such arduous effort, the thoughts in my mind whisper instead of shout. There are moments when life appears clearer, when I would dare to say I experience happiness—but those moments don't last. And within the good moments, the fear of wondering when the darkness will creep back in lingers. Yet, no matter how ephemeral those good moments are, they're what I live for.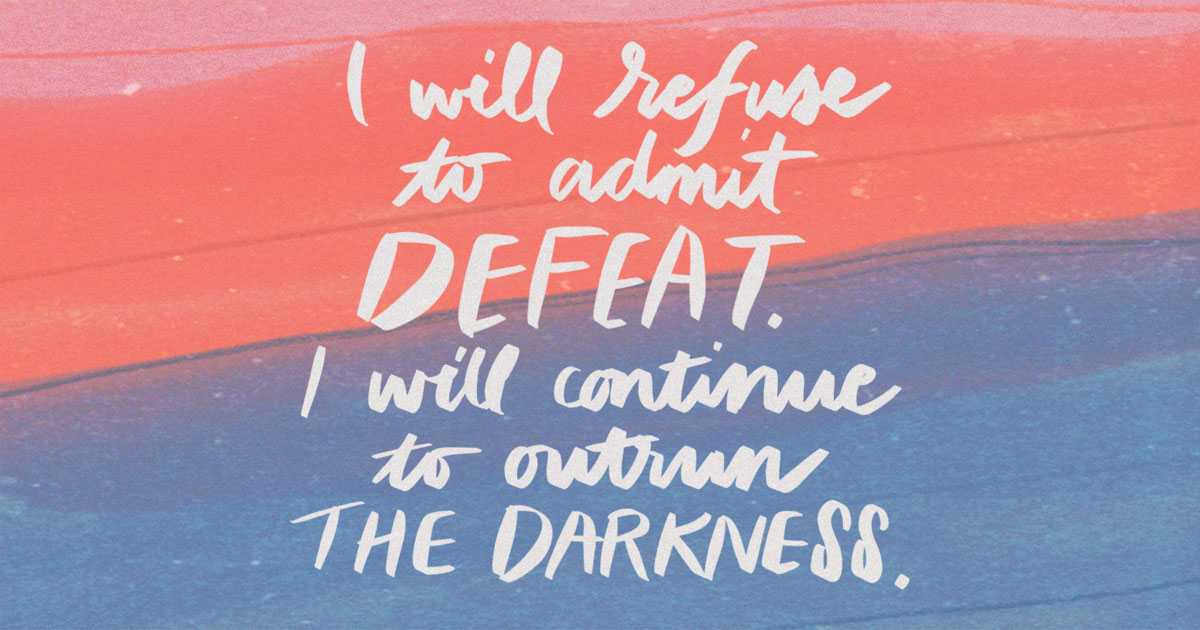 And so when everything feels absolutely hopeless, when the thoughts in your head are pleading you to die, I urge you to find something to fight for, no matter how trivial or insignificant it may seem. Maybe it's to see the next season of your favorite TV show, maybe it's listening to your favorite song ten times in a row, maybe it's lunch with a friend, maybe it's listening to a child's giggle, maybe it's the hope that one day these feelings will vanish and you will be free. For me, I run to clear my thoughts and I plan trips to see as much of the world as I can—including mountains I intend to climb, both literally and metaphorically.
So even on the days when I struggle to put my feet on the floor, I will refuse to admit defeat. I will continue to outrun the darkness. I will travel in search of love and beauty in this amazing world. I will climb those mountains.
No matter how small your reason is, find something to fight for. It matters—because those little moments keep you alive.