Note: This piece talks about suicide. Please use your discretion.
Suicide has been portrayed in pop culture for ages—sometimes for worse or for better depending on who you ask. Novels, shows, films, songs, and so on address a sensitive topic sometimes with layered nuance and other times with deeply misguided perceptions. With this in mind, the TWLOHA team wanted to share some pieces of media that we feel approach suicide with care and intention.
---
Category: Music
Title: "Adam's Song" by Blink-182 (1999)
Reviewed by: Chad Moses
In the spring of 2000, I was in 8th grade. My brother was getting ready to head off to college and I was starting to figure out that life wasn't the easiest thing to figure out. To this day I often joke that I peaked in middle school, and high school was the open sea for my Duck Syndrome. At any rate, one of my brother's parting gifts was an introduction to pop-punk, specifically in the form of Blink-182's Enema of the State. It was unserious, fun, fast, and chock-full of the suburban, "Hi, I'm Johnny Knoxville.  Welcome to Jackass" adjacent energy that really summed up those early teen years for millennials.
But then, halfway through the album and clocking in as the longest song on the record, a haunting and hollow guitar took center stage. "I never thought I'd die alone, I laughed the loudest, who'd've known?" There's something brave about a song with no wind-up. Immediately we're in the thick of something serious, something dangerous, something that despite its different tone is still pleading for an ear.
This song was not my first introduction to suicide. Just five years earlier, my best friend woke up fatherless due to suicide, and our upper-middle-class/"The Kids Aren't Alright" neighborhood drank deep from the cup of stigma, so there was no unpacking just how deep that departure hurt. Candidly, the idea of youth suicide was nowhere on my radar. It's odd looking back and noticing that for so long suicide, in my mind, was an "old people problem." Or it was up until the beginning of high school.
This was the very start of my journey with self-doubt, depression, and anxiety. Almost no one knows this because I typically defer to talking about my mental health struggles in college—when I was without the guardrails of my youth and had a full menu of self-medication at my disposal. But damn was high school hard…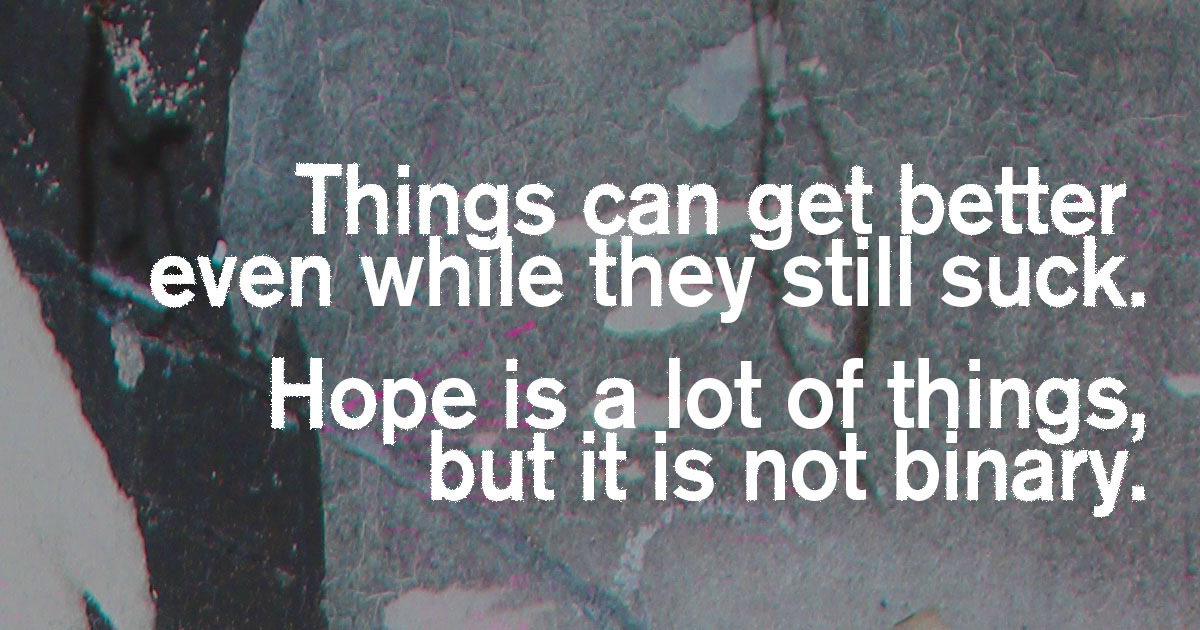 "Adam's Song" gave a sort of voice to my experience. It was having the conversation that I never was allowed to have in the wake of my best friend's father's passing. It allowed me to believe that other people have felt left out and unheard, and that those things could indeed hurt like hell. I remember the aha moment when I recognized that Mark Hoppus was quoting Nirvana, showing how even in the darkest moments music has a way of keeping us un-alone.
The refrain of "passing the time in my room alone" felt like something biographical to my experience. I remember wondering who Adam was, and if he or his family knew this song existed. I wondered what "Chad's Song" might sound like and who would sing it. And now I wonder why it took me so long to notice the twist in the last chorus. For the majority of the song, Mark sings about the narrator's passing in the past tense.
"Sixteen held such better days
Days when I still felt alive
The world was wide"
But the last chorus happens in real-time, in the here and now, in the present and future:
"Tomorrow holds such better days
Days when I can still feel alive
The world is wide"
Yet the song's last words remain an admission that he can't wait to get home to pass the time in his room alone.
And there it is, another sip of honesty saying that things can get better even while they still suck. Hope is a lot of things, but it is not binary. It's not ON or OFF. It's not you have it or you don't have it. That's something I didn't know back then, but in time this song helped teach me what happens in the gray, in the in-betweens.
Noteworthy quote: "Tomorrow holds such better days. Days when I can still feel alive."
---
Category: Novel adapted to TV Miniseries
Title: Looking for Alaska (Novel: 2005; TV: 2019)
Reviewed by: Bianca Mujica-Morales
I first read Looking for Alaska when I was a sophomore in high school. I had been struggling with depression and anxiety for a few years at that point, and John Green's debut novel was one of the first I encountered that was authentic in its understanding of both mental health and adolescence. I could go on about how perfectly the cast encapsulated the essence of their characters, or how the plot stayed true to the story even when details differed from the book, or how I cried as much from watching as I did from reading. But this isn't about how deeply I loved the show—this is about a moving portrayal of all-consuming grief, caused by a loss you are desperate to make sense of.
Spoiler alert: Alaska Young, the titular character and protagonist's love interest, dies halfway through the series. Two of her best friends, Miles and Chip, are overwhelmed with guilt from having dismissed her as "moody" and "unpredictable" when in reality she was struggling with childhood trauma. They are infuriated at their classmates who, only a few weeks prior had been vicious to Alaska, were now insisting they felt her presence. They are incredulous at their school's attempt to honor her with a memorial bench, something she would have hated to be associated with. They are broken over their now directionless love for the person who reminded them to see the world with wonder. But more than anything, Miles and Chip are fixated on determining if Alaska meant to die and if they unknowingly helped her do so.
Another (more predictable) spoiler alert: Like in most cases of suicide, they do not find the black-and-white answers they hope for. No matter how thoroughly they recreate the night of her death or how many of her loved ones they talk to—Miles and Chip are forced to navigate their grief without the roadmap of Alaska's final moments. They will never know if they could have stopped her. They will never know if she felt relief or regret. And they have to learn to live with that unknowing, as messy and unsatisfying and saddening as it is.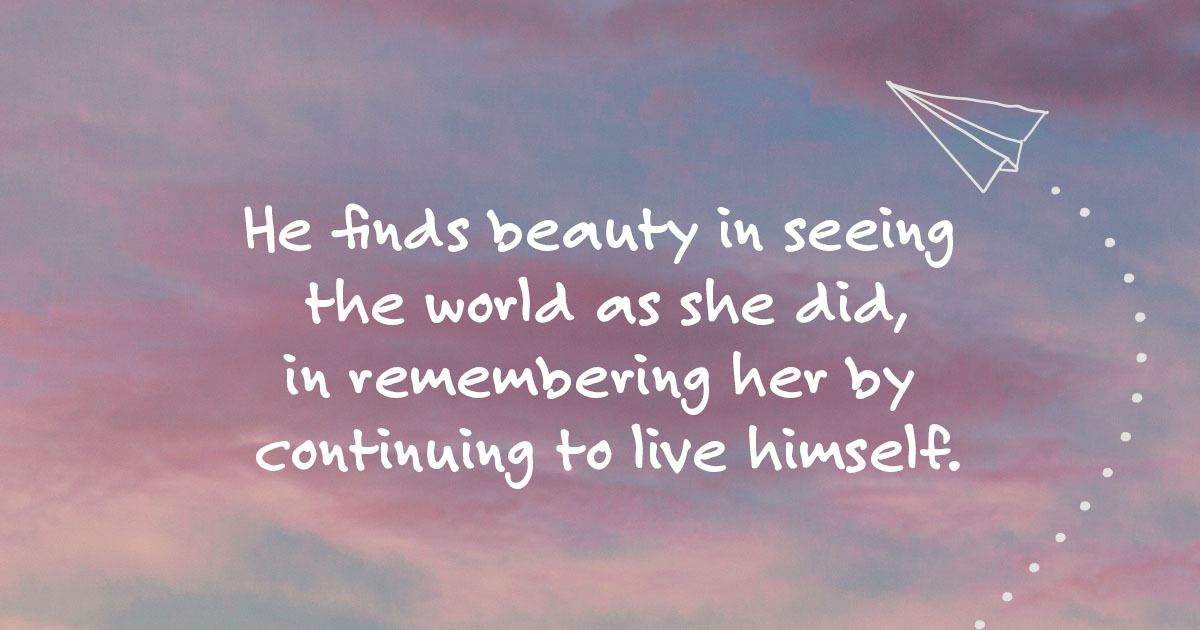 As both a reader and a viewer of Looking for Alaska, my personal belief is that her death was not firmly on either side but somewhere in the middle. Maybe that means this whole review doesn't technically count as suicide in pop culture (oops), but I think this actually speaks more to the terrifying uncertainty surrounding death—particularly the lack of closure that befalls loved ones. As Miles grapples with the fact that he'll never know why Alaska's life ended, he also finds solace in the knowledge that he and his community are better for having known her. He finds beauty in seeing the world as she did, in remembering her by continuing to live himself. Miles says it best, toward the end of the novel, when he writes, "The not-knowing would not keep me from caring, and I would always love Alaska Young."
Noteworthy quote: "We need never be hopeless because we can never be irreparably broken."
---
Category: Film
Title: Aftersun (2022)
Reviewed by: Alex Jones
Aftersun (2022) is a quiet yet devastating look into the life of adult Sophie's recollection and memory of a trip she took with her father Calum when she was 11 and he was 30. This story is not necessarily a simple narrative—it's assembled and pieced together from home videos of their trip, memories, and impressions from Sophie as she tries to reconcile the father she knew as a girl with the man who concealed his struggles and pain. Interspersed throughout the film are shots of Calum dancing chaotically at a rave with strobe lights (and this should be viewed as a liminal space and representation of his mental health rather than a literal portrayal of events). If this film were a painting, it would be more abstract and impressionistic than photorealistic.
Throughout the film, there are many clues to Calum's deteriorating mental health. Young Sophie mentions a recent ex of his and how that affects business ventures that have fallen through. She understands his financial struggles as she apologizes profusely over a lost scuba mask, and tells him off after he offers to pay for voice lessons because she knows he can't afford them. She also observes his self-help books and tai chi practices. But Calum does his best to maintain a cheery disposition throughout in order to mask his true feelings. And a lot goes unnoticed by her as well. He has a reckless disregard for his own safety: he walks through traffic, scuba dives without adequate training, balances precariously on their balcony, smokes in secret, and trudges into the sea alone and inebriated in the middle of the night.
We can sense his struggles in small moments of dialogue too. He tells a guide that he never thought he'd be 30, and that he does not expect to see 40. He tells Sophie that once you leave your home, you never really belong there again. Sophie herself describes to Calum the feeling of being tired and "sinking" even after having a fun day. Calum succumbs to his moodiness and refuses to join Sophie for karaoke; she then refuses to return to their room with him. We later see him weeping alone in their room with postcards addressed to her.
The movie culminates with Calum and Sophie dancing on a patio on their last night while "Under Pressure" by Bowie and Queen plays. As Calum displays his "dad moves," more shots of him dancing and in pain at the dark rave coalesce as we see an adult Sophie try to find and hold him. She then loses him and he falls away as the adult Sophie shifts to 11-year-old Sophie in the strobe lights. All while the lyrics "this is our last dance" repeat. It's a metaphor.
The film concludes with Calum accompanying Sophie to the airport and watching her board a plane to return to her mom. Calum turns around and walks through double doors leading to the peripheral rave. The assumption is that this was the last that young Sophie ever saw her father. Years later, she is still trying to reconcile with his absence and the warning signs she could never have noticed as a child but can recognize as an adult. 
Noteworthy quote: "Don't you ever feel like… you've just done a whole amazing day and then you come home and feel tired and down and… it feels like your organs don't work, they're just tired, and everything is tired. Like you're sinking. I don't know, it's weird."
---
Category: Music
Title: "Jumper" by Third Eye Blind (1997)
Reviewed by: Becky Ebert
I was seven when this song was released. Perhaps a tad too young to be listening and too young to know what I was singing along to with full enthusiasm. But, I suppose that's par for the course when you have an older brother who bestows his grunge and alternative music love onto you—something I am grateful for. Still, it wasn't until much later that I realized what the song was even about—which is comical considering how blunt the lyrics are. There's mention of stepping back from a ledge, coding, and burials. It becomes quite obvious that the song is referring to someone considering suicide.
Coming to that realization, the song grows in meaning and depth. Beyond the topic of suicide, we find that bullying is beneath the pain. More specifically, bullying over sexuality. Alienation and hate are damaging forces. While progress has been in play over the two decades or so since this song was released, these forces are very much so present today when it comes to the LGBTQIA+ community. Political agendas. Organized religion. Fear-mongering in the media. And here's the thing: affirmation, support, and acceptance do indeed prevent suicide. An LGBTQ+ youth who has at least one adult in their life who accepts their sexual identity is 40% less likely to attempt suicide (The Trevor Project, 2022).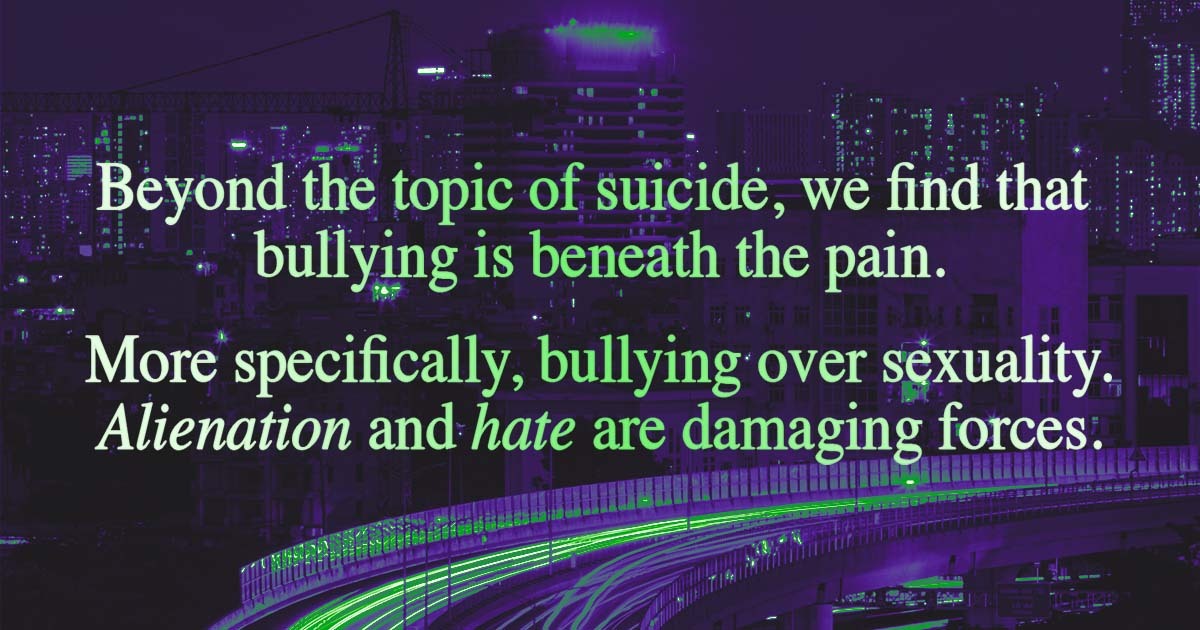 The song itself comes from the perspective of a friend. A friend trying to understand. A friend trying. Stephan Jenkins, frontman of the band and sole writer of the song, has conveyed that the expansive message of "Jumper" is for us as humans to have compassion and understanding for one another. It's a simple message. It's also true.
Noteworthy quote: "I wish you would step back from that ledge, my friend. You could cut ties with all the lies that you've been living in."
---
Category: TV
Title: A Million Little Things (2018-2023)
Reviewed by: Miranda Moses
Media has attempted to portray struggles with mental health in various ways. Some make light of it, some demonize it, some try, but don't quite hit the mark. In my opinion, A Million Little Things does a lot right.
The first episode walks the audience through the last day of a man's life. John is a father, husband, best friend, and seemingly successful businessman. The people who love John have no idea he's struggling. In fact, the first season is almost set up as a mystery as to why this happens.
On the same day of John's suicide, one of his best friends, Rome, is about to intentionally overdose on prescription medication due to his crippling depression. It's the sudden call informing him of John's death that stops his plan. Rome's character has experienced racism, difficulties in family dynamics, the stigma of mental health especially for a Black man, and likely a chemical imbalance that has accumulated into severe depression.
History tells us that often people struggling with suicide ideation are very good at pretending. Without specific knowledge of the warning signs of suicide, and sometimes even despite that knowledge, a suicide can be a shock to loved ones and friends. In the case of John—his two children, wife, three best friends, and a close co-worker are in complete disbelief.
The news of John's death leads Rome to seek a psychiatrist and begin to take antidepressants. His family and friends make a point to share their struggles with each other with the hopes of never being shocked again by someone's passing. Rome's wife and friends awkwardly and compassionately check in with him throughout the rest of the show, paying close attention to displays of sadness, anger, and isolation.
The third portrayal of suicide is from a character we never even meet properly. While we know little about this character, we're shown how a hidden sexual abuse likely led to this young person's suicide. Thoughts of suicide can be exceptionally isolating. In this person's story, the audience is left to wonder if the character had told someone about the sexual abuse, or if she had known others were affected by this as well, would her story have turned out differently?
A Million Little Things provides space for the hard questions. We watch these characters work through their own mental health struggles and find ways to show up for themselves and those they love. Ultimately, the show might just encourage the audience to share their own stories and ask hard questions in real life.
Noteworthy quote: "Maybe he just lost sight of the horizon… That's depression."
---
Comment below with pieces of media that you feel address the tough topic of suicide well. 
---
Our Suicide Prevention Campaign is all about providing tangible hope. Giving people something they can hold on to and making sure they know that when they need help, resources and support will be there. Throughout the month and around the world, people show up to share their stories and raise $300,000 in crucial funds for our Treatment + Recovery Scholarship Program and FIND HELP Tool. We could not do this work without the collective effort and determination of folks across the globe. Suicide affects everyone, and this is a fight we are in together.
For more information about this year's campaign and how you can get involved, head here.
---
Whatever you are facing, there is always hope. And we will hold on to hope until you're able to grasp it yourself. If you're thinking about suicide, we encourage you to use TWLOHA's FIND HELP Tool to locate professional help and to read more stories like this one here. If you reside outside of the US, please browse our growing International Resources database. You can also text TWLOHA to 741741 to be connected for free, 24/7 to a trained Crisis Text Line counselor.