The nursing home room was silent, interrupted only by the oxygen machine's swift puff noise like clockwork as it coursed through a long clear tube and into my mother's body. Every breath was laborious. The crackle in her outgoing breath was followed by a wince of pain. Hospice—or "the H-word" as my mother called it— kept her comfortable, but her body was failing.
She used her whole body to breathe that morning. Her belly tensed, pushing each breath up through her chest muscles to her throat.
My sister and I held her hand, our silhouettes backlit by the large window in her room. It was a gray, overcast, and bitter-cold day, with patches of snow remaining on the frozen ground outside.
At 9:29 am on January 15, 2020, they called time of death, but at 9:25 am she took her last labored breath and quietly slipped away.
Catherine Schuller was 55 years old, a mother of two girls, a friend, and a caretaker of everyone she met, and now she was gone.
The nurse switched the oxygen machine off as she left the room. Its ambient roar, once delivering the breath of life to her body, was gone. The hand I held and the form I wept over—that once gave me life—turned cold and white.
She was a two-time cancer survivor. First of lung cancer, and then metastatic lung cancer—cancer cells that started in the lungs and traveled to her brain. After losing half a lung and undergoing chemo, brain surgery, and direct radiation, the tumors regrew. She put her body through hell—developing radiation burns, blood clots, sepsis—for a cure and still, the resilient cancer regrew like weeds that just won't die no matter how much weedkiller you douse on them.
The grief surrounding her death followed me like a constant midday shadow, always at the heels of my feet. After she passed, I flew home and desperately tried to get back to the life I left behind to bid her goodbye. Little did I know, that sense of normalcy would not return anytime soon.
When my birthday rolled around during COVID-19 quarantine in March, her death hit me hard. She always called me and sang the Carpenters song "Close to You."
"On the day that you were born the angels got together and decided to create a dream come true." 
There were no missed calls or voicemails of her singing off-key to me. No double birthday cards because she couldn't decide between the two she liked. No Jewel-Osco birthday cake. No Mom. I felt her absence more than any day before it. I read old birthday cards and replayed old voicemails, over and over again. Each replay left me with more tears welled up in my eyes and an emptiness in my heart.
See, the thing they don't tell you about grief and loss is that some days the impact of their presence in your life is greater because you feel the gravity of their absence.
Then Mother's Day came in May and it hit me: I no longer had a mother to buy a card and flowers for.
I got several texts: "Are you okay Meg?"
Each message deepened the pit in my stomach. I thought to myself, 'How do I respond?' I didn't want people to worry and I was in denial that I needed help. I've had to be strong my whole life as a means of survival, and I thought this was no different.
I put on my brave face and responded, "I'm okay, missing her extra today, thanks for thinking of me."
But, truthfully, I wasn't okay, I was far from okay. 
I pulled away from everyone, lost interest in all the things I once enjoyed and felt emotionally and mentally numb. Everything felt heavier, and it was getting hard to bear the weight inside my head.
'Hello darkness, my old friend,' I often thought.
I saw the signs, I knew I was neck-deep in depression. There was no denying it.
This wasn't my first duel with depression, but this time, I didn't think I was strong enough to fight it—so I didn't. Depression was a black hole, swallowing everything in its path, leaving me empty until all I felt was the void of her absence in my life and nothing else.
Depression told me that I deserved to suffer. I didn't feel worthy of healing, help, hope, or happiness. I thought by paying the price for my mistakes—the times I've wronged her and the time I spent in denial of her illness—in suffering, I'd accept it and move on. I fell for the trap depression laid before me, and instead, I sunk deeper and deeper in.
I knew that if I continued to not put up a fight—it would win this time. That realization made me think back to Mom. Even though I felt like I couldn't do it for me, I had to do it for her. As I started living for her, I regained the strength to live for myself.
My family's support helped keep my head above the water, but I knew I couldn't tread in water that deep forever. I needed to be thrown a lifeline and pulled back to safety. I needed help. It was an admission I was reluctant to make, but it was clear.
So, I started therapy. Each week those wounds are reopened with precision and delicately stitched back together. I release a little part of the darkness that consumed me and replace it with light.
The truth is: Grief is messy. There is no timeline, no right or wrong way to heal. Grief is a constant ebb and flow, like tides of the sea. Some days are low tide, and other days there's a tsunami. Therapy was my life vest and those close to me were my surfboard, helping me ride out whatever waves washed over me.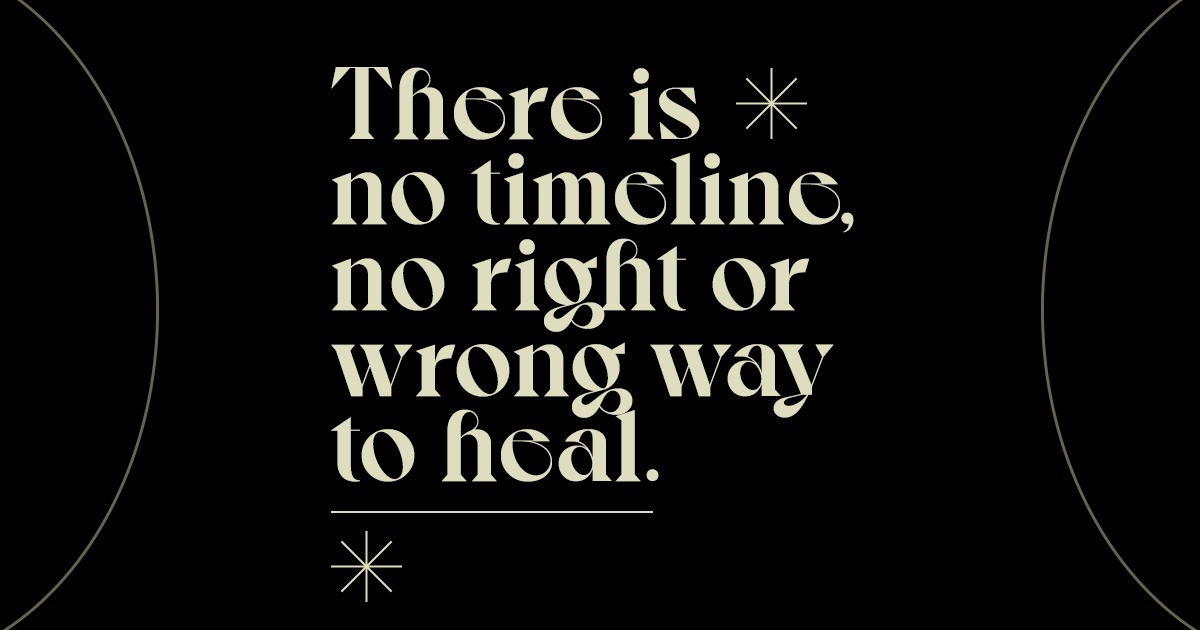 I know now that the heaviness of the grief I carry is really just the love I have for her, trapped in the void left by her absence.
The biggest challenge ahead of me is forgiveness. When you can't ask for forgiveness, how do you learn to forgive yourself?
It's a question that's been on my mind a lot lately, and I don't have the answer yet.
The shadow at my feet is still there, but every day I heal another part of me. I'm ready to fight like hell every day to keep healing, growing, and living.
---
Depression has a way of making us feel incredibly isolated. We're here to remind you of the truth that you are not alone. We encourage you to use TWLOHA's FIND HELP Tool to locate professional help and to read more stories like this one here. If you reside outside of the US, please browse our growing International Resources database. You can also text TWLOHA to 741741 to be connected for free, 24/7 to a trained Crisis Text Line counselor. If it's encouragement or a listening ear that you need, email our team at [email protected].