I suffered from depression for years before I recognized what it was. It laid low—a mild sadness here, an overwhelming fit of fear there. It was not regularly scheduled. It did not look like the depression I had read about or heard about on the TV commercials for antidepressants.
As a teenager, I discovered To Write Love on Her Arms and felt an instant connection. I believed that there was nothing more important than being honest about the scary things in our daily lives. I was so excited to be involved with an organization that was shining a light into the dark places of life.
I became a part of the TWLOHA street team, I applied for an internship, I dedicated my 18th birthday to telling people about the work TWLOHA did in the mental illness community. My birthday gift from my older brother that year was a tattoo: "Remember the Stars," inked on the inside of my forearm, above the outline of five stars with TWLOHA's initials inside.
I believed so fully in bringing the monsters out of the darkness and setting people free to live in the light of honest conversation.
I had no idea that I was one of those people until about six months after my 18th birthday.
The day I realized that I was dealing with depression is one of the most significant days I've lived through. I remember being so ashamed that I was someone who was so aware of the warning signs and symptoms, and yet I hadn't noticed it in myself?
I felt like a hypocrite.
I felt like it was a lie to say I was depressed. I didn't feel like it was fair to all the other people who knew they were depressed and who were doing something about it, who had reasons to be depressed. I knew I needed to ask for help, but I couldn't say the words out loud. I couldn't claim depression for myself, but it had clearly claimed me.
I did eventually ask for help, through a Facebook message to a trusted friend. Her husband was a counselor and together they helped me begin to navigate finding a therapist and talking to my family. It was the best decision I could have made. It took me several therapy sessions to be able to say the words out loud, but now I can, and I do.
So hear me, dear friend: Depression is not something that only affects certain people. You do not have to go through traumatic life events to experience it. You do not have to justify or explain your depression. You deserve to say the words out loud, even if it takes you a little while to get there. You deserve help and understanding, and I promise you it is available.
I did not feel like I deserved to claim my depression because I had lived a relatively good life. I had a loving family. I had friends and free time to do the things I loved. I had abandonment issues due to a father who didn't seem to love me, but I had the most wonderful stepfather who cared for me as his own. I was afraid to admit being depressed because I wouldn't be seen as the "good kid" I'd grown up as. My suffering didn't seem bad enough to take away the resources of someone suffering "more."
But the honest truth is that there is not a set amount of trauma you have to experience in order to have a mental illness. Anyone can struggle.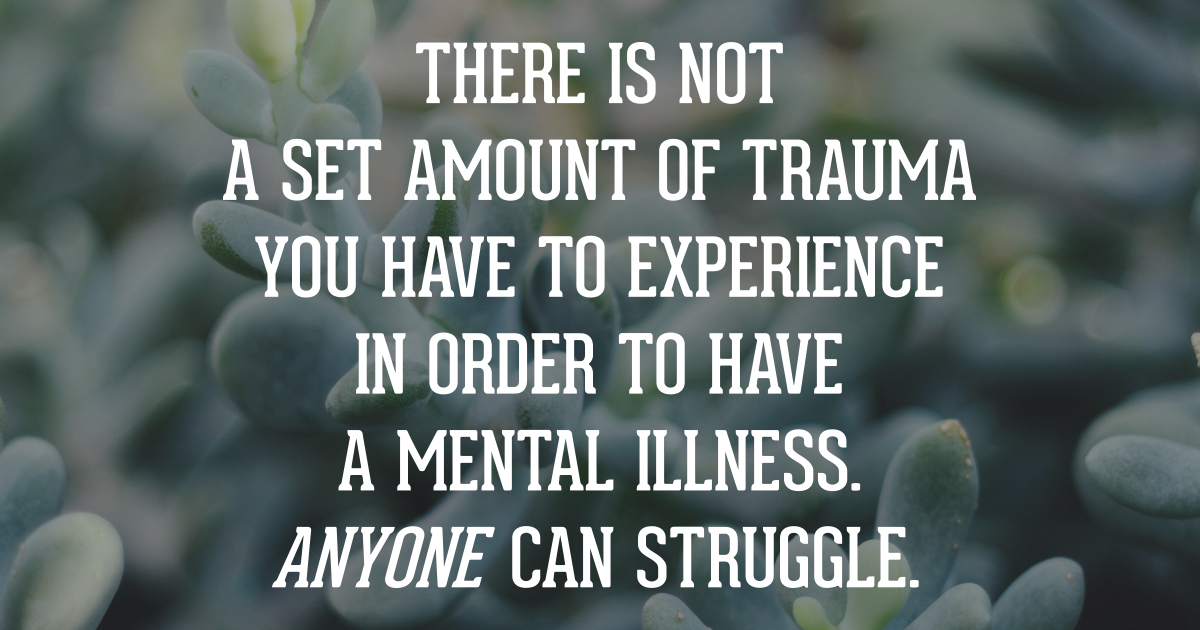 There is not a set amount of suffering you have to endure to be worthy of help. You just have to ask for it.
There is not a set of rules or guidelines that can or should dictate your journey to healing.
You are deserving of the light. And I hope you never stop searching for it.