It was, what seemed to be, a quite enjoyable evening. Spending time with close friends and enjoying the sheer moments of life that shouldn't be passed. It was a good night—only there was a lingering anxiousness, a sense of despair. It was the night of the breaking point, the night all limits were reached.
My stomach was sick with emotion and the memories of a past that marked me for life. I had been speaking with my best friend about some issues that had come up that seemed to be related to my past experiences (even though I believed the past was something I had left behind). I began to weep, then I began to vomit for hours, then I began to shake, and then suddenly, it's as if my breath left my body with no indication of returning. I spent, what seemed to be a lifetime, trying to retrieve that breath, but my body abandoned me to seize and my mind escaped to a dark, void-like place. All the years I spent trying to maintain and keep myself and my emotions "just so" vanished. I had no power over my own body. I had officially lost control.
I wasn't a stranger to panic attacks but was to one of this intensity. The paramedics said my body didn't have enough oxygen and that is why all my limbs seized and essentially paralyzed me temporarily. There aren't words to explain or describe what I was feeling, just an overall sense in my being that I couldn't take it anymore.
I had been living with this subconscious dread and apathy forever. Everything I did, was a part of, or who I had relationships with was suffocated by my constant need to meet expectations and please—all while experiencing a great deal of hurt, pain, suffering, and loneliness. My need to protect myself had, to a fault, isolated me into a corner from which I couldn't escape. There's nothing more frightening than being visible to so many yet unseen by all. I wanted to die. I had contemplated death for years, even just the desire to not suffer anymore. After that moment, I knew I couldn't ignore it any longer. I needed to be honest with myself.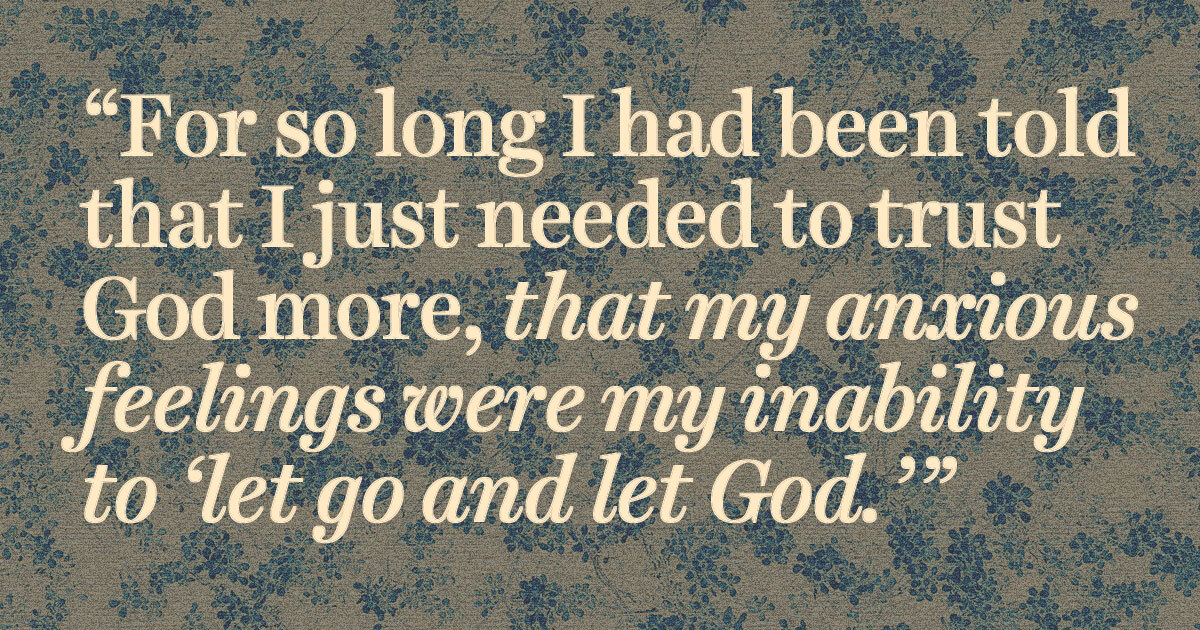 For so long I had been told and heard that I just needed to trust God more, that my anxious feelings were my inability to "let go and let God," but life was hard. Everything was going wrong. My mother was terminally ill, the church I had served for years was falling apart, my dad was stepping down from leadership, my friends were leaving, and I was alone. Being a part of a community, being a pastor's daughter and holding a position of influence, was beginning to weigh on me in this toxic and expiring culture. I had experienced isolation in a new way, and I was hurting. Everyone around me was hurting too, so I needed to be strong, all the while not having the opportunity to process, grieve, and experience the emotions I needed to acknowledge. I was broken with a smile.
Unfortunately, I never did process those things, which left me with an unwavering and intense pit in my stomach and a shake in my hands. With time, it became harder and harder to approach and, even more so, be around people at all. I felt misunderstood and overwhelmed and even moving wasn't the escape I needed. As issues began to surface, the anxiety grew and the pain intensified. While attempting to start a new chapter in my life, the ache just gnawed at me and eventually became unbearable.
But the day I lost it, I found it. My body was waving big red flags and I acknowledged that I was not OK. My mental health needed tending to, and I couldn't put it off any longer. At that moment, I also found myself surrounded by people ready and willing to walk alongside me. They helped me recognize my needs and gracefully guided me toward a path of healing. I discovered that medication is a perfectly normal element of healing. I recognized that my emotions, although they do not control me, are a part of who I am. Understanding my needs and processing those emotions has assisted me in letting go and living as honestly and authentically as possible. I accept what was, what is, and what will be.
---
You are not your thoughts. Anxiety is not who you are—you deserve to know peace. We encourage you to use TWLOHA's FIND HELP Tool to locate professional help and to read more stories like this one here. If you reside outside of the US, please browse our growing International Resources database. You can also text TWLOHA to 741741 to be connected for free, 24/7 to a trained Crisis Text Line counselor. If it's encouragement or a listening ear that you need, email our team at [email protected].