My biggest dream is love. i struggle with depression. The loss of love is the hardest thing i've experienced. Breakups have injured me for months at a time. i've been single since a Valentine's Day break-up three years ago.
For all of the reasons above and like so many people, this holiday has been a difficult one for me. It seems to do more harm than good. It seems to apply unnecessary pressure and it seems to remind me of what's missing. It reminds me what i've had and what i've lost. It reminds me what i wish was different in my life.
But something has shifted lately. It's not that i'm suddenly enjoying Valentine's Day. Instead, it's simply been a shift to not noticing. i haven't been thinking about not having love because i've been busy loving people. My life feels full and so i'm not focused on what's missing. Purpose is a really good distraction.
Perhaps the biggest lie that comes with Valentine's Day is the idea that if you don't have romantic love in your life, you don't have love in your life. It used to make me feel like an athlete on the sidelines, aching to take the field but feeling like i wasn't allowed. The truth is that we still get to love. We still get to use our hearts. i get to love my parents and my sisters and my nephews and my friends. i get to be loved by them as well.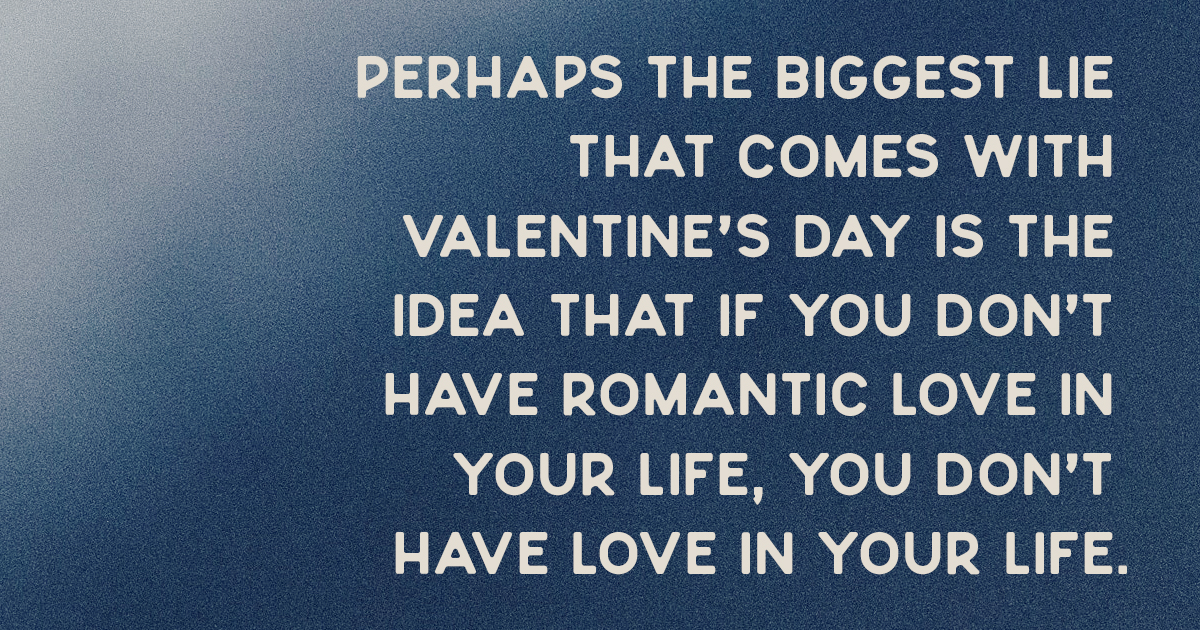 Lately, i've been focused on one friend who is going through a hard time. She is navigating the darkness of depression and it's been this way for weeks. She wonders if things will ever change, if life will ever get easier, if joy will ever come back.
Every day i am in touch with her, reminding her what's true, reminding her what i see in her and saying things can change. i'm doing my best to help her make a plan, to get back into counseling and to find a community as well. This morning she texted me, "Thank you. I'm so grateful. I feel supported even in this darkness."
i've been so focused on loving my friend that it hasn't crossed my mind to feel sad about being single or to buy the lie that i don't get to love people. i told my friend that for me, loving her is all the purpose i need. And it's not for any strategy or job description. It's simply what we're made to do. We're made to be in relationships. We're made to love and be loved. We're made to point to hope when others can't quite see it. We're made to see people who feel invisible. We're made to know people who feel unknown.
If your heart is broken, if today finds you facing grief, we want to pause and say we're sorry. We're sorry for the pain you feel. We're sorry for what's broken and what's missing. On this day so known for love, please know that you deserve love. You deserve comfort and solace and support. You deserve time and space to heal. You deserve connection, for healing rarely happens in isolation. You deserve whatever help you need, for as long as it takes.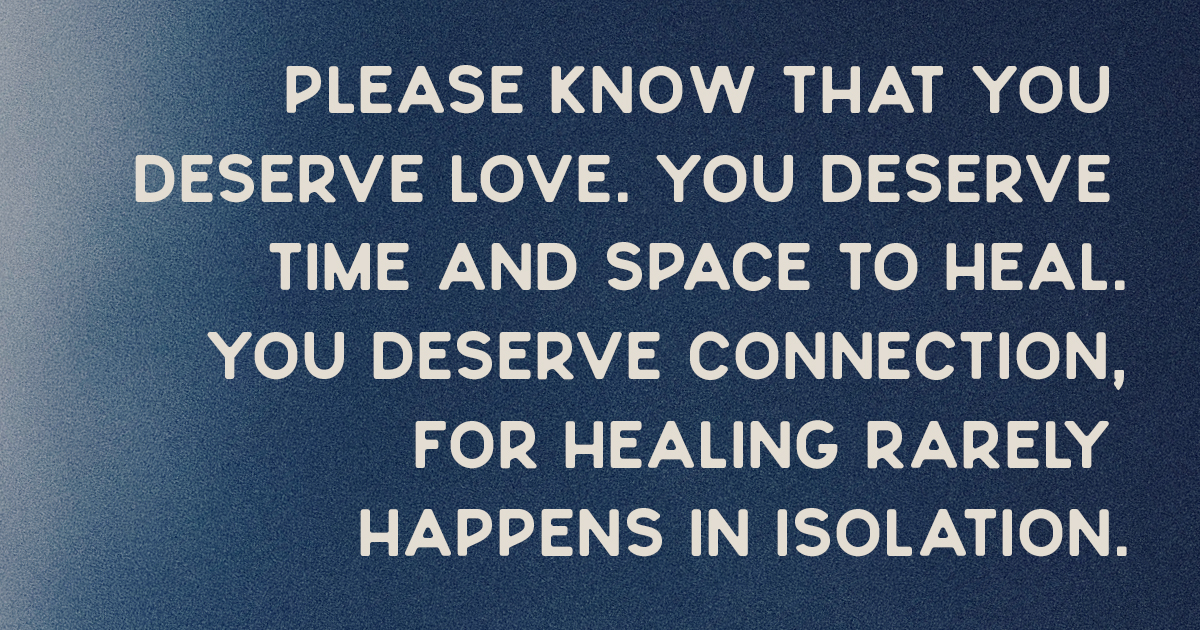 If you're in a romantic relationship, oh my goodness that's amazing. Soak it up and celebrate. You beat the odds. You found a miracle. Enjoy it truly, please.
If you're single, here's an invitation:
You are invited to love. This world absolutely needs your love. Your family does. Your friends do. The person who takes your order at the coffee shop, the stranger on the street this afternoon or a year from now, they will need your love.
Your laugh. Your smile. Your voice. Your heart. It's all so powerful. It's water to a thirsty world and a coat for someone cold.  
There's something way more interesting than a pink holiday built around one aspect of life: it's you. It's your love, not as an idea and not on some imaginary waiting list. It's your love at work in the life of another person. And remember: Love is still the most powerful force on the planet.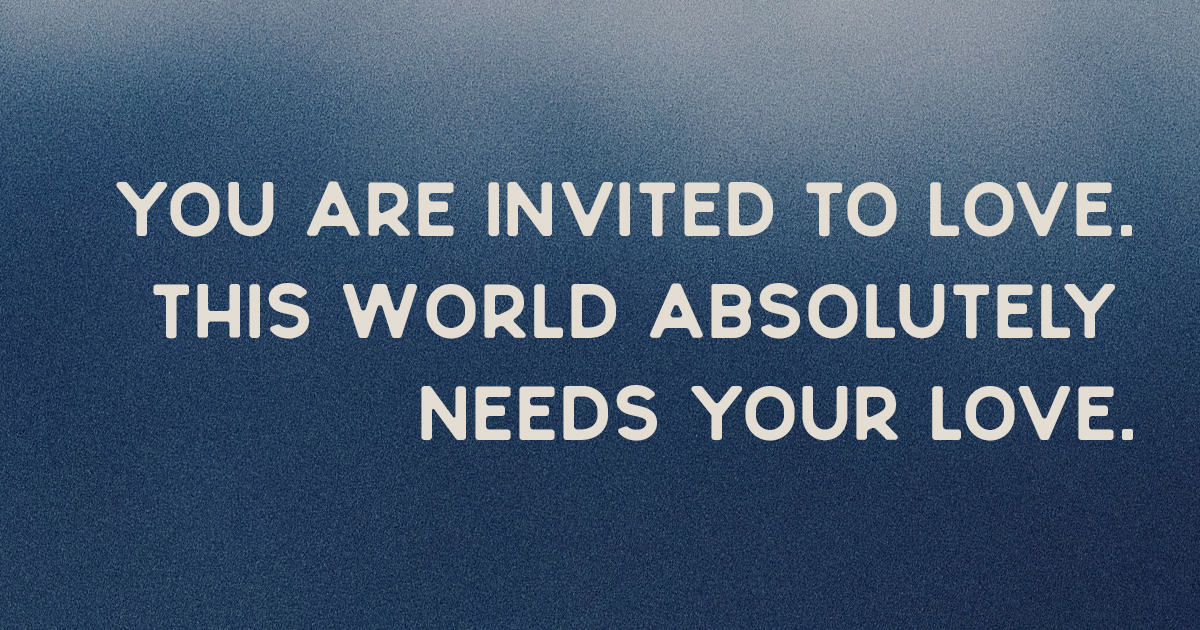 _______
We also want to invite you to join us tonight (2/14) for our 12th Annual "Valentine's Day Doesn't Have to Suck" Twitter chat! Starting at 8 PM EST, Jamie and the TWLOHA team will be answering your questions! Be part of the conversation by following @TWLOHA on Twitter and using #TWLOHAVDay.
A portion of the chat will be broadcast LIVE on Facebook and Twitch at 8:30 PM EST!