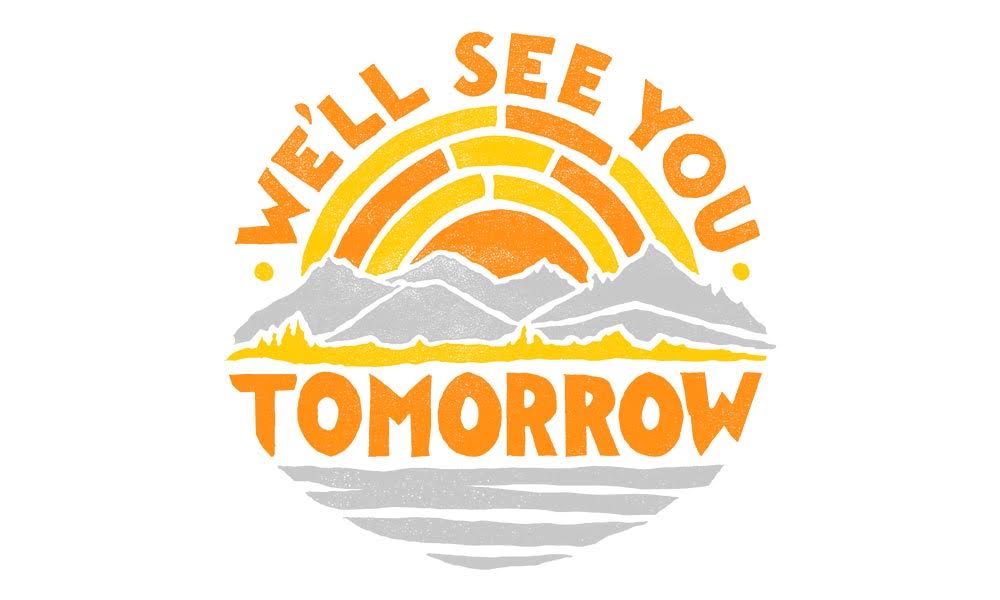 World Suicide Prevention Day is September 10, which coincides with National Suicide Prevention Week (September 7-13) in America. We are proud to announce this year's campaign, which is inspired by words that closed out last year's "No One Else Can Play Your Part" campaign:
We'll See You Tomorrow
"Above all else, we choose to stay. We choose to fight the darkness and the sadness, to fight the questions and the lies and the myth of all that's missing. We choose to stay, because we are stories still going. Because there is still some time for things to turn around, time for surprises and for change. We stay because no one else can play our part.
Life is worth living.
We'll see you tomorrow."
Those words were written by our founder, Jamie Tworkowski, on the final night of National Suicide Prevention Week. When our team got together to start dreaming up something new, we kept coming back to "We'll See You Tomorrow." Hope always involves tomorrow. It's choosing to believe that things can change, that tomorrow can look different than today.
"We'll See You Tomorrow" will run from now until September 13. Over the course of the month leading up to World Suicide Prevention Day, we're partnering with other organizations and with people everywhere to challenge the stigma surrounding suicide.
Our goal is to raise $75,000 via Classy, all of which will go to treatment and recovery.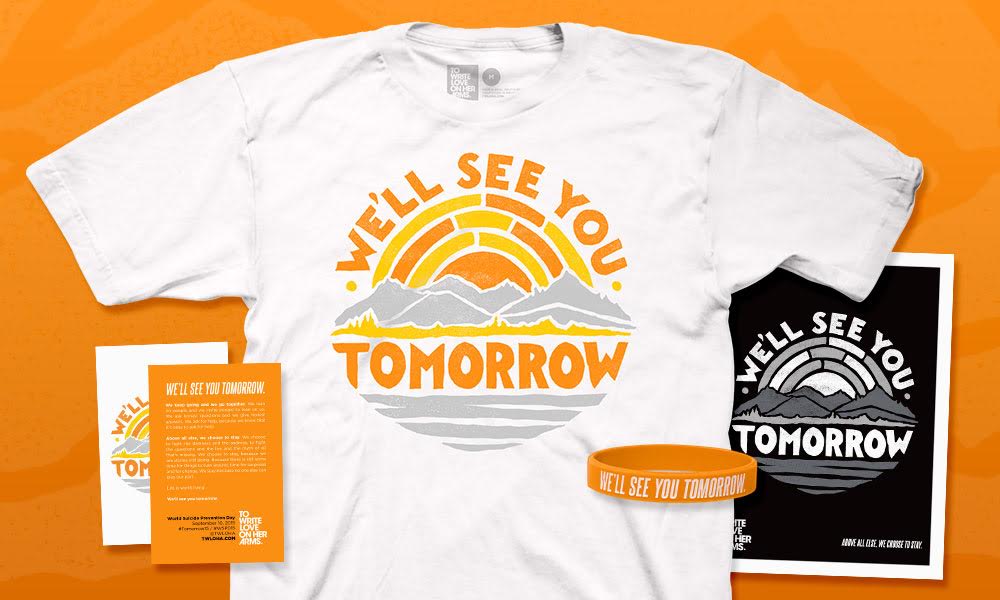 Here's how you can help:
Buy the World Suicide Prevention Day pack.
Each pack includes a shirt, a bracelet, 3 poster prints, a response card, and 15 info cards. These materials feature our "We'll See You Tomorrow" design printed in orange, which is often associated with suicide prevention. All of these items are meant to equip you to talk about suicide prevention in your community. Use them as conversation starters, encouraging reminders, and informative tools to share with others. Finally, be sure to wear your shirt and bracelet on World Suicide Prevention Day (September 10)!
Join the conversation on social media.
Join the conversation and post photos using #Tomorrow15 & #WSPD15. Be sure to tag @TWLOHA on Twitter & Instagram. You can also download our social media assets to change your profile picture, Facebook cover image, and Twitter header image. There will also be specific ways to participate during National Suicide Prevention Week (#NSPW15), and we will share those with you as it gets closer.
Fundraise for suicide prevention.
Help us challenge the stigma of mental health by providing support and treatment for those affected by it. From now until the end of NSPW, every dollar raised through our NSPW 2015 StayClassy page will go directly to funding treatment and recovery. As our way of saying thanks, the top individual fundraiser will win one of the following prizes:
2 VIP tickets for you and a friend to Vans Warped Tour in the city closest to you. We'll cover your travel expenses and give you $200 worth of TWLOHA merch.
or
2 VIP tickets for you and a friend to HEAVY AND LIGHT in Orlando, FL, complete with round-trip airfare and hotel stay.
or
1 custom poem from Sierra DeMulder
—
Thank you for supporting TWLOHA.
Thank you for caring about people.
May we continue to fight for the stories around us.
Every story matters.
We'll see you tomorrow.