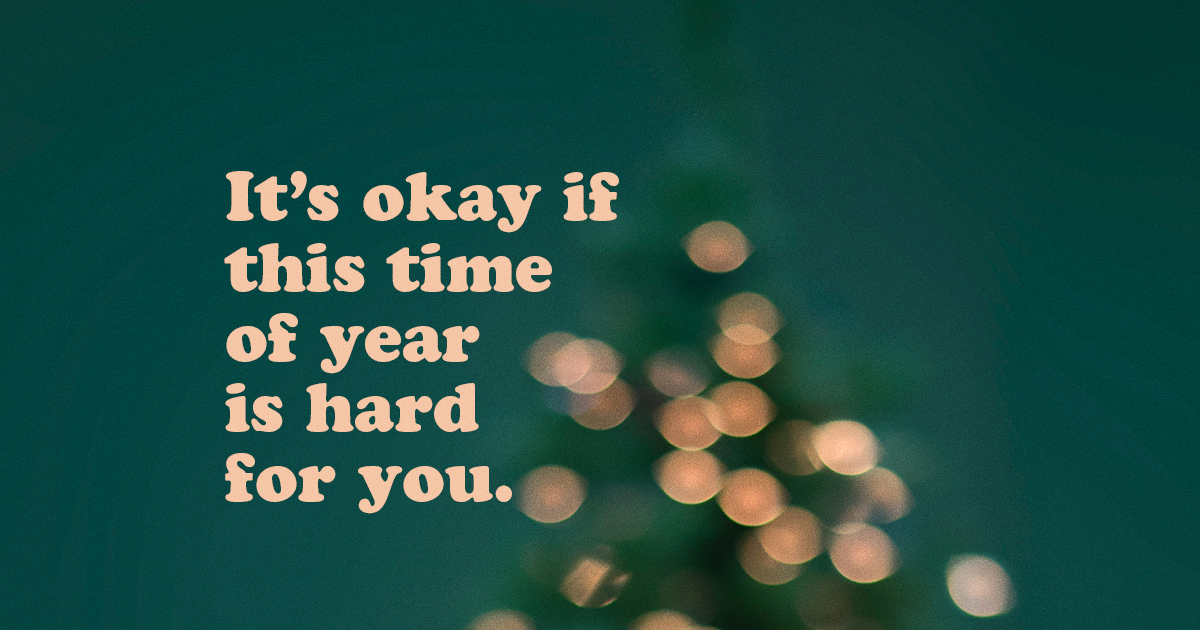 It's the time of year when we walk into Target to grab laundry detergent and see the pumpkins, turkeys, and apple cider jugs sitting on the shelves. It's when we're catching the evening news and spot a commercial that features a big family inside a nice house gathered around the dinner table smiling and laughing. It's what we refer to as "the holidays." The media loves this season, as do stores, brands, and investors. But not all of us do. Whether you celebrate or not, there's no doubt you feel the hype jumping out at you from behind every corner.
 It's okay if this time of year is hard for you. 
There is nothing wrong with you for not waltzing into the season with a joyous and excited attitude. For some, it spurs on depressive episodes or makes us angry. For others, the idea of eating at a family gathering causes panic attacks. Some of us are glad it's the time of year where we can wear long sleeves to cover scars. And some of us stress over the money we feel obligated to spend because we don't want people to know we're struggling financially.
None of this makes you weak. 
It makes you brave. 
You are brave to go forth into this season knowing what challenges lie ahead. You are strong for choosing to live and meet and conquer them anyway.
Let's be honest: This has not, in any way, shape, or form, been a "normal" year to begin with. We've struggled with quarantine, being isolated and distanced from loved ones, and having to adapt to changes in our day-to-day with remote work, wearing masks, and social distancing.
But if we can survive that on-going wild, unexpected ride, I know we can survive the holidays.
Maybe this will be the first family gathering without someone special. Maybe you have to prepare yourself to eat at mealtime. Maybe you're anxious about certain conversation topics because there's one you just aren't ready to discuss yet.
That's okay. All of that is okay.
Just by being alive and trying your hardest—in this chaotic and confusing world—that's more than anyone else can ask of you.
This season will come to an end. The challenges will subside. The stress will lessen. We'll celebrate New Years Day grateful to greet 2021. I know we can make it that far.
Until then, hold on to the truth that you are capable and strong, and anything else that brings you joy.
---
People need other people. You are not weak for wanting or needing support. If you're seeking professional help, we encourage you to use TWLOHA's FIND HELP Tool. If you reside outside of the US, please browse our growing International Resources database. You can also text TWLOHA to 741741 to be connected for free, 24/7 to a trained Crisis Text Line counselor. If it's encouragement or a listening ear that you need, email our team at [email protected].