Some days it hurts just to breathe. My chest tightens. I inhale. I exhale. It hurts. The thumping of my heart in my chest reminds me I am still alive, but also that this life is still hard and still hurts.
When I wake up each morning, I am reminded of the chronic illness I face.
I was diagnosed with Graves' disease when I was seventeen years old. From late-night visits to the ER to surprise allergic reactions to medication—nothing about adjusting to my autoimmune disease was easy. As most of my peers looked forward to college, I wondered if I would even be able to go at all. Now, five years later, my thyroid problems still influence how I live every day.
While I take medications for management, the symptoms have never balanced. Doctor visits, food restrictions, and physical limitations define my normal life. My chronic illness affects my mind as well as my body. I remember the first time I googled Graves' disease alongside the words "depression" and "anxiety." I wanted answers—and I found them. Mental challenges are common with health issues, especially thyroid problems. It permeates my thoughts. The questions build in my mind…
Will I have energy today?
What if I can't complete my tasks?
Will I be able to eat?
Will the food I eat make my stomach hurt?
Will my heart rate be high? Or will it be low?
Are my hands going to shake?
Will my legs feel weak?
Will I be able to keep it together?
Or will I cry in a bathroom stall?
Will I be stressed?
Will I be anxious?
Will I be depressed?
And the worst of them all…
Will I feel like giving up?
I've had my chronic illness for over four years now, but I've struggled with my mental health well before that. And yet, I am always surprised when suicidal thoughts hit. The exhaustion increases my suicidal thoughts. Not knowing if there will be an end to the abrupt highs and lows is exhausting. Trying to keep up with meeting my next health need is exhausting. Being the only one who fully understands my situation is exhausting. Within the exhaustion, my mind wanders.
If nothing is going to change, wouldn't it be easier to end it all?
Your health struggles are a burden on others—don't you want to relieve that from them?
This pain is going to last forever, so why not just give up now? 
I always know deep down they are lies, but sometimes they are easier to believe.
The greatest mistake I make is trying to ignore that they are there—because depression exists even if you try to pretend it away. I am learning that acceptance is a part of healing. I need to be aware of my struggles to help myself. And in my lowest of lows, I need to give myself the grace to move forward as slowly as I need to.
My health is up and down and never the same. It's both a blessing and a curse. The good days feel like sunshine, but the hard days feel like nothing will ever be all right again. I try to shine a light on the darkest parts. The days when I swim in a pool of my own tears. The days when it's hard to get out of bed. Hard to shower. Hard to walk. Hard to exist in this body and in this head.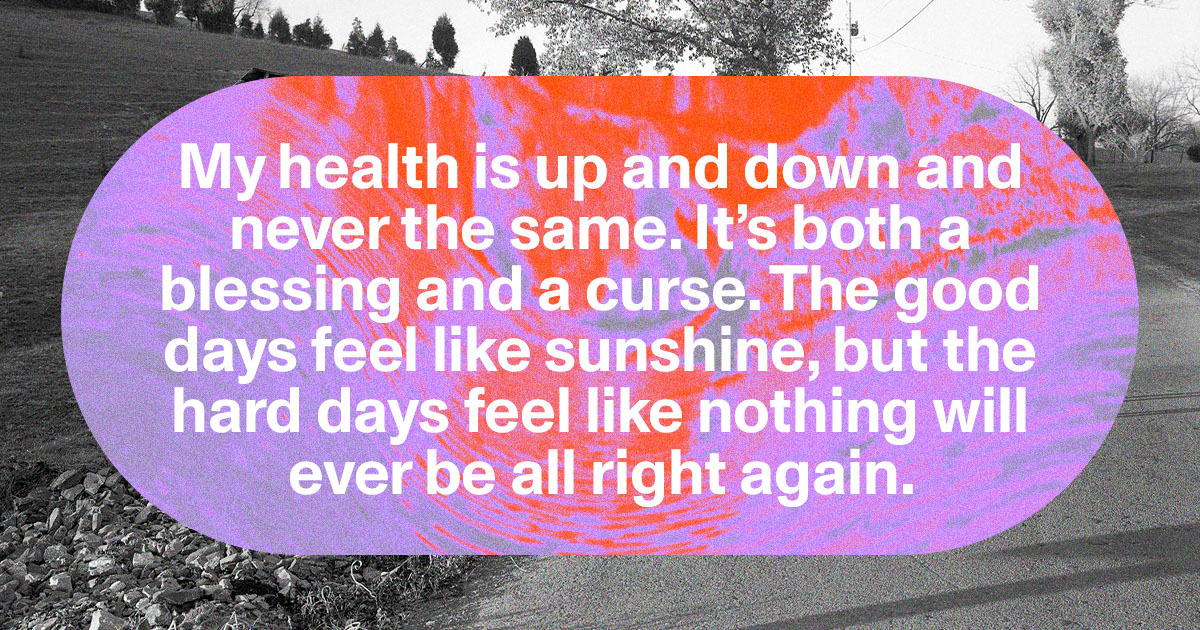 This little bit of light takes on many forms. I often go back to my faith—a consistent hope throughout my struggle.
My light also shows up as reasons. My reasons to keep living. I write them down. I tape them to my wall. I read them aloud. I let their joy exist in my sadness.
I keep going because I want to…
Wake up to a new morning
Dance with my sister in the kitchen
Hug my friends
Skateboard on a trail in the summer
Walk across the stage at graduation to get my diploma
Pet a kitten
Feel the warmth of the sun on my skin
Eat my favorite dish cooked by my mom
Talk about my faith with others
Let my life be an example of hope
Play the cello
Sip a latte at a coffee shop
Stargaze outside on a warm night 
These are some of my reasons.
The pressure of my pain hurts, but it cannot take away the steps I take each day. I will keep going. I will keep moving. I will keep hoping.
What are some of your reasons?
---
You are not weak for wanting or needing support. If you're seeking professional help, we encourage you to use TWLOHA's FIND HELP Tool. If you reside outside of the US, please browse our growing International Resources database. You can also text TWLOHA to 741741 to be connected for free, 24/7 to a trained Crisis Text Line counselor. If it's encouragement or a listening ear that you need, email our team at [email protected].