There's no way to deny it—this year is different. As we welcome May and Mental Health Month, we're not only addressing the very thing our work centers on, but there's also talk about a pandemic, an uncertain future, and physical distancing. Questions of what's important to share, remind, instill, or revisit are more complex. As the weeks have gone by, we couldn't help but wonder if the Black and White campaign would happen as planned or if we should switch gears—just as we have with cancelations, postponements, and calendar shuffles. Why would this be any different? Shouldn't our focus be on other conversations and efforts?
The thing is, we've realized a significant piece of that doubt was a manifestation of stigma and guilt. The false notion that silence would be an appropriate response rather than striving to push this conversation forward. Times of crisis—whether personal or global—make for a rather difficult terrain to navigate. But what they do present us with is a chance to lean hard into deep truths—an opportunity to reflect on what is non-negotiable and undebatable during unexpected shifts. The loss and struggle we face are capable of bringing unwavering, foundational beliefs into focus especially when we allow others into the journey.
And so we invite you to experience this hour, this day, this week, this month, and all future moments with us. We invite you to believe these statements, these truths alongside us, to feel less alone in some musings that may sound or feel familiar.
These are "in-between" times. Balancing connection and isolation, inactivity and antsy-ness, making plans and accepting postponements. Perhaps you feel as though life has become a gray area, muddled and unknown. Our hope is to add some sturdiness and a sense of definition to this moment, through conversation and connection. We aim to speak into truths that are unmoved by circumstance.
To us, these statements are Black and White.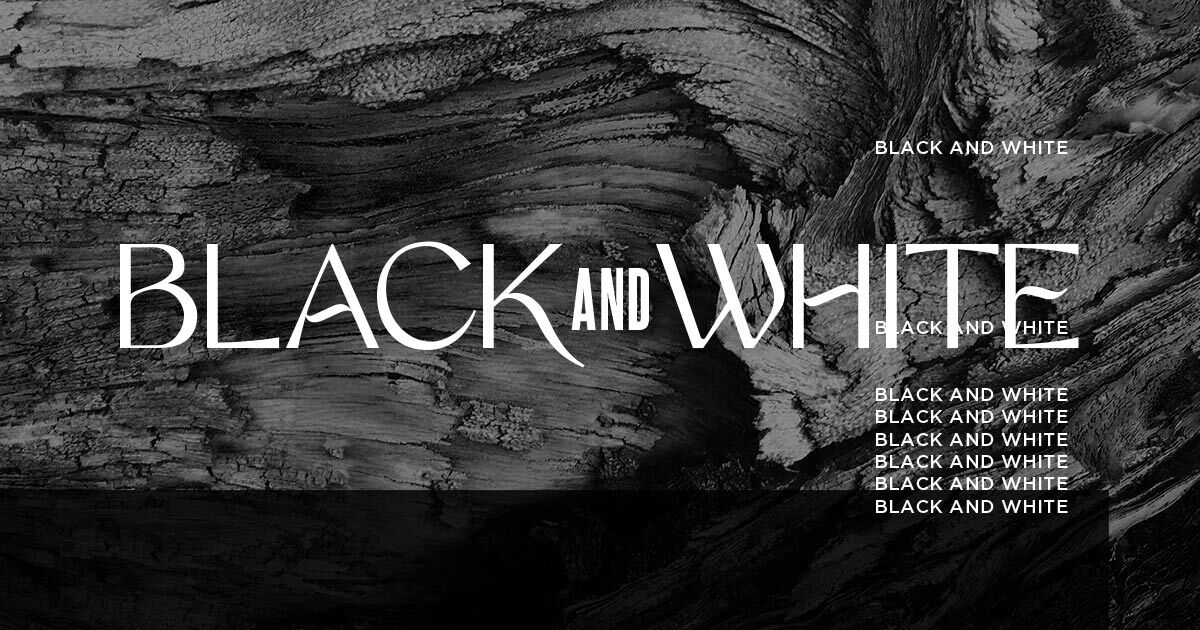 We Need Your Presence, Not Your Perfection
Achievements, accolades, days sober or free from self-harm. Unblemished attendance and straight A's. We've been conditioned to place value on personal achievement, to highlight and boast about our successes while masking our "slip-ups" and "failures." We've been taught to aim for perfection—at work, at school, as parents or siblings, as people. Imperfect in nature, in design, we're still expected to strive for nothing but the best from ourselves and others.
To put it quite plainly: we disagree. You are not here for the sake of a perfect existence. You do not exist to impress or appease or meet standards. Even in your faults, your mistakes, your mishaps, you have made this world more beautiful. Through your struggles, your heartache, your pain, you have brought humility and encouraged grace to grow in spaces that craved honesty. The magic of your soul is not contingent upon flawlessness. Just by being here, you are giving someone a reason to be thankful, you are proving that it is possible for good and light to coexist with the past and in the midst of struggle. You are living proof that every part of us is worthy of being known and valued.
Today and always, we need your presence, not your perfection.
Hope Remains
Hope is many things: it's universal. It's real. It's life-saving. Hope, in the face of fear, is defiant. Since our earliest days, hope has been the most central virtue. Back when TWLOHA was just a story, it was the one thing Renee asked us to remember.
"Remember hope," she said. Renee likened it to the stars, saying that while our view may be obscured by dust and clouds and storms, they're still there. Surrounded by dark, empty space, these pinpoints of light have been our guides, our legends, and our inspiration to keep going.
If hope, like the stars, falls out of focus, you needn't feel shame. It's not your fault if it feels distant. But know that it is never truly gone. Hope remains in the embrace of family and friends. Hope remains in the voices of those on the other end of a helpline, guiding you through scheduling counseling appointments, and leading support groups. Hope remains in the ebb and flow of recovery, the patient expectation of the day your story encourages another. Despite circumstance, despite distance, despite doubt—hope remains.
No One Else Can Play Your Part
You are irreplaceable.
Before you ever opened your eyes, raised your voice, or shared your heart, you brought something so intrinsically you to the world. And any pain you've felt since has not changed that. Even after witnessing your first lie, singing your first wrong note, feeling your first heartache, you continued to add a distinct and welcoming beauty.
To this day, with all the ways you've learned to bloom and grow, you continue to bring a certain energy that we, and this entire planet, are grateful for. A world where you don't exist is not one we care to imagine. Your absence would not go unnoticed or unfelt. After all, no one can see the world quite like you. Nothing can break through silence quite like your voice. And no one else can play your part.
You are more than a character whose lines can be studied and rehearsed. You are more than a passing thought or a backdrop. You are central to this story in more ways than you've allowed yourself to believe. You are a gift. Incomparable and coveted. And for all you've given, we are certain there is more to be received, in a way utterly unique to you.
No one else can play your part.
With Hope,
TWLOHA
You can shop this year's Black and White collection here.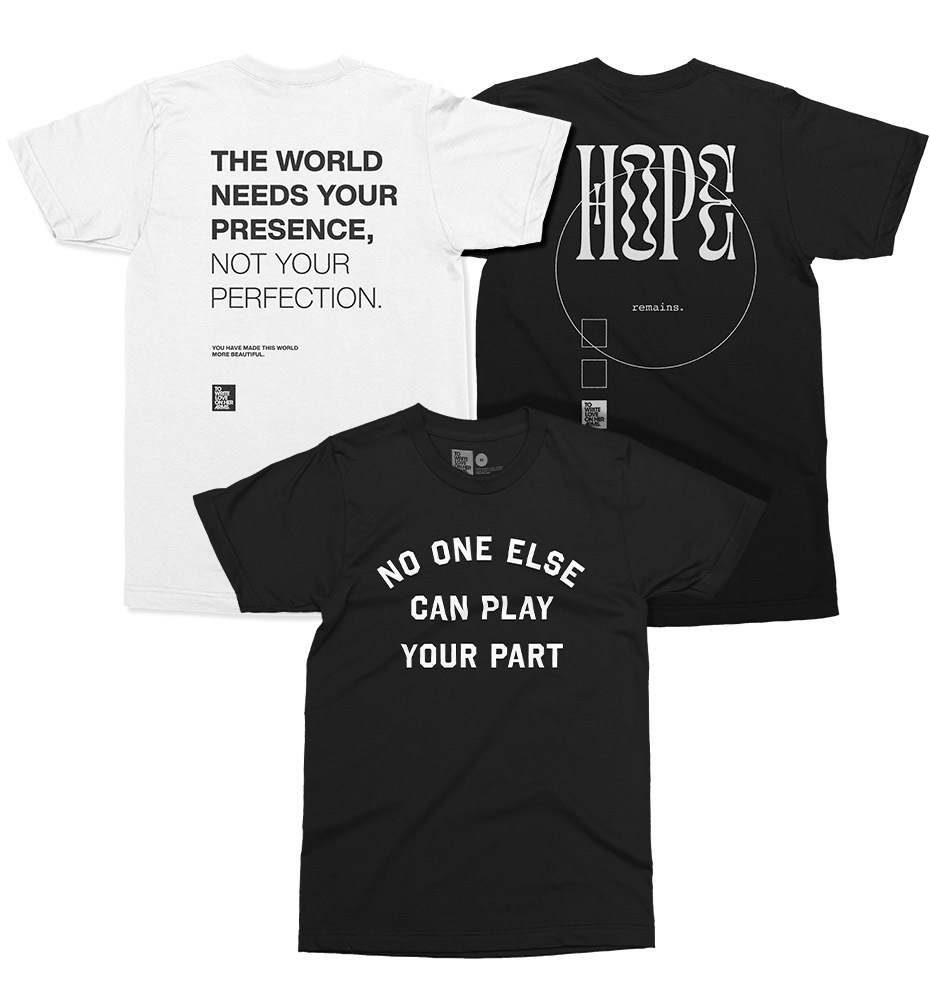 If you or someone you know is struggling, we encourage you to reach out for help. For those living in the US, we invite you to use our FIND HELP Tool to locate local, affordable resources simply by entering your zip code and the level of care you're seeking. For international resources, visit our FIND HELP page for a collection of options listed by country.
Throughout the month, we'll be sharing new content in honor of Mental Health Month across our social media channels. You can follow us on Twitter, Facebook, and Instagram to stay up to date! We'll also be exploring different types of mental health challenges every week on the blog and premiering mini-episodes on the TWLOHA podcast inspired by this year's Black and White statements.