Over the past two years, our young people have been struggling emotionally at rates we have never seen before. Among US teens, 40 percent suffer from anxiety, and close to 50 percent say they feel consistently sad and hopeless. Nearly 20 percent of our high school students report serious thoughts of suicide and 9 percent have made an attempt to take their lives. Rates of mental health ER visits among both adolescents and younger children have been rising exponentially. And because kids spend nearly half of their waking lives in school, their state of mind will almost always be reflected in some way within the school environment. A recent survey by the National Center for Education Statistics (NCES) shows that 7 in 10 public schools have seen a rise in the number of children seeking mental health services in school.
All of this puts teachers, guidance counselors, and school administrators on the front lines of the youth mental health crisis. The burnout, stress, and lack of support to address students' needs are significant factors contributing to a catastrophic nationwide teacher shortage. It's not just the kids who are suffering: In the NCES survey, 6 in 10 schools reported a rise in concern among staff regarding their own or their colleagues' mental health. And a new study conducted by Dun & Bradstreet's MDR division found that only 10 percent of teachers would strongly recommend the profession to a young adult.
The combination of short-staffed schools and overworked, under-resourced educators all too often results in the marginalization of kids whose mental health challenges take the form of disruptive behavior or an inability to succeed within the limited parameters of the classroom. Conversely, many high-achieving students who excel in school and never act out are also in distress, struggling with perfectionism and high-functioning anxiety.
What can we do to make a difference? Not only for the happiness and thriving of our nation's children but also for the job satisfaction of our school professionals in their all-important roles. Perhaps we need to begin by embracing the idea that a child's daily experience in school can and should be a powerful and intentional positive force for their wellness and social-emotional growth, rather than seeing mental health as something that needs to be "fixed" outside of school time so that kids will "behave" in the classroom.
"Learning, like many other aspects of a young person's experience, is inextricably intertwined with their self-esteem, well-being, and sense of empowerment," says Ryan Fedoroff, M.Ed., Vice President of Learning and Development for Newport Healthcare, a national network of evidence-based treatment programs for teens and young adults with primary mental health disorders, which also offers a robust educational component. "In order to provide the compassion that kids need to learn and grow best, teachers also need ongoing support."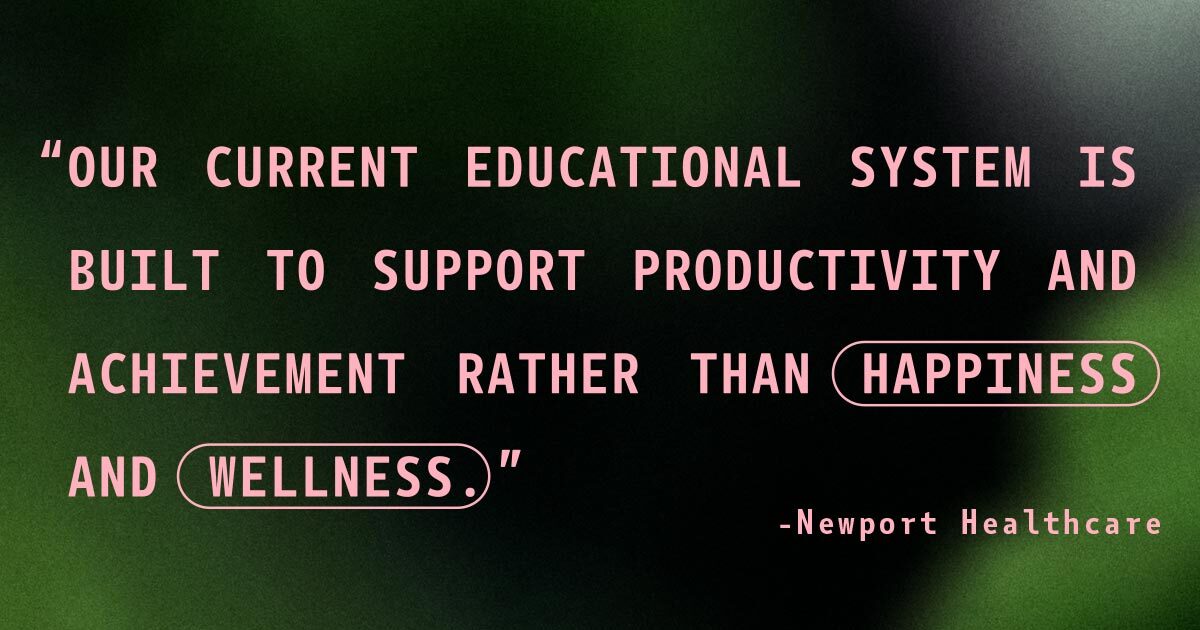 What if we redefined the three Rs? Yes, reading, writing, and 'rithmetic—that is, academic and intellectual understanding and skills—are essential to equip young people for the future. But what if we focused just as much on tools for lifelong mental health, like self-compassion and authentic connection with others? How would our classrooms, our homes, and our world be different if schools were empowered to teach the skills needed to boost resilience, (emotional) regulation, and relationships? Teachers want this, too: The MDR study found that social-emotional learning, life skills, and more free time to play were among the top five ways teachers would use an extra hour of classroom time.
At Newport Healthcare, this approach has been in place since its founding in 2008. "We create a therapeutic environment in our classrooms that supports both emotional healing and educational success," Fedoroff says. "We focus more on students and less on curriculum, and we have more one-on-one time, so we can provide tailored interventions to address our kids' specific needs and improve their skill sets."
In other words, instead of trying (and sometimes failing) to accommodate kids who are outside the box, let's reinvent the box for all kids. Imagine a classroom in which teachers had the freedom and flexibility to allow students to learn in the ways they learn best. That might start with simple changes, like allowing children to have a fidget toy on their desks, giving them more choices about what they can work on and when, or having the class take five-minute breaks every 20 minutes to move and stretch—proven to enhance creativity and learning capacity. The more relaxed and at ease kids are in their bodies and minds, the more fulfilling their teacher's job becomes.
Moreover, every child has strengths that teachers can tap into. "In a typical classroom, there is the assumption that every child learns the same way, so any misunderstanding or failure can give a child the idea that they are lesser than," Fedoroff says. "At Newport, we flip that narrative and that negative internal dialogue by focusing on what each student is good at while acknowledging that we can't all be good at all things. The arts might be a high strength, and math might be a 'lesser strength,' rather than a weakness."
The mental health crisis, exacerbated by the pandemic, has opened everyone's eyes to our children's suffering. Now we need to take that awareness into action. Funding, training, and a strong mandate are necessary to fuel a shift in the way we educate our kids, and that can only come from a fundamental change in mindset. If we acknowledge that our current educational system is built to support productivity and achievement rather than happiness and wellness, then perhaps we can start taking meaningful steps to rebalance the scale toward joy.
---
Between the Bells is a one-week interactive program designed for high school students to spark authentic conversations about mental health and to remind those struggling that they're not alone. This program educates students about common mental health challenges, what help and resources exist, and how they can play a key role in combating the lie that says we can't talk about these things. Learn more here.