This piece mentions the topic of self-injury. Please use your discretion.
I used to think of my mental illness as a bad personality trait. When I was young, it was chalked up to the natural emotions of growing up. I wasn't depressed, just hormonal. When I was in high school, it became harder to ignore. I was constantly moving in and out of periods of feeling so low that I couldn't do anything, to then beating myself up for having been too "weak" to fight it off. I began to self-harm as a way to wake myself up out of these moments when I felt too low to function. The pain reminded me that I needed to be better, stronger. Being able to see the scars made me feel like the hurt wasn't on the inside anymore and I could move on. Yet, the cycle never ceased.
I was constantly hoping for someone to save me. I wanted someone to tell me that the pain I felt wasn't normal and that it could be fixed, but instead I was told that I was "overreacting" or "dramatizing." I came to see my depression as this negative component of myself that I should have been able to control or conquer. I only needed to fight harder. If I could overcome those feelings then I would be able to know how to be happy.
When I went off to college and eventually entered the workforce afterward, I moved away from all my major support systems. I didn't have friends to validate my feelings or distract me from them, so I began to succumb to it all. I eventually replaced self-harming with an eating disorder.
The "fight" no longer seemed like one I could win, so I used food to numb the pain. It wasn't until the disorder had completely taken over my life that I resigned myself to seeking some sort of help. Feeling depressed still seemed like a natural part of me, but the eating didn't and that's what ultimately got me through the door.
I began seeing a therapist, one that I actually liked for once, and she proceeded to lay down some hard truths about the beliefs that I was holding about my mental illness. The one that ultimately hit the nail on the head came after I'd spent 20 minutes berating myself for not being able to fix what was wrong with me. She put a halt to the monologue, looked straight into my tear-soaked eyes, and said quietly, "Alisa, you're depressed."
She explained that what I was feeling wasn't a test of willpower. If it was, I would have won ages ago. I was doing everything I was supposed to—exercising, going to therapy, using healthy coping methods, but nothing was helping. From there, she encouraged me to ask my doctor about medication.
It took two separate attempts at taking medication before I started to recognize how much it was working. Now, instead of completely overtaking me, I could recognize the "otherness" of my depression. It was a separate thing from the "me" that I liked, and creating that distance between it and myself made it so much easier for my coping methods to start working. When I sensed it trying to drag me down, I could jump into exercise, call a friend, read a book, or go for a drive and it would ebb. I was no longer fighting a battle I couldn't win.
Depression is not a bad part of my personality or a flaw in my character—it is an illness that I receive treatment for so I can live my life despite its existence. My mental illness does not make me any less valuable. Sure, I have flaws—I'm a bit of a pessimist, struggle speaking to new people, and am a truly terrible singer (though that doesn't stop me)—but the fact that I deal with a mental illness is not one of them.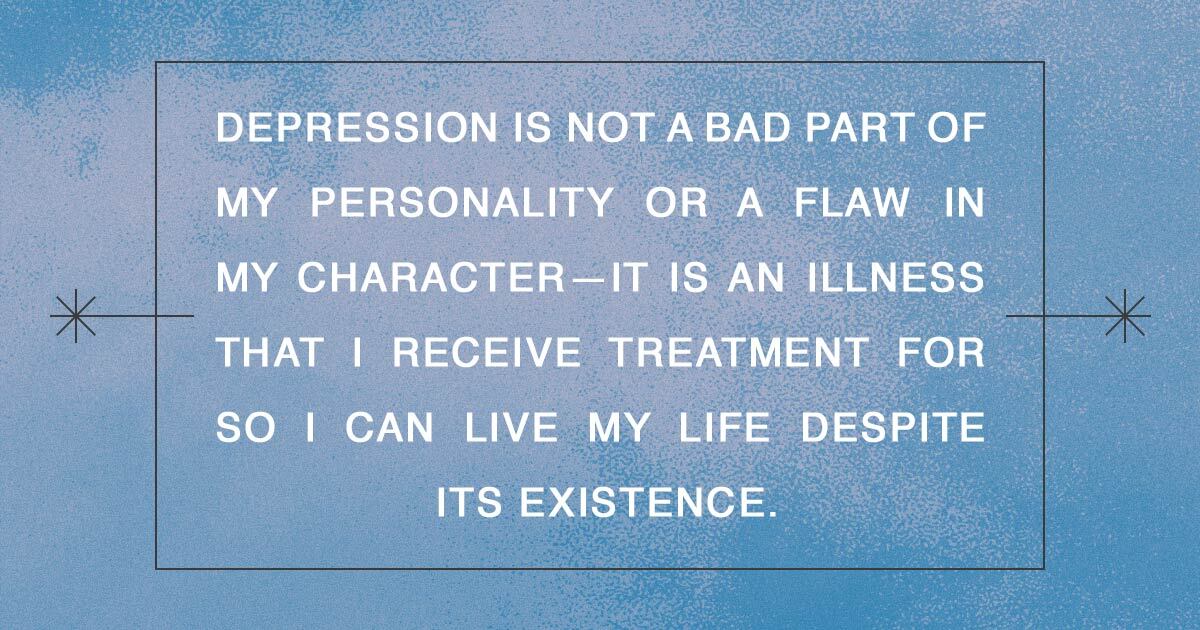 ---
Depression has a way of making us feel incredibly isolated. We're here to remind you of the truth that you are not alone. We encourage you to use TWLOHA's FIND HELP Tool to locate professional help and to read more stories like this one here. If you reside outside of the US, please browse our growing International Resources database. You can also text TWLOHA to 741741 to be connected for free, 24/7 to a trained Crisis Text Line counselor. If it's encouragement or a listening ear that you need, email our team at [email protected].