"We are a bridge between hurting people and the professional help they deserve." 
Since the very beginning, TWLOHA's hope is that no matter what you are facing, you choose to stay, to find help, and to believe in better days ahead. Though these ideas have been a part of TWLOHA since the very beginning, the ways in which we work to do this continue to evolve and grow over time.
With every new year, we pause to reflect on the previous one. 2019 was the first full calendar year that our FIND HELP Tool was available and being used by supporters in the US. The tool allows you to type in your zip code and the level of care you're seeking, like counseling or a support group, and it then locates local treatment options, including reduced-cost or free resources.
In a single year, we saw 47,000 searches. These numbers have a story to tell. It's one that starts with questions and a process unfamiliar to most of us—finding and accessing mental health care. When we break an arm, we go to the closest hospital or urgent care facility. But when depression is settling in or anxiety begins to ware on us each day, we are not sure where to go or what to do next. We're incredibly humbled to also consider that these searches mean someone heard TWLOHA's message that hope is real and help exists. The invitation could have happened on social media or at an event when they were handed a FIND HELP pamphlet. Or maybe it was extended to them by a friend, loved one, or a mental health advocate like you. No matter how, it means people found a way to cross that bridge, to take steps in the direction of healing.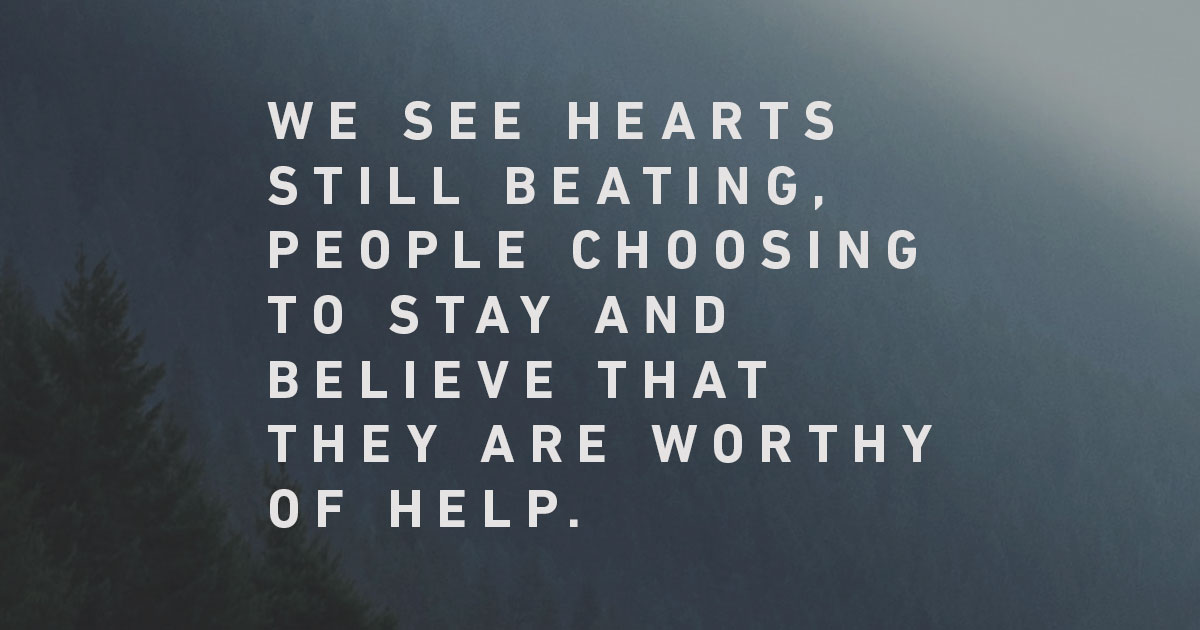 Through these searches, we've learned that 1 in 4 leads to the next step. This can translate to making an appointment through the platform, getting contact information, or calling a helpline. We are literally seeing people connect to the help that exists. And when people face additional barriers—financial or otherwise—we are honored to offer Treatment & Recovery Scholarships.
Beyond the FIND HELP Tool, we know that people also need access to immediate help in the hardest of moments. We are grateful to be able to connect people to our friends at Crisis Text Line. Crisis Text Line is a free, 24/7 crisis intervention service available through text message. Though we are two separate organizations with unique missions, we are allies bonded by the belief that things can get better and people need other people. Since August of 2013, Crisis Text Line has exchanged over 129 million messages. 66% of the people that send texts are sharing their struggles for the first time with another person.
So what do these numbers mean, and why do they matter? In a world of likes, algorithms, endless news cycles, constant updates, and content, we hope to stand with allies and partners alike. We hope to be a source for hope online, over messages, and in-person. When we acknowledge these numbers we see hearts still beating, people choosing to stay and believe that, in a moment as small as one search or a couple of text messages, they are worthy of help. Though a lot has changed since TWLOHA began in 2006, we will always work to find new ways to meet people where they are, in a way that feels safe and genuine and points them to professional care.
To use TWLOHA's FIND HELP Tool to search for local mental health resources, visit twloha.com/find-help. Or you can text TWLOHA to 741741 to connect with a trained crisis counselor via Crisis Text Line right now.
Aaron Baccash is TWLOHA's Find Help Program Manager. He oversees all things related to our FIND HELP Tool, mental health resources, and treatment and recovery options. Aaron also coordinates and hosts MOVE Conferences in any community that is looking to learn about topics like stigma and shame, addiction, depression, anxiety, self-injury, and suicide in a safe and healthy way. If you have any questions regarding the tool or the scholarships TWLOHA offers, you can email [email protected].