This past week, in honor of World Suicide Prevention Day and National Suicide Prevention Week, we asked you to share and believe the message: You make today better. We asked you to challenge the stigma that tells us we can't talk about mental health and we can't help prevent suicide. We asked and you answered. 
You encouraged others as they shared their stories of struggle and healing, and you bravely and boldly told yours. You added your voice as we fought back against the lies with a chorus of truth and hope. You donated and raised money so that thousands of people will have the chance to ask for help so that they can keep living. By showing up and by speaking out, you made today better for yourself and for others, and we are beyond grateful.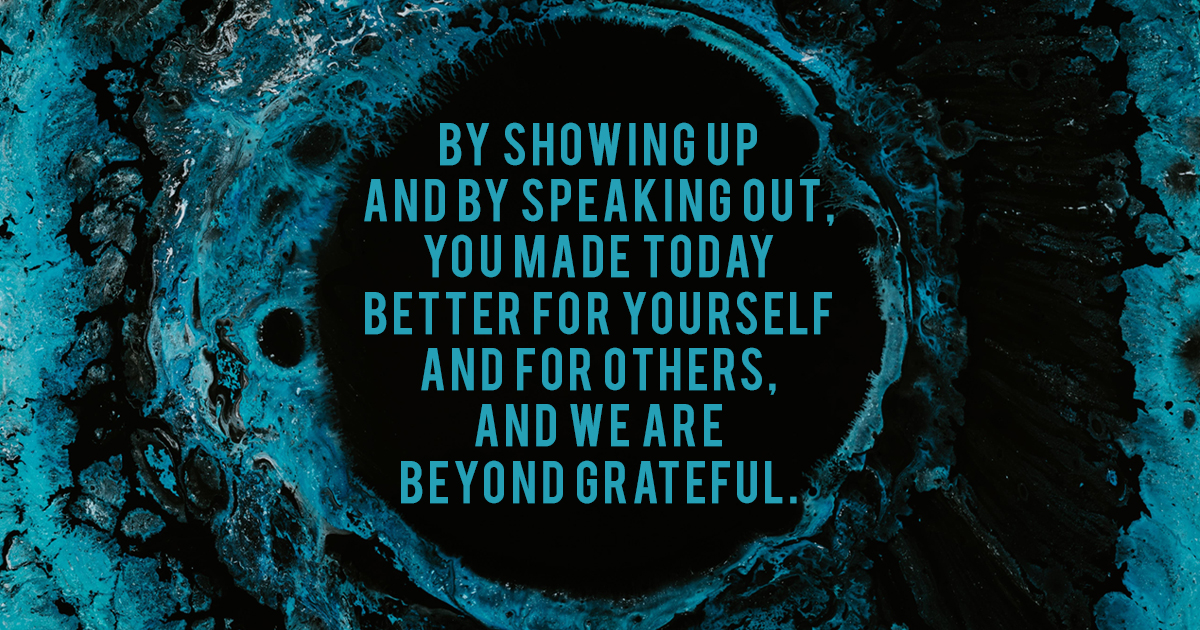 So although the #YouMakeTodayBetter campaign comes to a close as we reach the end of National Suicide Prevention Week, this movement of hope continues. Today and tomorrow and the day after that will be made better because of this work, because of you. And on the days when you question your worth or find it hard to keep going, know that we welcome you just as you are. Know that we are here to remind you that you matter and that you deserve to be known through both pain and joy. Know that we will do what we can to get you the help and support you deserve.
We would be honored if you would join us in continuing this work as we look toward tomorrow.
---
Ways for you to be part of this movement throughout the year:
Bring TWLOHA to Your School
If you're a high school student, or you work with high school students, we encourage you to learn more about bringing TWLOHA's High School Program to your school. Learn more about the program here.
Donate Your Birthday
You can now turn your big day into a celebration of hope by donating your birthday to TWLOHA through Facebook. It's a chance to celebrate your story and to give those struggling a chance to find the hope and help they deserve. Find out how here.
Host a MOVE Community Conference
MOVE is a one- or two-day workshop led by professional counselors where we explore things like depression, addiction, self-injury, and suicide, what recovery looks like, and how we can make a difference in the lives of those who are struggling. Learn more here.
Become an Intern
Interested in joining the TWLOHA team? Our Intern Program is a great opportunity to make a difference in the lives of those in need of help, support, and healing. Interns are invited to join us in Melbourne, Florida, to live in community while developing both personally and professionally.
Book a TWLOHA Event
By talking about the importance of honesty and community in a way that is dynamic, conversational, raw, and ultimately hopeful, our speakers let audiences know that no matter what, they are not alone. Fill out our event request form to book an event.
Join TWLOHA Blue
TWLOHA Blue is a monthly donor program that helps us meet people where they are and connect them to FIND HELP resources at over 195 events each year. Join TWLOHA Blue to make hope go further.
---
There are also two incredible groups that are working to reach people in crisis. We invite you to become a volunteer for our friends at Crisis Text Line and The Trevor Project.
Crisis Text Line
Crisis Text Line is a free, 24/7 text line available to people in the United States, Canada, and the UK. Crisis counselors work remotely by responding to texts from those in crisis and offering support through active listening, collaborative problem solving, and safety planning. Volunteers commit to 200 total hours, serving a recommended 4 hours per week to meet this requirement. Sign up to become a Crisis Text Line volunteer here.
The Trevor Project
The Trevor Project is the leading national organization providing crisis intervention and suicide prevention services to lesbian, gay, bisexual, transgender, queer & questioning youth. You can sign up to become a Trevor Project volunteer and provide life-saving support to LGBTQ+ youth in moments of need and crisis. You can learn more about their volunteer opportunities here.
---
We hope this is just the start of many more conversations within your community, workplace, and school. Throughout the coming year, we hope you will continue to be bold and brave with your story and participate in open and honest dialogue about mental health. Your voice makes a difference. Thank you for being here.