This piece discusses the topic of self-injury.
I honestly can't tell you the last time I engaged in physical self-harming, but I can certainly tell you the last time I thought about it: this morning. I woke up and got dressed the same way I do nearly every day. Only today, the scars that line my left arm seemed to demand my attention as I slipped on my favorite shirt. As I stared at myself in the mirror, I felt a familiar sense of shame as powerful as when I was still at the height of battling self-harm. The same shame that drove the cycle of self-hatred that I thought could only be remedied by continuing to hurt.
The thing is, my scars—what should be a sign of healing, perseverance, and survival—can be the most triggering thing. They can bring up feelings and memories I thought I'd long moved past. Even when our physical, self-inflicted injuries heal, there are often scars: heavy reminders of where we've been, what we did, while simultaneously symbolizing the battles we've won and the destructive habits we've beat. Scars. What a paradoxical concept for those of us who battle self-harm. There is a constant conflict between the shame and the pride that my scars carry. Do I wear them bravely as a testament to my healing? To show others who struggle that it is possible to stop? Do I hide them for fear of judgment? For fear of triggering another survivor? 
I think I got my answer to those questions this past summer when I worked as a camp counselor in Scottsville, Kentucky. With my scars on display, I entered a cabin with my 12 eight-year-old campers to get ready for bed. The precious, inquisitive child who slept in the bed beside mine cautiously approached me with a question in her eyes. She whispered, "Are you a zebra, too?"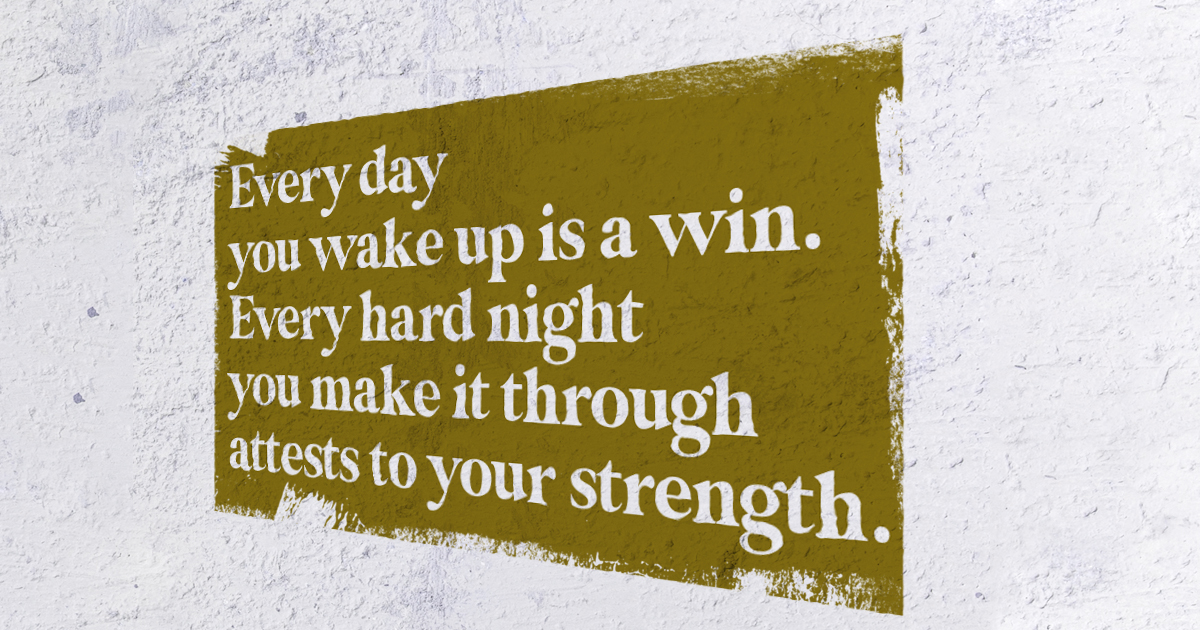 Confused, I remained quiet. Then I saw her gaze travel down my scarred arm and back up to my face before saying, "My big sister is a zebra just like you, and Mommy says that the zebra stripes are a special sign that makes them big and strong." She smiled at me and scampered away to brush her teeth without another thought. It was then that I knew living with scars would be far more of a blessing in my life than the curse I thought it to be.
I've come to learn that I can experience similar thoughts and feelings as to when I was actively battling my addiction without it taking away from my healing. I have not moved backward. And even if I did end up taking a step back, relapsing, needing more support than I did the day before, I find comfort in knowing that progress is not linear. It's not realistic or healthy to have the mindset that every day is supposed to be better than the next. 
Every day you wake up is a win. Every hard night you make it through attests to your strength. You don't have to feel strong to be strong, and you don't have to be moving forward to be healing. It's okay to stand still for a moment, to breathe and reflect on where you've been and how much road is behind you now. The road ahead can be an overwhelming concept—I know it was and still is for me.
On the days where I am ashamed of my scars or scared that perhaps today is the day they'll reopen, I try to remember how big and strong I am in the eyes of that little girl. It is my hope and prayer that we all come to view ourselves that way one day. Sometimes we all need someone in our lives to believe in us, to speak the truth when we don't know how to do it ourselves.
Until then, I'd like to leave you with some truth: You are here, and because you are here, you are strong.
If you or someone you know is struggling with self-harm, there is help. You are not alone.