Parenting is one of the hardest things I've ever done in my life. It is also hands down the most amazing thing I have ever done. In many ways, I think that having bipolar disorder has helped me be a better parent. I know that might sound a little outrageous—but it's true.
With bipolar disorder, I'm never sure what my mental state might be on any given day. Children are also like this. Some mornings, they wake up and they are as happy as ever. The next moment, things change and you have to figure out another way to meet their needs and show up for them in a way that works.
I, myself, have days where I need everyone around me to have lots of patience as I struggle to wrap my head around how I'm feeling or what's happening. Raising kids requires patience, too. Patience to get out the door, patience to go grocery shopping, or patience (and grace) to even feel as if you've had a productive day with kids running around. Some days, when in a manic state, I want to do all of the things very much and often all at once. As for children, they typically want everything and they usually want it right away.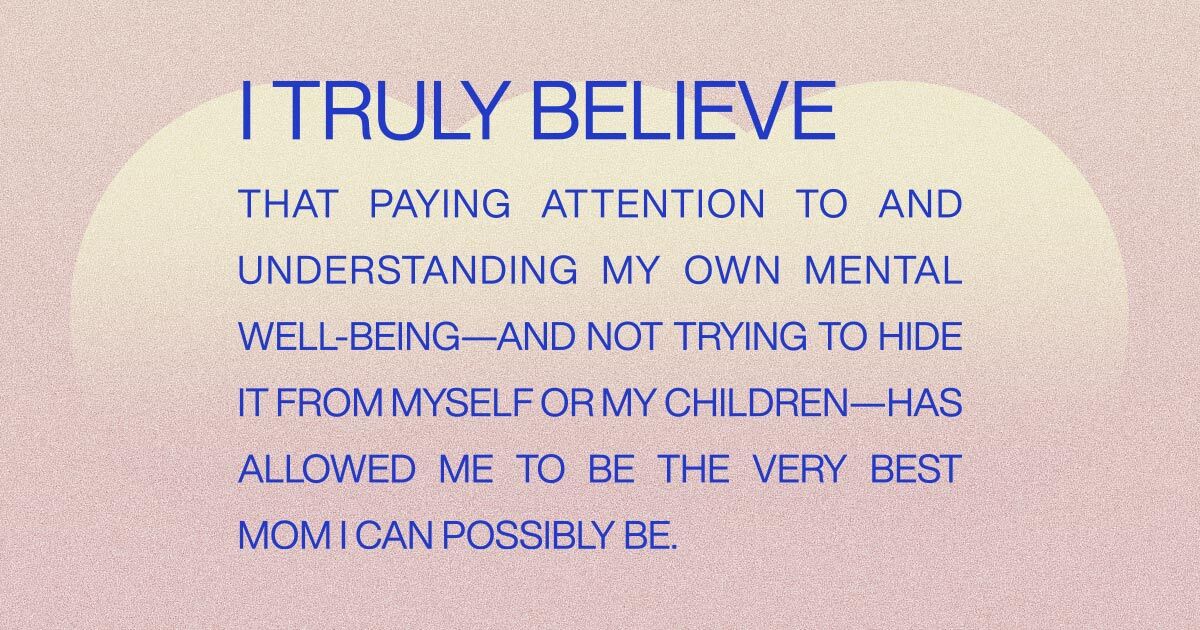 It might sound like I am saying that children are bipolar. That is not it at all—but my bipolar disorder has allowed me to understand where my children are at emotionally because my own brain requires me to pay attention and listen. I've had to slow down so I could figure myself out, which is a rhythm I extend to my kids and their emotions. It's required a great deal of therapy to learn about and understand my own ups and my downs. It's required taking medication to ensure I am "even-keeled" and not on the verge of going over the top or bottoming out. So, when I saw my son revving up for a tantrum, I knew exactly how he was feeling. I've wanted to have that same tantrum so many times, even as an adult, so I could then look at my son and let him know I understood what he was going through. We could decide to make a quick exit or sort out the situation as needed because we were listening to our feelings.
As for my daughter, although we joke that she was born with anxiety, it really isn't a joke. She started out life cautious, and that cautious nature escalated into full-blown anxiety at a really young age. But once again, my own mental health challenges allowed me to help my daughter navigate hers.
I was never great at dealing with my own anxiety but with my daughter, it was easy to tell her exactly what she needed to hear because I told her what I hoped to hear.
Together, we learned what tools could help her manage her anxiety, and today, those tools have allowed her to grow into an amazing adult who is aware of her needs and knows how to navigate a life with anxiety.
The one aspect or "benefit" of dealing with bipolar disorder while raising children, that I never expected, is how incredibly compassionate my kids are. They understand that you have to be patient and mindful of where others are at emotionally. They know you can't just judge someone without knowing what is happening in their lives or what they might be feeling. They also see that being kind is not only helpful for others but rewarding for themselves.
With that being said, I don't want to paint a picture of just sunshine and rainbows. There have been days when we all laid together on pillows in the middle of the floor because my brain was in such a dark place and the best I could do was hold my kids close and make sure everyone was fed. There have been days when we were overstimulated and did far too many things because my manic brain thought we were capable of anything.
But, at the end of each day, I truly believe that paying attention to and understanding my own mental well-being—and not trying to hide it from myself or my children—has allowed me to be the very best mom I can possibly be.
---
You are capable of living with bipolar disorder. Healing is still possible. We encourage you to use TWLOHA's FIND HELP Tool to locate professional help and to read more stories like this one here. If you reside outside of the US, please browse our growing International Resources database. You can also text TWLOHA to 741741 to be connected for free, 24/7 to a trained Crisis Text Line counselor. If it's encouragement or a listening ear that you need, email our team at [email protected].