This piece is from Chad Moses, TWLOHA's Director of Outreach, who spends his summers on the road showing up at events and festivals to meet people face to face with a message of hope and help. Last year, when the pandemic resulted in cancellations and frustrated attempts at rescheduling events, TWLOHA went completely virtual—to care for both our team and the public. As we, and you, make an attempt to return to in-person connections and moments, Chad wanted to recognize the feelings of anxiety and worry that not only he has been experiencing, but so many of you have as well. May this be a reminder that you are not alone, your feelings are valid, and we, as always, will get through this together.
After 13 years, it's pretty damn weird to say, "Bear with me. I'm new at this."
I've been fortunate enough to experience so many things for the first time, and I sincerely hope that I am not done finding new things to do, see, or hear. But this feels different. Not that the texture is foreign, but its weight is altered. Things seem off-axis, off-balance.
I don't know if there are flashcards for muscle memory, but Facebook has been doing its part to add lumps of nostalgia to my morning coffee:
13 Years Ago: my first picture at the Gorge.
10 Years Ago: on tour and seeing Harry Potter and the Deathly Hallows: Part 2 in a Montreal theater.
5 Years Ago: noting how good Manchester Orchestra's first album has been on my longest drives from venue to venue.
2 Years Ago: missing my first event in 11 years to take some intentional rest—but trusting that the break I was taking would fuel the next 11 years of service.
Then last year. The unintended break. The odd sense of feeling distant while not traveling. And I found that I was missing more than just another year on the road; I was really lamenting the stacking of memories, the annual "yes, and…"—the chance to build on what came before.
I found my personal history blurring years together perhaps because now they all felt equally out of reach. Dreams you remember, but can't verbally recall. Not to mention all the dreams I've had recently of events I've never been to…The moments when interstate rumble strips sounded a lot like Listener and Childish Gambino. It's a sacred and imprecise math that explains how the ache of homesickness can be more or less offset by perennial embraces from folks whose lives have intersected with our story.
I'll never not miss what I didn't get to experience last year. The friends I didn't make, the encouragement I never shared, the "congratulations" and the "I'm sorry"s, and the "nothing is fucked, we will still make it through this." I know it's not a personal failure that I've missed some goodbyes. In any given year I would learn about how some stories ended too soon, or how some jobs were taken elsewhere, or how some jobs are simply not coming back so the trip can't be made.
And now, as we gear up to return to the road, to outdoor and indoor venues, to meeting people face to face… I am all nerves. It seems like everything I have missed may be slowly coming back, but I am honestly less than confident that I can meet the moment.
Last year, more than any other year, we needed one another. We needed music and pride and excuses to dance to each other's rhythms. And between you and me—that is the reason I am nervous to come back, and I know that I am not alone.
After all, that is one of my favorite traditions: asking people "what do you wish you could say?" and "what do you need to hear?" and seeing complete strangers find a sliver of common ground in which to rest for just a moment. My heart can recite with stunning accuracy all the ways these connections have played out for others. The moment the switch flips and you realize you are beautifully unique and yet intrinsically connected to the lives of so many others. The question remains—for you and for me: can we allow our heads to believe that as well? Can we meet the silence with confident and verbalized assertions that we are not now, nor have ever been, alone.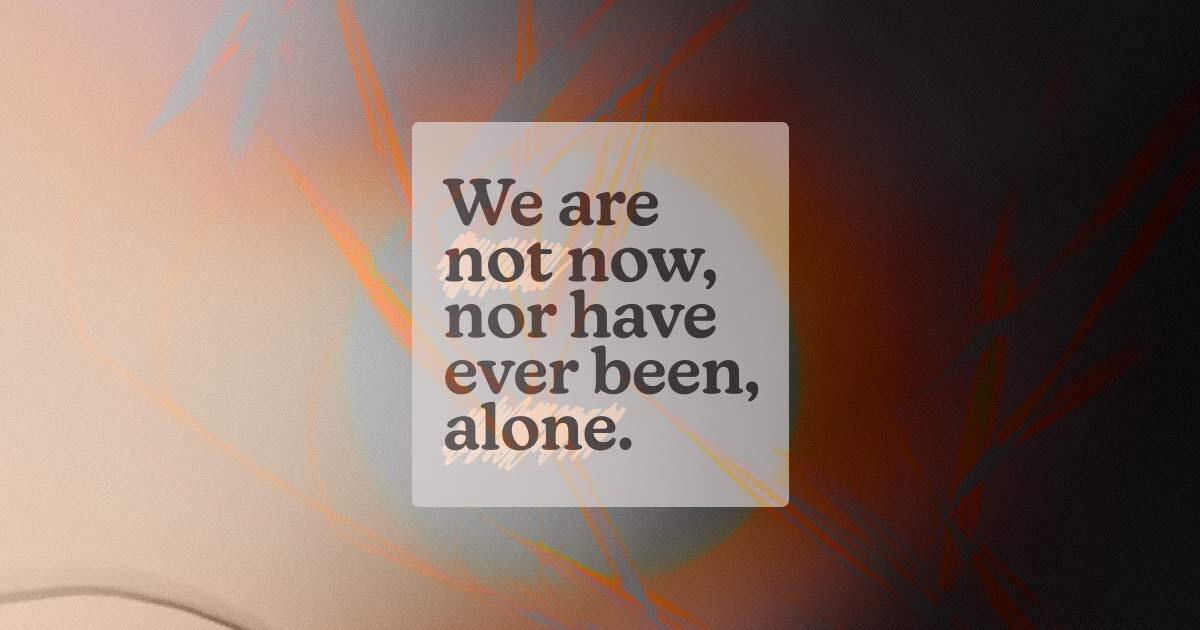 If we are to say that you belong here, then we have to mean that ALL of you belongs here. Your questions and your anxieties and your "I'm not so sure"s won't be dismissed. Rather, they will be welcomed and embraced by our shared space.
I've been reminded time and again that it's OK to feel this way and I'm committed to showing up until my saying that feels less like an uninspiring parrot and more like the conviction you deserve. That I deserve. But there is no shame in starting with a script until ease and confidence arise.
There is solace in remembering that my favorite moments from the road came without precedent and preparation: "You are my sunshine" and conversations about hells we've known and heavens we deserve to experience and hope to run the course of several meals, weekends, and months.
I hope that the "how to do this" bows quickly to the "why we do this."
Recently, our TWLOHA Blue community had a chat with Morgan Harper Nichols. As we talked about life, about experiences, about what we were feeling that day, she offered us a gift in the form of a mantra which was referenced in her art and poetry that night: "Perhaps even here…"
There is so much left to write in those ellipses.
There is a hope that feels defiant. There is a sense of awareness that remains somehow imaginative. There is an invitation to be living proof that love indeed exists. We are just asked, at the very least, to show up, check in, and when the time is right, echo the call. It will be uncomfortable. But perhaps even here, even now, will be the best setting to rebuild some connection.
This is all practice to reclaim the things we assumed were permanent. I am not averse to change, in fact, I am hungrier than ever for this year to feel different than the last. In writing this, I am promising my own defiance: I know too much to treat this year like any before.
The hope is for this to read like permission as opposed to pity. Again, I know I am not alone. You don't need to keep pace with the past—which has always been true. There's no medal to be won from racing memories or ghosts. And yes, that is so much easier to write than to embody, but for all that's changed please know that our hope is that wherever you find us can and does feel like home. Perhaps with new paint, furniture rearranged, and height-marks on the threshold that no longer match our current forms.
It can be scary and unfamiliar while still bearing the belief that we have what it takes to hold each other together. Both things can be true. And despite all this uncertainty, you can remain in good company.
---
Find out where we'll be here.