Note: This piece explores the topic of self-harm suicidal thoughts in detail. Please use your discretion. 
Some people consider it an aesthetic, these zebra-striped lines that are painted and dashed typically across adolescents' arms. It's terrifying to think that people see it as a "trend." My arms used to look like I had run through rose bushes, arms stretched out wide. I had surrendered myself to my fate. And I did not hurt myself because it supposedly looked "aesthetically" pleasing.
The truth is that you don't know what to do. You don't know what to do when the pain inside of you is barely being contained by the cage of your own vessel. The pain so intense that you can hardly breathe. There is no catching your breath, nor is there simply running away from it.
And yet, amidst these complexities, we are judged. Judged for not knowing how to cope with the heartbreak or overwhelming numbness that festers in our veins. I won't apologize for doing everything I could to stay alive whilst in survivor mode. Because that is exactly what it was. I was hurting so much and I wanted to die. I woke up every day, wishing, hoping, and praying that I would suddenly get a blood clot in my brain or get hit by a car on my way to school.
I was supposed to be thinking about makeup, clothes, jewelry, and relationships—but the thing flooding my brain was the desire for eternal silence.
Maybe I didn't want to necessarily die. I wanted the voices to stop. I wanted the pain to stop. I wanted all the self-hatred to dissipate. And you know what? In those brief moments after self-harming, I felt exactly that. Silence. Dissipation. Nothingness.
But one soon turned into three. And three turned into nine, and nine turned into 18. Once I started, I couldn't stop. I had found a way to dull the noise and channel my rage. I felt alive again. Human again. But it wasn't healthy. Somewhere in my head, I knew it wasn't healthy.
Every time I had a depressive episode, there they were. Those rose-thorn wounds. I did this for years, from when I was 11 until 17 or 18.
Throughout my journey with and healing from self-harm, some words have stuck with me. The first came from a high school counselor who helped me. They said,
"It's actually an addiction that we don't discuss."
And just a few years ago, singer and actress Lady Gaga spoke about her experience with self-harm in a way that I know to be true: "What I was doing was trying to show people that I was in pain instead of telling them."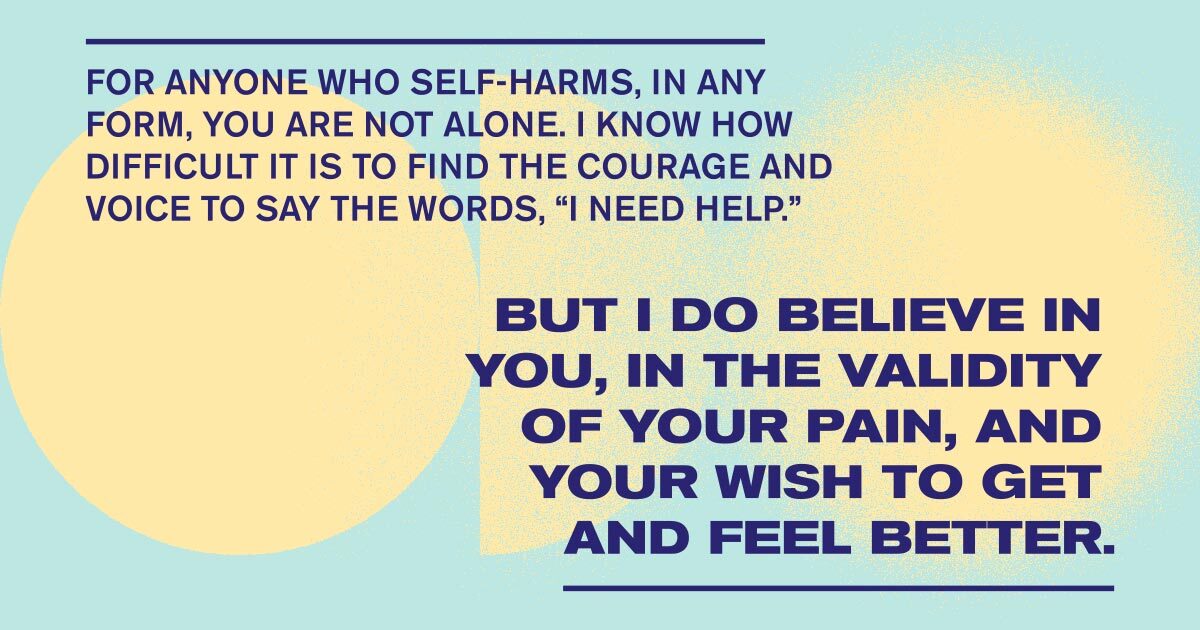 When I reflect on my days of self-harm, I see how I struggled to tell the people I loved that I was hurting. So, I found a way to show it physically. Subconsciously, I tried to convey that pain without words. 
For anyone who self-harms, in any form, you are not alone. I know how difficult it is to find the courage and voice to say the words, "I need help." But I do believe in you, in the validity of your pain, and your wish to get and feel better. I know you can do it.
Let one person in. Just one. If you have scars, roll up your sleeves and show them. They may never understand why you hurt yourself, most never will, but they will understand that you are in pain. It might be imperfect, but is a start. It is a step towards healing.
---
You are worthy of love and grace, from others and yourself. You are enough, here and now. If you're dealing with self-injury or self-harm, we encourage you to use TWLOHA's FIND HELP Tool to locate professional help and to read more stories like this one here. If you reside outside of the US, please browse our growing International Resources database. You can also text TWLOHA to 741741 to be connected for free, 24/7 to a trained Crisis Text Line counselor. If it's encouragement or a listening ear that you need, email our team at [email protected].