As TWLOHA's Intern Program Director, I am always getting questions about the details of this program, whether I'm in the grocery store, at an event, or online. This week, we decided to use the hashtag #TWLOHAinterns to collect the questions we get asked most frequently. I'll be answering these first few, but then we'll let the experts—our current interns—take it from there. Thanks to everyone who sent in questions!
Is college experience a very important must-have?
Our website says, "While not required, we prefer applicants have two years of college or professional technical experience." (By "professional technical experience," we mean two years of professional work experience or technical training.) So while we do prefer applicants have at least two years of college experience or an equivalent, it is not always necessary.
Can people outside the United States intern with TWLOHA?
Absolutely! We have had interns from the U.S., U.K., Canada, Northern Ireland, and Australia.
I want to intern, but I'm still in high school. Is there any way I can be involved?
We require that interns be 18 years old and graduated from high school before applying. That being said, there are still a lot of ways you can get involved! Take a look at our Get Involved page. You can join our Street Team, host a supporter benefit, or consider joining The Storytellers. You may also want to start a UChapter when you move on to college.
What kind of internships do you offer? 
Our intern program operates in three terms each year: Spring, Summer, and Fall. Spring and Fall terms are 15 weeks, and Summer is 12 weeks. Our interns work each day responding to messages, as well as assisting staff with the day-to-day operations of their programs. Interns are assigned to specific departments only after being accepted and receiving basic internship training.
What would be learned in a TWLOHA internship?
Our interns gain a thorough understanding of the issues TWLOHA addresses, including depression, addiction, self-injury, suicide, eating disorders, anxiety, and other mental health issues. They also get first-hand experience responding to messages from supporters. From there, it would vary based on which staff assignments each intern is given. Overall, our interns gain an understanding of event planning, administrative tasks, merchandise maintenance and management, social media interaction, finances, and design.
What career opportunities become available after interning?
In regards to working for the organization, that would depend on staff openings at the end of each term. We do not currently have any staff openings. Hopefully, upon completing an internship with TWLOHA, an individual would be better equipped and able to continue in their chosen career. Our current interns can tell you a bit more about how they will personally be moving forward below.
—Lauren Gloyne, Intern Program Director
___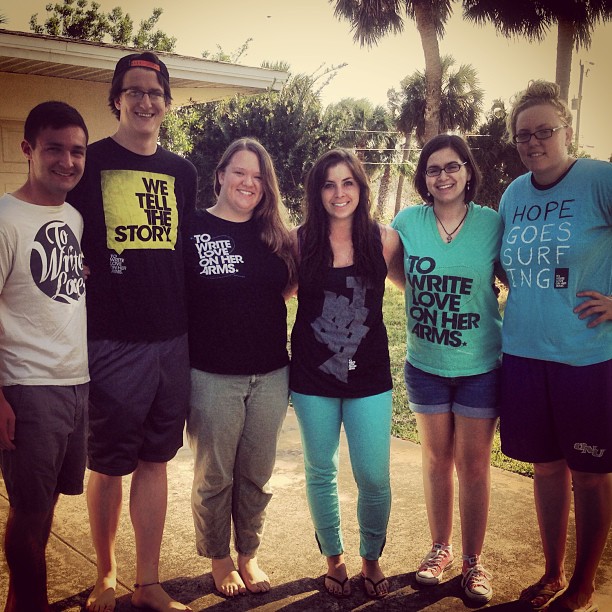 What are some of the tasks you complete on a daily basis?
MARIE
: Interning for TWLOHA has provided me the opportunity to do a variety of tasks, with no two days looking exactly the same. My morning routine consists of answering messages in the info account with fellow interns. The account consists of general questions, partnership requests, the sharing of stories, family members and friends asking for advice for loved ones, or individuals looking for help. Upon completion of messages, I spend my days working on the
MOVE Community Conference
, assisting with the
Run For It 5K
, working on the book for memorial donations, tracking the financial side of mail, answering emails in our MOVE and
Donate
account, and working on general business administration. There are "little projects," one-time tasks, and TWLOHA booths to be run sometimes, too.
MATT
: For me, mornings are spent answering messages from supporters and monitoring the Benefit account. In the afternoons, I do runs to the post office, answer physical supporter mail, help manage the online store, and assist with the curation of our
TWLOHA Tumblr
. Currently, I'm also helping with some projects for our upcoming Run For It 5k and summer festival tours.
CLAIR
: Mornings always look the same for every intern: answering messages. I am one of two interns who have been assigned to monitor the Facebook account, so we spend our mornings answering questions, reading stories, and sharing with our followers. After lunch, I can be found booking speaking events, writing news posts, looking for corporate partners, and completing administrative and financial duties.
What has been the best experience of being a TWLOHA intern?
JACOB
: This is something I've waited three years for, so there will be times that the weight of everything just hits me: where I am, what I'm doing, who I'm with … I would have to say working with the
staff
has been just amazing. Coming into the internship, I, and most people, just know of Jamie Tworkowski, as far as staff goes. But when you're here, you get to have all these little relationships with other staff members that you weren't expecting to make. It's those relationships that have made this experience so great.
EMILY
: The best experience for me has been editing the content on our website and
writing
for our
blog
and Tumblr. It's the convergence of my two great passions: writing and mental health. I've also loved growing closer to the entire TWLOHA staff.
What is the greatest struggle of being an intern?
CLAIR: This question sits a bit differently with me compared to the other interns, as I am the only one not native to North America, and my biggest struggles have been related to that. The time difference between my family in Melbourne, Australia and me is 15+ hours, so finding time to talk to them when we're both awake and not at work can be hard.
EMILY: The greatest struggle for me is answering messages and not always knowing what happens afterward. Sometimes I wish I could follow-up and see whether our words actually helped, whether the person I wrote to feels encouraged and is getting better. It's hard when I have to let go of those people and those stories and trust that we did what we could and acted as the
bridge to help
and support we strive to be.
JACOB: The hardest thing is dealing with the four to five different personalities of the other interns. That's four to five people with different backgrounds, and values, and personalities, all living/working/experiencing everything together at the same time. You have to get used to the other people's different versions of "fun." It's about understanding and being conscientious of other people, because with that many people in one house, it is rare that you all agree on something. Unless it's Disney World. Everyone likes that.
Do you believe the TWLOHA internship would be a good stepping stone/opportunity for someone who plans to go into the mental health field, possibly by becoming a counselor?
MARIE: A motivating factor to apply and participate in this internship was the relevance it would have to my future career goals. As a non-profit organization that strives to help people who are struggling with mental health challenges, working with TWLOHA will give you experience schools are looking for and help you determine if counseling is really something you want to pursue. TWLOHA will expose you to a side of helping people that you do not learn sitting in a classroom. The internship will provide you with the opportunity to hear and read people's stories, respond to crisis messages, learn about the issues, and point to help for those who need it. It is because of the work I have done with TWLOHA, what it has taught me about the field of mental health, and the people I have encountered that I can confidently say I feel ready to attend graduate school for counseling this fall. All that to say, yes, this internship is relevant in a number of ways to those of you who wish to enter the field of mental health.
MATT: As someone currently studying psychology, my experience at TWLOHA has been a practical lesson in applying what I've learned. While a classroom can teach you about biology and treatment approaches, this internship has helped to humanize mental health. It's not just a series of symptoms and diagnostic criteria, but a conversation between mothers and sons, fathers and daughters, friends and coworkers. Having this kind of insight has helped me figure out where I want to head in my own professional career and is something that grad schools will most certainly appreciate.
Are you worried about feeling empty after the internship ends? What will you do afterward?
EMILY: I think I will feel even fuller at the end of the internship—full of knowledge about mental health and empathy for other people and their stories. I think my heart has grown from being here. When I leave, I'm heading back to school at the University of Missouri for my senior year as a journalism student, and I'm still not sure where life will take me once I graduate.
CLAIR: In a word: definitely. I've wanted to intern at TWLOHA for about six years now, so to think that I won't have that to look forward to anymore is very scary. But at the same time, I am very excited to see how I can use the lessons I've learned here in whatever the future holds. After the term ends, I'm heading up to Canada for a while before returning to Australia, where I will look for full-time job in media and communications.
MATT: As someone who has travelled and moved around a lot in the past year, I've gotten pretty good at saying goodbye. In this regard, I don't think I'm particularly worried about the end of term, but there will certainly be things (and people) that I'll miss. I'll be heading back to school in September to finish my Bachelor of Science in Psychology, so having some direction/purpose will definitely be helpful in the transition.
JACOB: That's such an interesting question. It will be different going back; not necessarily easy or difficult, just different. I mean, as an intern you're submersed in TWLOHA and around the same interns, day in and day out, for so many months—and then you just leave and go home. I'm trying to imagine how I'll explain this experience to other people, because it just isn't something you can put in words … I'm flying to Chicago after this term ends to see my girlfriend get her master's. It'll be nice to see her after five months. After that, who knows. I have a freelancing job out of the Bay Area that I can do pretty much anywhere. I would love to do something that makes a difference like TWLOHA does, whatever that may look like.
MARIE: I hate goodbyes, and I am not very good at change. I will miss the work we do, the people I get to see every day, having the beach down the street, and close friends within arms reach, but I anticipate leaving here feeling more full than empty. I am filled with memories, new friendships, new foods that I previously refused to try, perspectives on topics I never considered before, and a new appreciation for both the challenges and joys of life. As for next steps, I will be prolonging my goodbye to one of the interns as she comes back to Canada with me, I may go to Australia this summer, and I have plans to attend graduate school for a Masters in Mental Health Counseling in the fall.
[[{"fid":"391″,"view_mode":"media_original","type":"media","attributes":{"height":1280,"width":960,"style":"width: 550px; height: 733px;","class":"media-element file-media-original"}}]]