This piece mentions the topic of suicide. Please use your discretion.
We don't always know how to ask for help. Sometimes we think, "No, not me. I'd never." But then we can't shake the thought or we keep picturing it or we make a plan to die by suicide. In 2019, there were an estimated 1.38M suicide attempts, 47,511 of those were Americans who are no longer with us today.
Suicidal behavior is not a one-size-fits-all experience. Anyone, regardless of age, race, gender, socio-economic status, or sexuality, can experience thoughts of suicide. Presently, it is the 10th leading cause of death in the U.S. and the 2nd leading cause of death among teenagers. While complex and heavy, death by suicide is preventable.
An incredibly supportive, free, and accessible resource is the National Suicide Prevention Lifeline. This tool provides confidential support for those in crisis or emotional distress 24/7. But what actually happens when you call? We know how difficult, often scary, it can be to reach out and ask for help, so we wanted to provide you with everything you can expect when calling the lifeline to hopefully alleviate any fear or hesitancy you may have.
How To Call The Suicide Hotline
The National Suicide Prevention Lifeline's toll-free number for English speakers is 1-800-273-8255 and for Spanish speakers is 1-888-628-9454. A free chat feature, where you can be connected to a counselor, is available after completing a brief questionnaire. For those who are deaf, hard of hearing, or have hearing loss, the site is ADA accessible and TTY users can dial 711 then 1-800-273-8255 to reach support.
Who Runs The Suicide Hotline
The Lifeline, which launched in 2005, is facilitated by the U.S. Substance Abuse and Mental Health Services Administration (SAMHSA) and Vibrant Emotional Health and has a national network of over 180 local crisis centers. A step-by-step guide has been provided by The National Suicide Prevention Lifeline so you can anticipate everything ahead of time.
First, you'll hear an automated message featuring additional options while your call is routed to your local Lifeline network crisis center. This is based on your area code.
Music will play while they connect you to a skilled, trained crisis worker.
A trained crisis worker at your local center will answer the phone.
This person will listen to you, understand how your problem is affecting you, provide support, and get you the help you need.
All calls made to the hotline are 100% confidential. The goal of connecting callers to centers in their state is to provide local resources and referrals. However, the lifeline is available regardless of how close you may or may not be to a crisis center.
How Do The Crisis Workers Help?
All counselors who receive calls are trained to provide you with immediate support and while they do not follow a script, they may ask a series of familiar questions to best identify your needs. There is no one-size-fits-all solution for providing you with immediate care and attention. But this world needs you in it and it's important to remember that your life is worth a phone call, especially if that phone call can positively impact you and your mental health.
We know how daunting it can be to find yourself in this space, to contemplate if making a phone call to a suicide helpline is right for you. Our friend Joel shared his experience in a blog piece titled, "Instead of Killing Myself, I Called a Suicide Hotline." Here he shares what occurred when he called the helpline.
"You call and wait to be connected, and after that minute or so wait, you speak to an elder Black woman, elder because you can hear the age and timbre of her experienced voice, and hear her breath while you cry and sob and weep in public, and hear her breath and listen and tell you how good you are, tells you to pat yourself on the back, and tells you you are a great father. She asks your name and she tells you hers and you hope she knows she saved your life, that all that was needed was someone to not want from you, to not want to take anything from you; not to demand or question you or your thoughts or your actions; only giving, only offering, only loving."
Ultimately, if you decided you need to make this phone call, the call can last as long as you'd like it to and you can discuss as much or as little of your situation as you prefer.
If a phone call feels too challenging, you can reach out to the Crisis Text Line by texting TWLOHA to 741741 to get connected with a Crisis Counselor 24/7. There are also specific resources available for Youth, Native Americans, Veterans, Individuals in the LGBTQ+ Community, and survivors of death by suicide attempts.
For longer-term care, we recommend connecting to a local counselor. You can use our FIND HELP Tool to search by zip code for affordable, local options.
You and everything you are feeling at this moment are valid. You are not alone. Talking about suicidal thoughts or behaviors does not cause someone to become suicidal, but rather, could actually save their life. If you or someone you know is struggling with suicidal ideation you can follow these five action steps for lending support.
ASK: "Are you thinking about suicide?" Studies show that asking at-risk individuals if they are suicidal does not increase suicides or suicidal thoughts.
KEEP THEM SAFE: Asking if the at-risk person has a plan and/or removing them from dangerous spaces can lend immediate support.
BE THERE: Listen carefully to what they have to share. Research suggests acknowledging and talking about suicide may in fact reduce rather than increase suicidal thoughts.
HELP THEM CONNECT: Keep both the National Suicide Prevention Lifeline (1-800-273-TALK) and the Crisis Text Line (741741) numbers in your phone so they are easily accessible.
STAY CONNECTED: Continue reaching out. Studies have shown the number of suicide deaths goes down when someone follows up with an at-risk person.
The world needs your presence, not your perfection. We know this to be true. This moment you're in may seem insurmountable. We are not here to tell you otherwise. We're here to remind you just how much we want you to keep going. And in case someone has not told you recently or you'd like a reminder, our friend Nik wrote you a letter.
We can find ways to hold both the heavy and the light feelings as they come. You are not defined by this one moment in time. Please stay to live and see the better days ahead.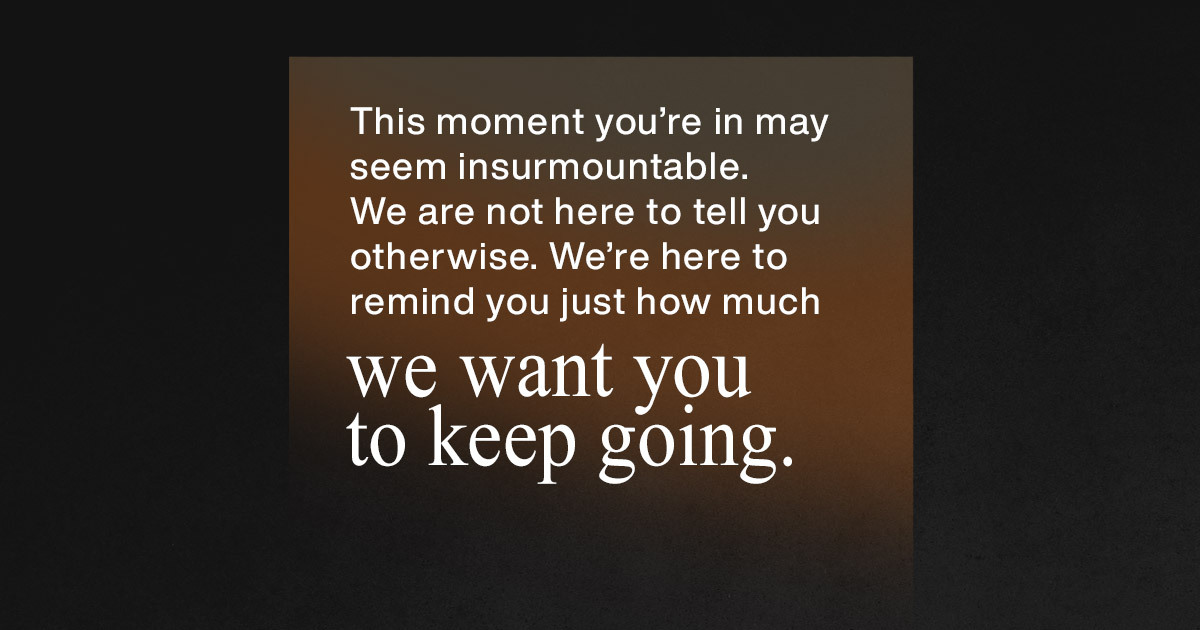 Additional Resources: