This piece mentions the topic of self-injury. Please use your discretion.
It's OK to not be OK.
I've been hearing and reading those words a lot lately. Working as a communications manager, I write those words for others. I write and send tips to employees about working from home—some of which are about mental and physical well-being. I ask others through my words to reach out for professional help if they need it. I worry about the mental well-being of those around me especially considering everything that's happened this year. I've been going full speed ahead, spending most of my waking hours either working or thinking about work. Never slowing down to worry about my own mental and physical well-being. I would guess that there are a lot of us out there who are worrying more about others than ourselves.
I don't know how or what I'm feeling on a regular basis because more often than not, I keep myself so busy that there's never any room for silence or solitude. There are never any moments for my feelings to truly surface. When the world stopped, I didn't. I was thrown into crisis mode for work. But eventually, the long hours and wild sleep schedule waned. And in their absence, every emotion rushed in. The old fears and worries and anxieties mixed with new pandemic worries and anxieties.
It's taken months of writing and saying "It's OK to not be OK" to convince myself that it's OK for me to not be OK too. And I'm not really OK sometimes. A few years have passed since I've spoken to a mental health professional or used medicine to treat my anxiety and depression. 10 years have passed since I last self-injured. A decade has passed since I hurt myself so badly that it scared me into stopping. A decade has passed since I last had to come up with a lie about what happened to my arm. Yet, even with those milestones under my belt, these past six months have been so stressful that for a few minutes I wondered what it would be like to self-injure again, I wondered what I would use to do it. For just a few minutes, I wondered how my old friend was doing. For a few minutes, I missed it.
That feeling of hurting so badly internally that you need and want to see pain instead of feeling it was overwhelming. I haven't wanted to injure in almost a decade. But due to the pandemic and the restrictions, so many of the other coping mechanisms I've learned to use haven't been available. Normally, when the pain gets to be too much or the anxiety gets too high, I get a new piercing or a tattoo. Neither was an option. The yoga studio within walking distance of my apartment–closed. Traveling–on hold.
I'm happy and grateful to sit here and recount this experience because I did not harm myself when that urge arose. My self-injury recovery anniversary remains the same. But that doesn't mean I'm OK. Very few of my friends, family, or coworkers know about my past and my mental health. But I've been slowly opening up, allowing myself to be vulnerable and invite people in. I'm recognizing how unhealthy my work-life balance is. I'm realizing what I need and learning how to be comfortable asking for it. I am beginning to believe that it is OK for me to not be OK too.
It's OK to ask for help. It's OK to break down and cry. It's OK to be scared. It's OK to say no. It's OK to take a day off to be alone or spend time in nature. It's OK to take care of yourself and to tell someone when you need them. It's OK to be hurting. It is OK to not be OK.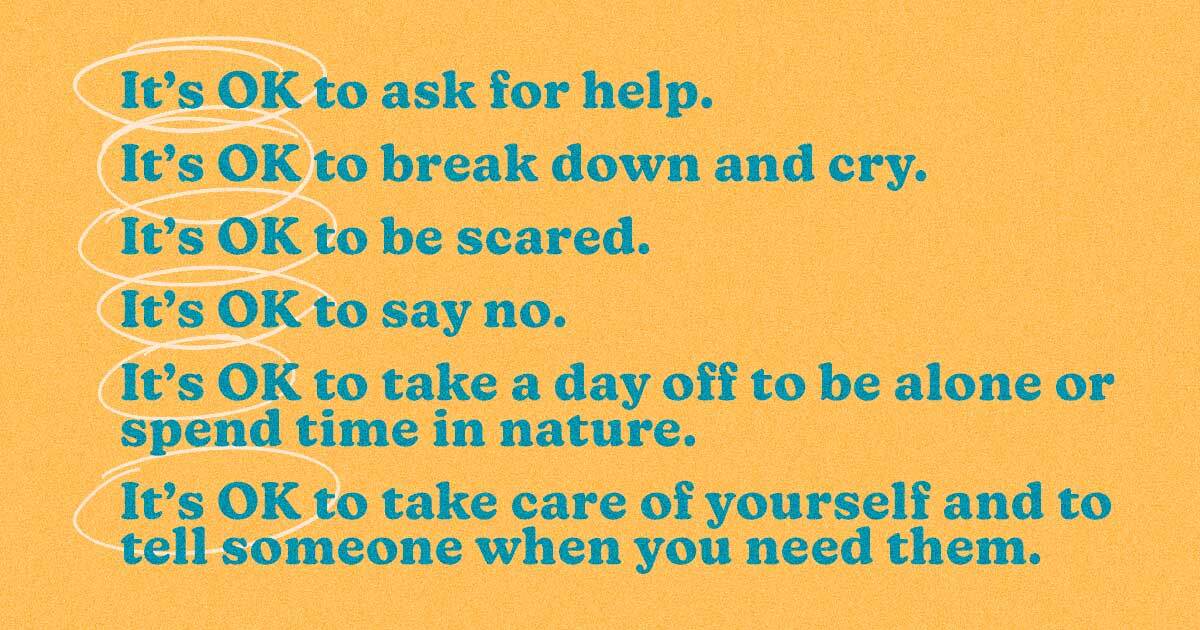 ---
You are worthy of love and grace, from others and yourself. You are enough, here and now. If you're dealing with self-injury or self-harm, we encourage you to use TWLOHA's FIND HELP Tool to locate professional help and to read more stories like this one here. If you reside outside of the US, please browse our growing International Resources database. You can also text TWLOHA to 741741 to be connected for free, 24/7 to a trained Crisis Text Line counselor. If it's encouragement or a listening ear that you need, email our team at [email protected].