For years we've made it a priority to meet people where they naturally come together and where they feel most alive. Our events run all across the spectrum from coffee shops to some of the world's largest music festivals. In everything we do, and everywhere we go, we carry a much greater hope than simply being noticed. We go with the loving and stubborn anticipation that you will be noticed. Heard. Welcomed. Cared for. Encouraged. What you read here is a small sampling of faces we meet and the hopes that we carry. May you be encouraged as you read to continue seeking the audience you deserve.
We are glad you are here.
We celebrate your life.
Your story is important.
_________________
February 25–26 — Boston, Massachusetts
On the first day of NerdCon, a girl named Cait approached our booth with her girlfriend, Alex. When I asked if they were familiar with us and our message, Cait laughed. Her answer came in the form of notifying me of the multiple TWLOHA shirts she owned. Her girlfriend, however, was new to the booth. A quiet moment was exchanged between the two as Cait turned to Alex to say, "These guys are why I am still alive today."
Cait returned the following day, a renewed curiosity urging her to come back. She was searching for a means to get further involved with TWLOHA — sans the requirement of relocating to our headquarter state of Florida. When I told her of the "virtual" and hosting a meet-up options for our forthcoming 5th Annual Run For It 5k, her face lit up with excitement at the opportunity. Before leaving, she made it a point to tell me she was already looking forward to joining us from afar on April 15.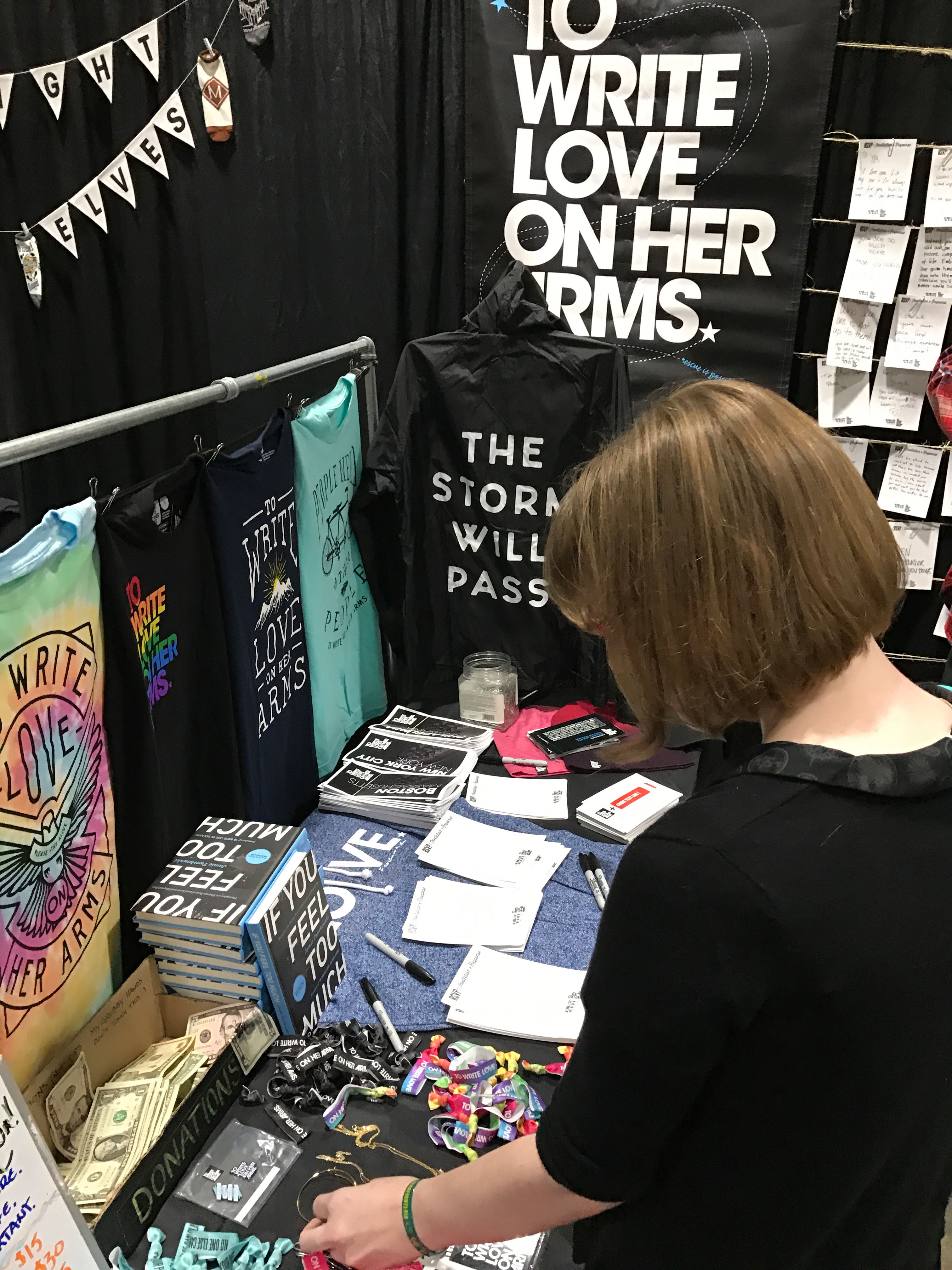 _________________
As most know, we offer avenues and varying paths for people struggling with mental illnesses to receive professional help beyond our reach. One of those paths involves our partnership with Crisis Text Line. So when Jennifer, proudly donning a CTL t-shirt walked over to us, I couldn't help but smile. As a CTL responder, she was well versed in our mission, telling me that she extends both our website and blog as a reference for many of the people she texts with. I then conveyed to her what an honor it has been and continues to be rooting for their team and the aid they work so tirelessly to provide. At the realization that we had made CTL specific information cards to include at our booth, the smile Jennifer gave was priceless.
_________________
On day two, I manned the booth wearing a personalized staff shirt that had both my last name and the year I joined the team on the back. The shirt selection proved to be a beneficial choice when Kerrie strolled up to the booth and asked, "Moses, like Chad? Is this you?" She turned her phone to me, a picture of her, a former TWLOHA intern Jimmy, and myself on the screen. The image had documented the first time she had ever attended one of our events, a stop at UMass Lowell. At the time, she was in her final year of high school and just beginning to reflect on her own relationship with mental health. That night stuck with her for the past eight years. But beyond the retelling of memories, she told me of encouraging news concerning her future: She had recently been accepted into a Master's Program for Social Work.
_________________
Back in 2015, we introduced our RSVP: Invitation and Response cards. The relatively blank cards wait for someone's words — whether an encouragement or a weighted thought they've needed to release — to fill the space and eventually find a home in the clutches of a stranger's hands who has connected to the anonymously hand-written message.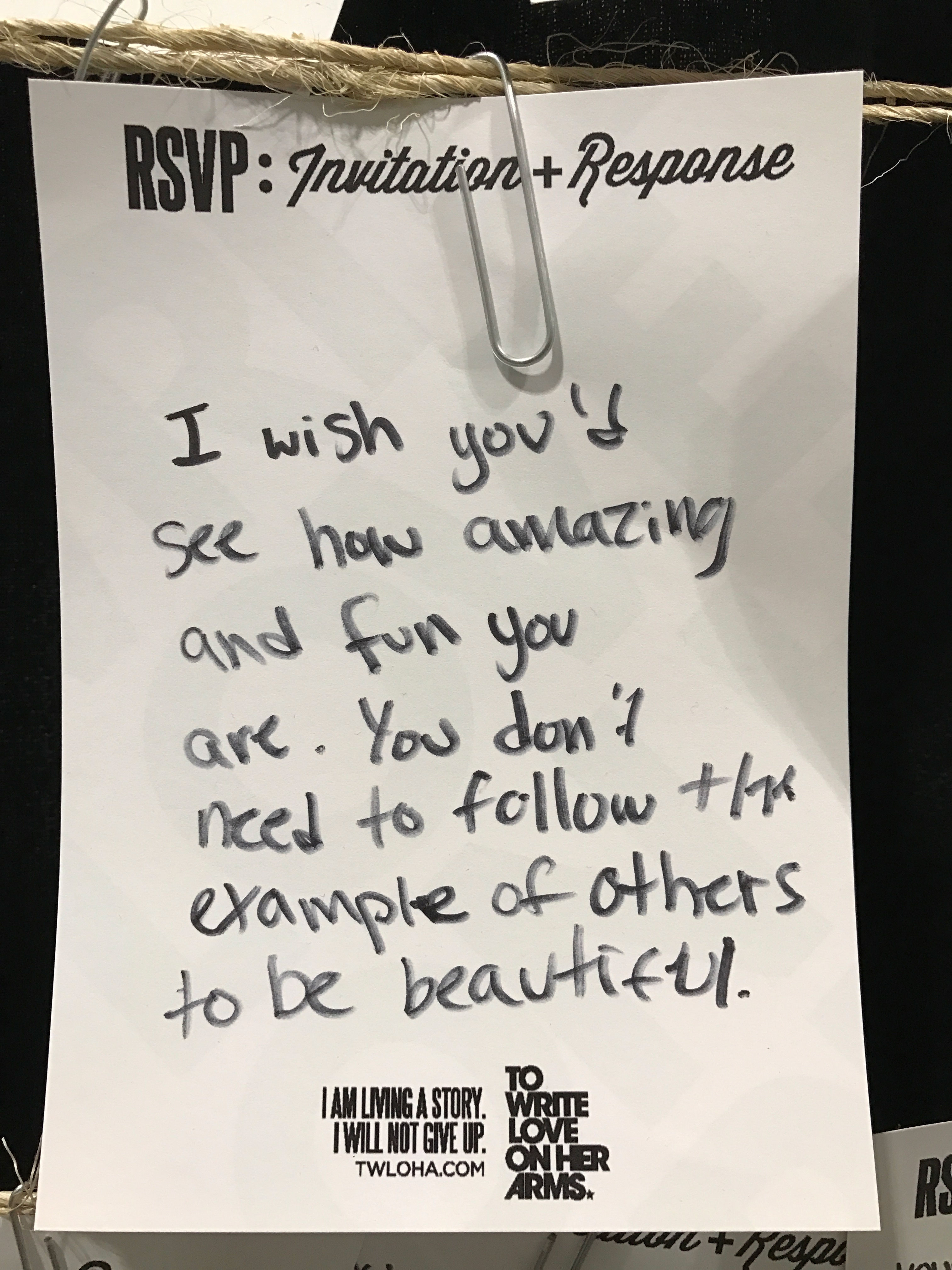 Nearing the end of day one, a girl named Abigail visited the RSVP wall. As she peered at the messages, I asked her how her day was. Granting minimal eye-contact, she curtly replied, "I guess I'm here." I told her I was thankful for that and if she stumbled upon a card that resonated with her, she was welcome to take it. For a few lingering moments, she continued to stare at the wall, wiping an occasional tear away. Then, without another word, she turned and hurried off. Before disappearing from my line of sight I said, "Thanks for coming. Be sure to stop by tomorrow." That night, the memory of the hurried heaviness stuck with me.
To my relief, she returned the next day with a subtle smile, handshake, and her name. Soon after the introduction, she shared that yesterday she was in the midst of a suicidal crisis. She had been unaware of our organization, but being welcomed into a space consciously filled with empathy, purpose, and warmth was enough for her to wake up the next morning. And though the extension of professional resources was met with the reaffirming knowledge that Abigail already had a valuable relationship built with her counselor, she was eager to learn more about us when she returned home.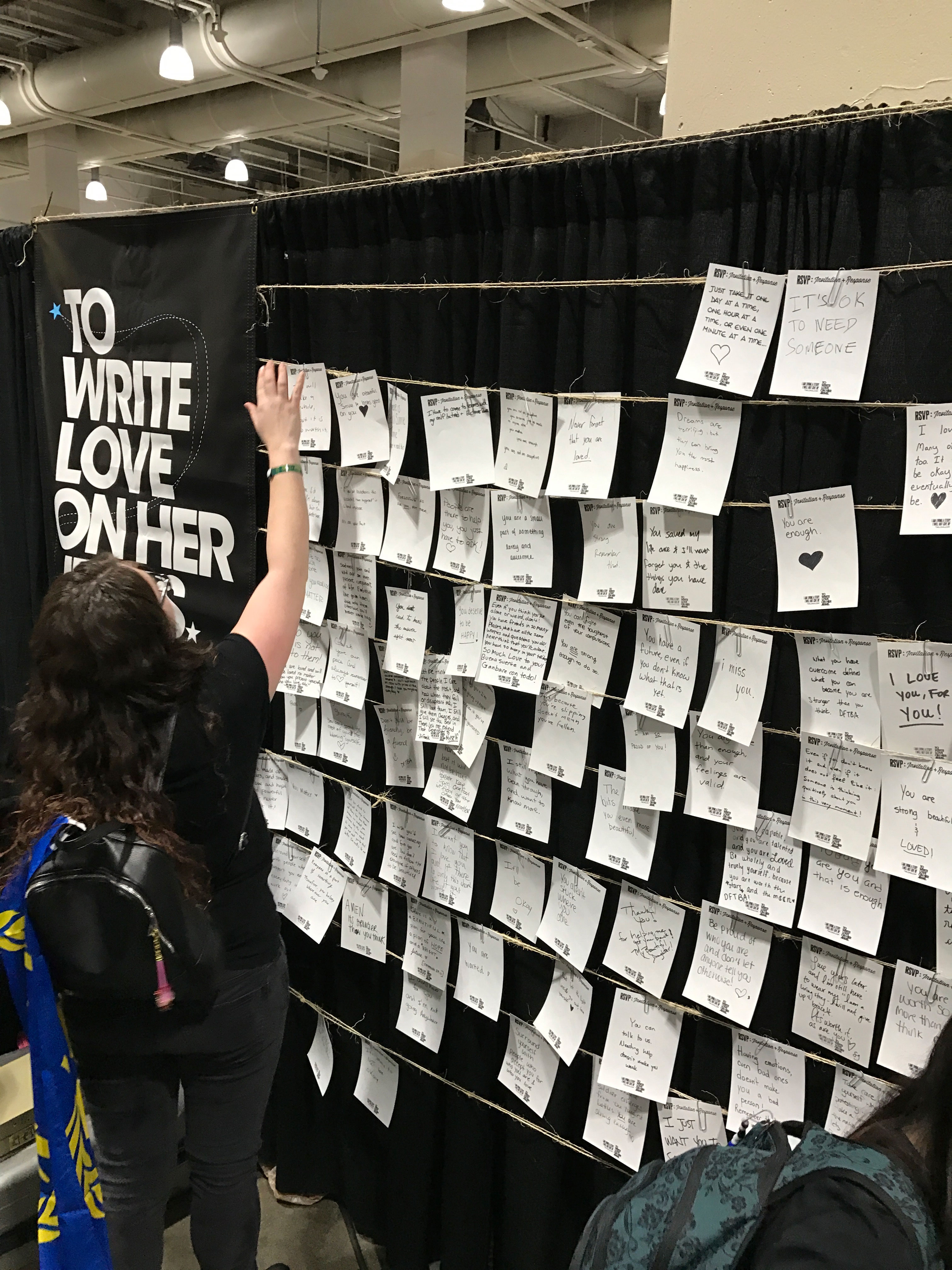 The interaction served as a reminder I hope myself and the entire TWLOHA team never forgets: There is a power we hold and a purpose we serve simply by showing up for one another. Just by approaching Abigail with dignity and an invitation to feel less alone, she found the courage in herself to keep going.
All names have been changed to provide anonymity to the people who share their stories with us. If you, like them, find yourself in need of hope or help, please reach out.